Body Painting: Spiritual Predecessor Of Eye Shadow
Body Painting: Spiritual Predecessor Of Eye Shadow
By Barry Kostrinsky
Trina Merry (left) and Andy Golub (right) are two contemporary body painters amazing and awakening global audiences with their performance art.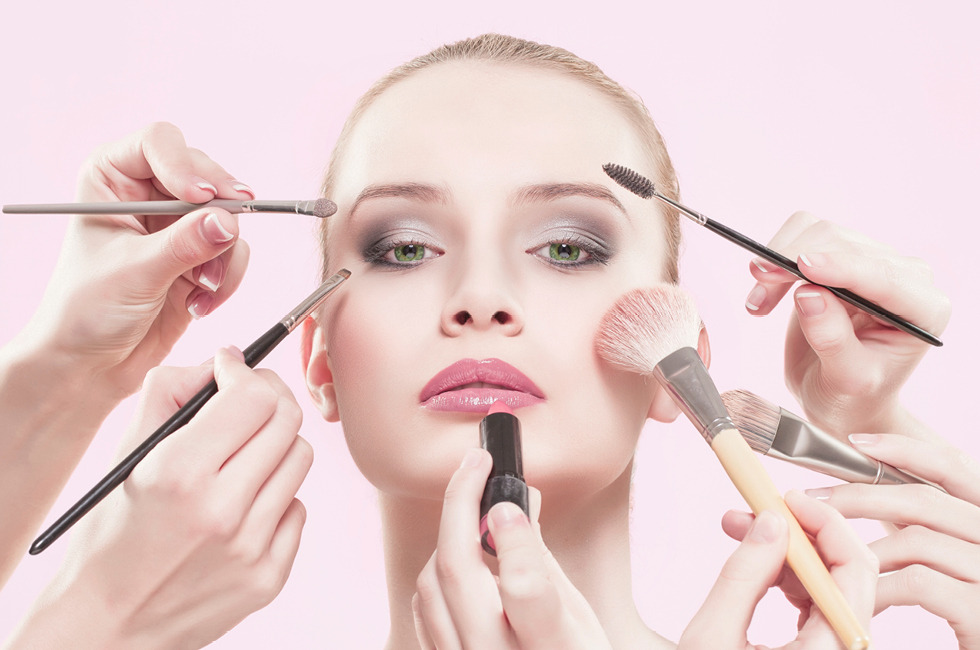 Somehow we hominoids have a way of demystifying and materializing our roots. Everyday hundreds of millions of ape descendants put on make-up, eye liner, eye shadow and lipstick and take brushes to their faces. These are the major masses of body painters in the world. As with perfume we only think of this as hiding or cloaking a smell, embellishing a surface superficially or a way to pass off as something we are not in our culture. Yet, the root of perfume is transcendence to a higher plain. And yes, body painting too has deep multi-cultural roots that aim to elevate the spirit, connect with that which is more than us and to transform our mundane experience into a spiritual awakening.
Body painters from Aboriginal tribes in Australia, African groups where humankind's roots are first believed to have grown from and among indigenous Americans use the paint and designs they pattern on themselves as part of religious ceremonies, rights of passage, wish fulfillment, fertility rituals, cultural bonding and yes to strike fear and harm others. Did you notice the thick black lines under Tom Brady's eye's during the Superbowl? No, it was not from a lack of sleep. He painted this marks to instill fear in his opponents and yes just maybe to lessen the glare a bit. Body paintings roots often lay in preparation for battles pre-dating the football pitch.

Just as our words have lost their original derivation and meaning so to has body painting been absorbed into our momentary- how do I look for this selfie, culture. Many folks only think Tesla is a car company and don't realize it is the name taken by Elon Musk from whom Albert Einstein referred to as the greatest mind of the 20th century Nikola Tesla, the inventor of A/C current, wireless communications, the patents stolen by Marconi for the radio etc..

Yet artists have always led the way back to a more meaningful understand of our past and a recapitulation of our current trends. Artists have been doing body painting since the earliest records of cave painting and continue to do so today. There has been a big push in the 20th Century by artists including Yayoi Kusama (top left) , Keith Haring (top right) and Yves Klein. Even Picasso and Warhol joined in for a brief stint.

Indeed tattoo has similar deep meaningful roots across many cultures and is really just a form of permanent body painting. With body painting, it's ephemeral nature rightfully beckons a label as a performance art. Yes, photos are taken and proliferate on the internet and in books- you remember those things with covers, maybe leather binders and pages you can turn and so some of the work does survive if only in an image removed from the real and made solid for a moment. Yet in the ephemera nature of the work something more pertinent, more valuable seems to arise.
Firstly, there is a living model in body painting, the canvas incarnate if you will. My canvases have never spoken to me and only pushes back slightly when I paint with brush in hand. But the model in body painting experience the transformation of themselves, the letting go of who they are on the surface and at once are nude and yet covered by paint. They are both there and not there, a person and yet an object, visible and invisible.

The lineage of contemporary body painting can be traced back to a larger trend in the art world. The model come alive has been a theme for marble carvers since Greek and Roman times. Throughout the history of art there has a been a movement to make the work more relate-able, real and alive. Rembrandt brought his figure to the forefront of the canvases and had them hang over the ledge to encroach upon our space. Caravaggio (top left) packs 'em in and a foot is usually thrust in our face. Manet's famous Olympia ( top right) is not an odalisque of the old era, removed, nude and an object of desire. She is naked, exposed and views us. How far can paint and illusion can go hits a limit and body painting breaches into a direct experience with living and breathing art.
One of Spencer Tunick's many mass gathering of nudes (top left) and Andy Golub's group merged into one (top right).
Today's artists that use the nude body in public space as form, object and living art make social commentary, are in super bowl commercials and move masses to be nude in public settings creating awe and awakenings millions. At times, in the end it is a still moment, a somewhat meditative setting on a humongous scale with bodies blending much like voices in a chorus.


Andy Golub has painted on rocks, car doors, suitcases and the human figure. Andy is one of the most famous figures in the world that no body in the art world knows or will admit knowing- don't worry Andy, the best are often hiding in plain view and not recognized in their time. Millions have watched him paint in NYC at Chelsea or Time Square, crash gallery and museum openings and spread his word through his non-profit Human Connection Arts (image above). He has grown body painting festivals on several continents and millions of photos have been taken of his works. Often these are single body paintings, at times they are groups. He has helped define our laws of freedom of expression and whereas in the past the police have arrested him and hushed him away now they come to protect his and yes our right to self expression.

Trina Merry (above) is a different kind of body painter; Most artists are quite different from each other. Trina has developed a highly skilled form of trompe-l'oeil to blend her figures into iconic and beautiful settings. Like Tesla, not the model 3, think model 1- Nikola- she too had an awakening moment in her life with electricity.
"When I was struck by lightning, it altered the course of my life. Everything turned white and there was a loud buzzing sound. Incredible aching sensations shot through my bones.... I met a woman who encouraged me to perform with a synesthesia art rock band. While wearing a silver mask that shot lasers out into the audience, complete strangers painted me with brightly colored space toys. Something sparked during this sensory experience: art had a heartbeat and became the primary way of how I could engage with culture.
It is easy to dismiss body painting as something kids do at a carnival. I've learned life is deeper and richer the closer you look. Yes, you math majors should think fractals and Mandelbrot (top right). We have roots that lay under the surface of our thin membrane of understanding that are rich, deep and volatile. These roots are grounded in our past, have been extolled by the great shamans of our world and evoked by the developed and genuine geniuses of tribes we often call primitive people.
On the surface you might think body painting and exposing a nude in the public is all about sex and the artists are just taking a cheap shot, using a gimmick and shocking us to get us to look at their work for their own fame. For some artists working in oil paint or painting ketchup bottles or soup cans this is undoubtedly partially true. But you need to look deeply if you want to not force your own prejudice upon your gaze or else you will only see your own shortcomings.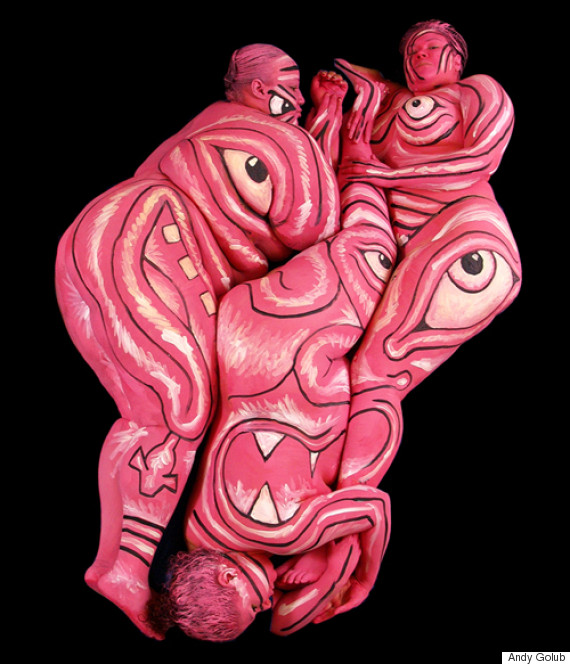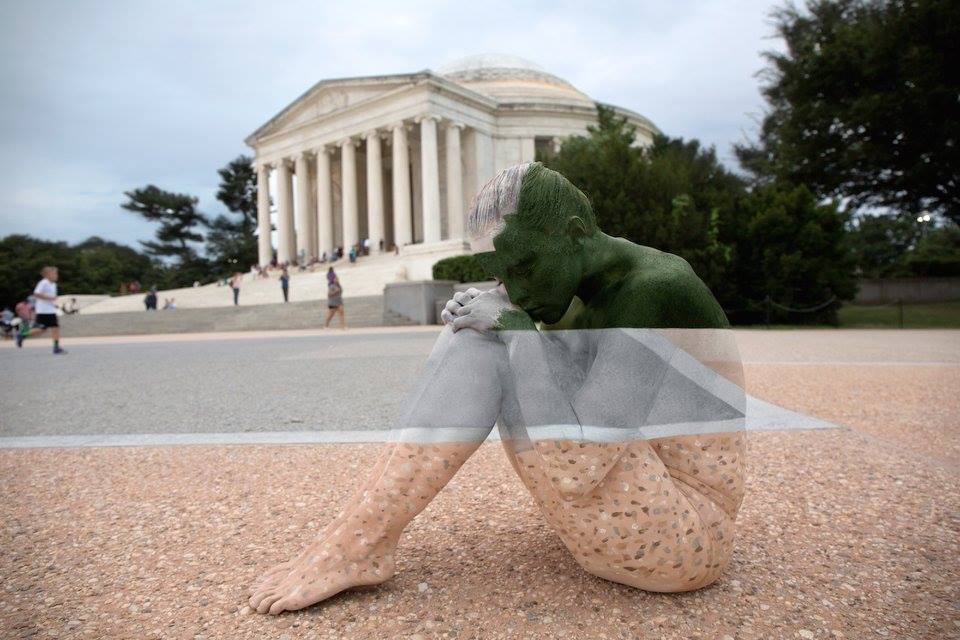 Golub (top left) has painted people on their death beds, over-weight woman fostering body acceptance and yes, men with long and short schlongs. Trina Merry (top right) is working with the precision of Renaissance masters and has a work ethic Elon Musk would respect and want to incorporate into his robot crew. Both artists work in a variety of materials beyond the human form. They are artists first and body painters second.
Join me for a talk with Trina Merry and Andy Golub on February 12th at the National Arts Club starting at 6:30pm to hear a lively conversation organized by the Artists Talk On Art series on these matters and more from two very different leaders of movements rooted in our archetypal past that hope to do the same thing. They want you to wake up, take notice and see beyond the mask we cover ourselves with and move you to the more real and enlightened you.
atoa.org
Related Articles
Barry Kostrinsky is the founder of Havensbx and Haven Arts. Gallery and performance spaces that reinvigorated the South Bronx arts scene from 2004-2017. The Municipal (read more...)