BWW Review: Raul Esparza Is Bertolt Brecht's Symbolic Crime Boss in THE RESISTIBLE RISE OF ARTURO UI
No, director/designer John Doyle does not have Raul Esparza wearing a blonde wig when he delivers his climatic oratory at the close of CSC's revival of Bertolt Brecht's 1941 allegorical satire, The Resistible Rise of Arturo Ui, but listen closely to the chant of the crowd provided by sound designer Matt Stine and the production's message is ever so clear.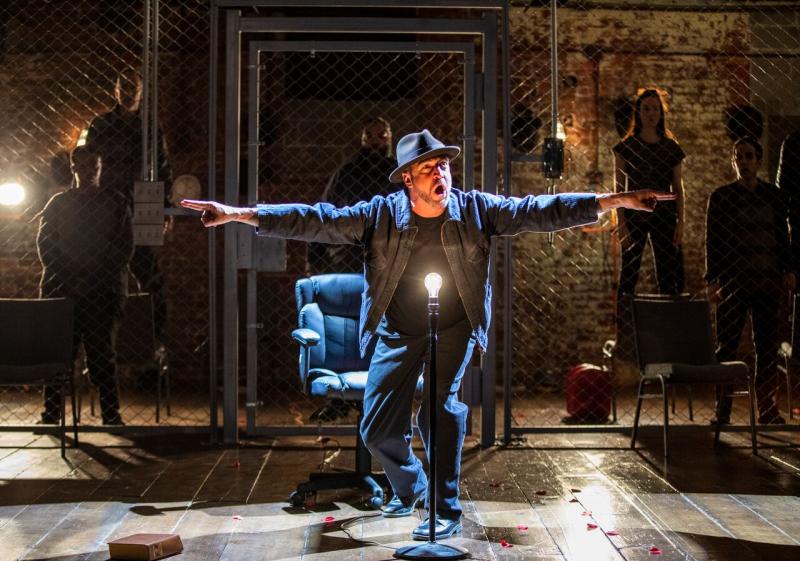 The German-born Brecht wrote the piece while safely exiled from his homeland. Perhaps his choice to tell a story paralleling the rise of Adolph Hitler with that of a fictional Al Capone-like 1930s Chicago crime boss was meant as a way to explain the urgent need for help in a way Americans would understand. His attempt to secure an immediate New York production failed and the play didn't reach Broadway until 1963, five years after the Stuttgart world premiere. But by then, the playwright had already passed on.
CSC's production of the 35-character drama uses George Tabori's translation from that New York premiere, adapted by Doyle for his ethnically diverse company of five men and three women, most of whom play multiple roles.
There's little in the design to suggest we're in the presence of Depression-era mobsters. Instead, the setting appears to be a contemporary prison courtyard with actors, who are first seen caged behind a chain link fence, dressed by designer Ann Hould-Ward primarily in casual wear, accented by character-defining pieces. Sitting at folding tables on office chairs, we appear to be watching a penitentiary workshop performance, especially when the actors march offstage in a line at the conclusion of the first act.
Audience members sit on three sides and may occasionally have to shield their eyes from designers Jane Cox and Teresa James' glaring lights.
It's great to see Raul Esparza back on a New York stage after an absence of over three years, especially playing a role that takes advantage of his skill for creating steely tension while hinting at traces of madness. Sporting a harsh accent that identifies the pompous dullard as a Brooklyn transplant, his Arturo Ui has the kind of working class charisma that charms uneducated masses.
The plot concerns corruption in Chicago's vegetable racket, with a takeover of Cicero's produce industry filling in for the annexation of Austria and the Reichstag fire replaced by the torching of a cauliflower warehouse.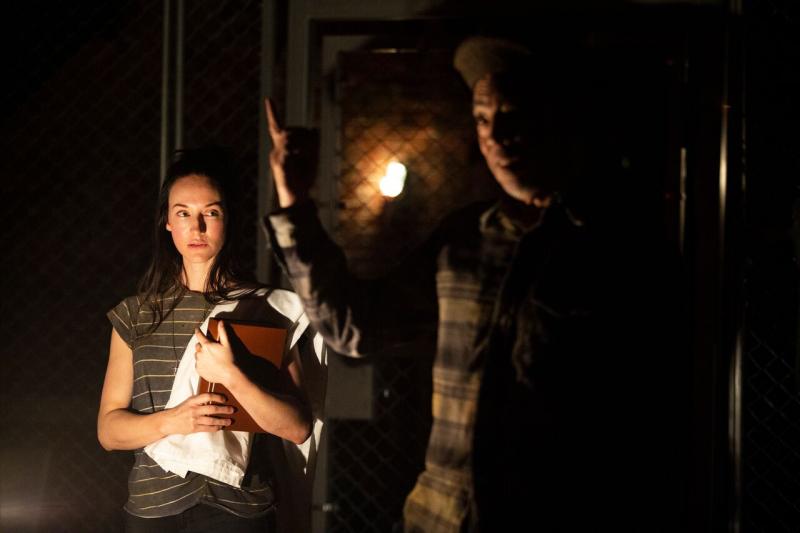 Ui's rise to the top is supported by strongman Ernesto Roma (Eddie Cooper) and slick propaganda machine Givola (Thom Sesma), as he brings down the powerful politico Dogsborough (Christopher Gurr) by offering protection from labor unions to the heads of the Cauliflower Trust (George Abud and Mahira Kakkar).
Elizabeth A. Davis doubles as assassin Giri, who eliminates unnecessary obstacles, and as an overbaked actor teaching Ui how to strike a more impressive presence. ("My last engagement was suddenly terminated when this director said to me: 'Stop chewing the scenery. We're doing Ibsen, not Shakespeare.'") Omozé Idehenre plays the wife of a rival vegetable supplier, whose murder drives her into a rage to denounce the rising tyrant.
While Doyle's concept isn't always clear, the ensemble work is sharp, especially when Brecht's moments of silliness blend into uncomfortable reality. The rather caustic final line will not be repeated here, but its warning resonates.