BWW Review: New York City Opera Returns With A Princely CANDIDE
The opening fanfare of one of the most exhilarating overtures ever to hit Broadway signals the joyous return of New York City Opera. After financial woes threatened to pull down the curtain for good in 2013, the company that was christened in 1943 as "the people's opera" by Mayor Fiorello La Guardia has returned with a new home and an old friend, director Harold Prince's rollicking production of Leonard Bernstein, Richard Wilbur, Stephen Sondheim, John La Touche and Hugh Wheeler's CANDIDE.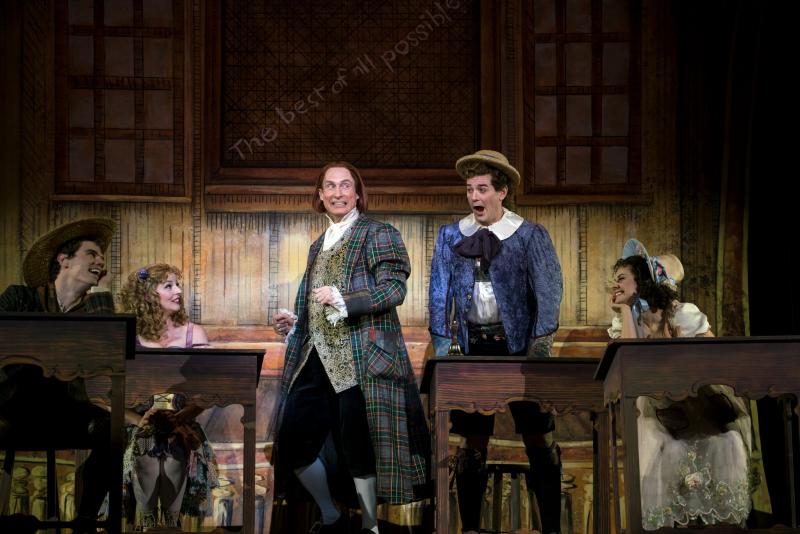 Aside from selections from the standard opera repertory and 20th Century works by living composers and librettists, City Opera has often presented favorites from musical theatre in productions that mix Broadway stars with their operatic compatriots. CANDIDE's company includes theatre notables Linda Lavin, Gregg Edelman, Jay Armstrong Johnson, Brooks Ashmanskas, Chip Zien and Jessica Tyler Wright.
The musical takes its name and plot from Voltaire's satirical 1759 novella that mocks the optimistic nature that assures mankind that everything is for the best. Candide is the bastard nephew of the Baron Thunder-ten-Tronckh of Westphalia, mutually smitten with his cousin, the fair Cunégonde. Ousted from the royal castle when their love is discovered, and further separated when Cunégonde's whereabouts become uncertain during wartime, the episodic story has our hero enduring a multitude of hardships and indignities by way of kidnapping, swindling, the Portuguese Inquisition and being recruited to play ingénue roles for a traveling theatre company during his quest to be reunited. All the while, he stays faithful to the teachings of his beloved Dr. Pangloss, who always assured him that this is the best of all possible worlds.
When CANDIDE opened on Broadway in 1956, it boasted a sumptuous, comic operetta style score composed by Bernstein with sharply penned lyrics by Wilbur (additional lyric contributions were by La Touche, Bernstein and even Dorothy Parker), highlighted by the sassy and soaring soprano solo "Glitter and Be Gay," the raucous tango "I Am Easily Assimilated" and the magnificent choral finish to the finale of "Make Our Garden Grow."
Lillian Hellman's book, which many thought was hampered by heavy-handed allusions to McCarthyism, bore the brunt of the blame for the musical's disappointing two-month run, but despite the stage show's quick demise, the cast album became a top seller and the overture, orchestrated by Bernstein, quickly became a popular addition to the symphonic repertory.
When Prince staged a 1973 production for the Chelsea Theatre Center of Brooklyn, Wheeler was brought in to provide a new book, which followed the source more faithfully. Sondheim revised many of the lyrics to fit new contexts and the environmental production introduced the premise that the audience was watching a theatre troupe's performance. A small orchestra accompanied a cast comprised of actors who sang without legit flourishes. A sizeable amount of the score was cut and the musical was played without an intermission in under two hours. A hit in Brooklyn, it moved to Broadway and ran for nearly two years.
The third version of CANDIDE, helmed again by Prince, was premiered by New York City Opera in 1982, and it is the version now playing at the company's spiffy new home, Jazz at Lincoln Center's Rose Theater.
Once again presented in comic operetta style, Wheeler's much-improved book, tight as a drum for the first half, is retained, but by restoring songs that were cut in '73, the storytelling of the now two-act musical tends to drag during the second. This is alleviated a bit by the cutting of a scene and song where the characters do little more than complain about being shipwrecked, but happily the text is never less than witty and engaging.
The terrific cast is composed of performers who not only do justice to the music, but who also get the cleverness of the lyrics and dialogue. This is especially evident with the romantic leads. Johnson sings the title role with a beautiful, sweetly-voiced tenor and plays the proper degree of straight-man innocence to make it funny. Meghan Picerno's plays Cunégonde with a glittery soprano and bites into the character's lust for bling with crisp comic panache.
Edelman makes merry as a collection of colorful characters, including storyteller Voltaire and dirty old Dr. Pangloss, gliding through his antics with the finesse of a seasoned showman. The masterful Lavin, playing a mysterious, nameless old lady who, by sorry circumstance, hobbles along with only one buttock, aces the source's sardonic side.
Ashmanskas and Zien divvy up numerous character roles, both splendid at both broad clowning and subtler comic nuances. Richly-voiced baritone Keith Phares is very funny as Cunégonde's narcissistic brother, Maximillian, and Wright, though her role has been cut down considerably, still makes a fine impression as the coquettish maid Paquette.
The design team of Clarke Dunham (set), Judith Dolan (costumes) and Ken Billington (lights) provides colorful storybook visuals and conductor Charles Prince leads the orchestra playing the gorgeous, emotion-laden orchestrations primarily created by Hershey Kay in '56. John Mauceri, who scaled them down for 13 players in '73, expanded them to fuller grandness in '82.
And if this sparkling mounting of CANDIDE is any indication, New York City Opera is set to start achieving fuller grandness in 2017.