Review: Mara Nelson-Greenberg's DO YOU FEEL ANGER? Takes An Absurdist Look at Toxic Masculinity
An empathy coach is hired to hold workshops at a debt collection agency. Sounds like comedy gold to this reviewer, who has been on the receiving end of phone calls from high-pressure, goal-oriented professionals suggesting I try borrowing money from friends in order to not "feel like a deadbeat."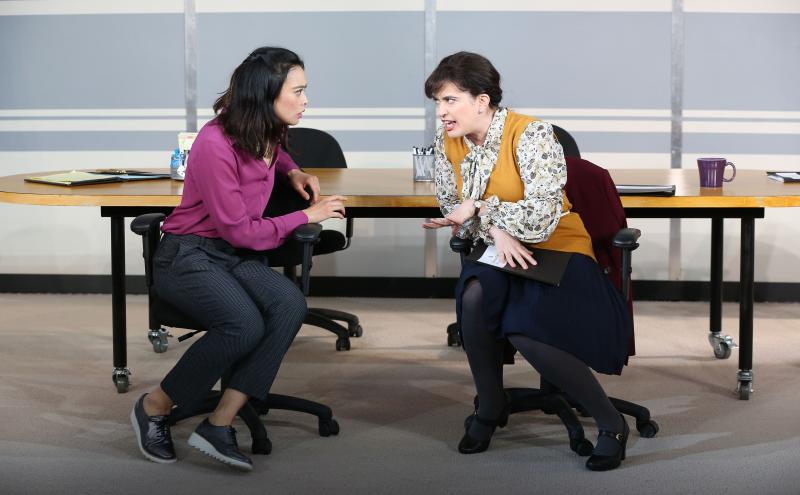 But playwright Mara Nelson-Greenberg describes Do You Feel Anger? as a piece that "deals with power and violence." Okay, certainly an important issue to explore, especially as it applies to a workplace environment where toxic behavior can cause everyday anxiety and hostility.
"You're here to try and help us scream less at people on the phone?" asks employee Eva (Megan Hill) as soon as she meets empathy expert Sofia (Tiffany Villarin).
And then the absurdist nature of the play starts kicking in when Eva explains, "You're going to love it here. I know you hear 'debt collection agency,' and you think everyone in this office must be really mean, but you're right. It's a very small, insular community here, and everyone is so outgoing and mean and it's just a really fantastic, really scary work environment. Someone keeps mugging me when I'm walking around the office."
Next comes supervisor Jon (Greg Keller), who pretty much spells out his subtext by declaring, "Bottom line, over everything else, I really want to pretend that I'm a 'good guy.'"
And though Jon doesn't even get Eva's name right, he's certain that his employees don't really need any special training. "This is a fantastic place to work. For example, we have maternity leave now, where we let women leave when they're giving birth."
While we hear bits and pieces of what goes on during typical workdays, Nelson-Greenberg never shows us anyone dealing with a customer, omitting the foundation of the play's premise and what might explain the reasons for the extreme behavior that fills the 90-minute piece.
Instead, most of the action is set in a conference room, where the juvenile antics of Ugo Chukwu's Jordan ("I'm Jordan. It's a pleasure for you to meet me.") and Justin Long's Howie ("I don't mean to make you feel uncomfortable, but I'd love to have sex with you.") make immediate impressions on Sofia.
Scenes in the office primarily consist of the jittery Eva and the hard-working Sofia continually dealing with inappropriate language, sexual come-ons and other abhorrent sexist behavior from the three guys. This reviewer won't doubt that women in the workplace are frequently exposed to such behavior, and to them it might appear as cartoonishly juvenile as presented by the playwright and director Margot Bordelon, but reality is elevated so much in this case that he found it difficult to feel, well, empathy.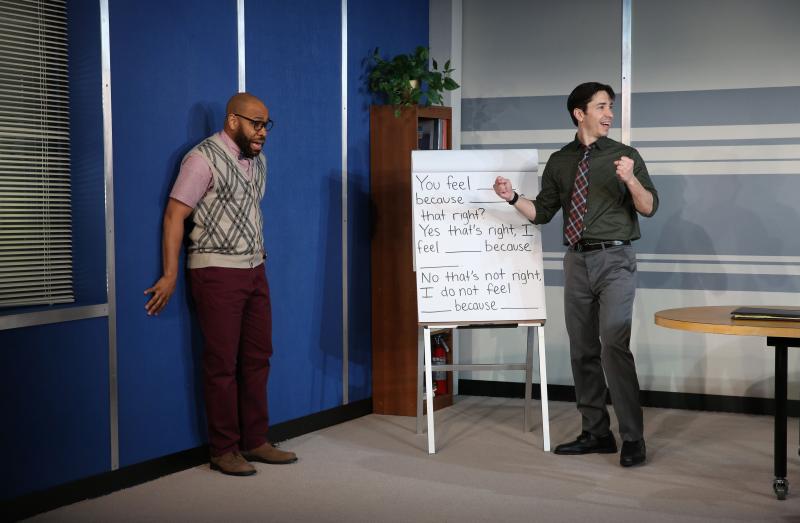 Realism sets in sporadically, as we see Sofia ignoring calls from her mother (Jeanne Sakata), whose voicemail messages reveal to the audience that she was recently abandoned by her husband via an email stating how he has another family. There's also a bit of poignancy involved with an appearance by a 130-year-old man (Tom Aulino) who intends to blow up the office in response to a lifetime of suppressing feelings of anger and rejection.
As the boys keep responding to Sofia's sessions with oblivious hostility, she accidentally discovers a safe haven, depicted by designer Laura Jellinek with a sudden and impressive set change.
"They're only right because they're making up the rules," a character remarks as the play nears its conclusion with a scene set in a place where women find a temporary respite from a patriarchal world. And it's in this scene, still a little absurd but better connected to sympathetic emotions, where this reviewer began to empathize.