Review: Illusionist Vitaly Beckman Dazzles and Charms in VITALY: AN EVENING OF WONDERS
"I sound like Borat and I look like Seinfeld," jokes the Russian-accented illusionist Vitaly Beckman, who indeed sports a resemblance to 9th Avenue's most famous diner patron.
His perfectly charming 80-minute diversion titled VITALY: AN EVENING OF WONDERS is a far cry from the grand spectacles of magic and illusion that occasionally pop up on Broadway. There's no sexy dramatics as he appears to make objects levitate, nor any show-biz schmaltz when he brings an audience member up for a card trick. He's just a friendly guy with some corny jokes and a playful desire to make people want to smile.
"I have more personal information than Mark Zuckerberg," he quips after audience members voluntarily hand over their driver's licenses for a bit involving celebrity photos and disappearing information. (Patrons get their licenses back, supposedly intact, after the show.)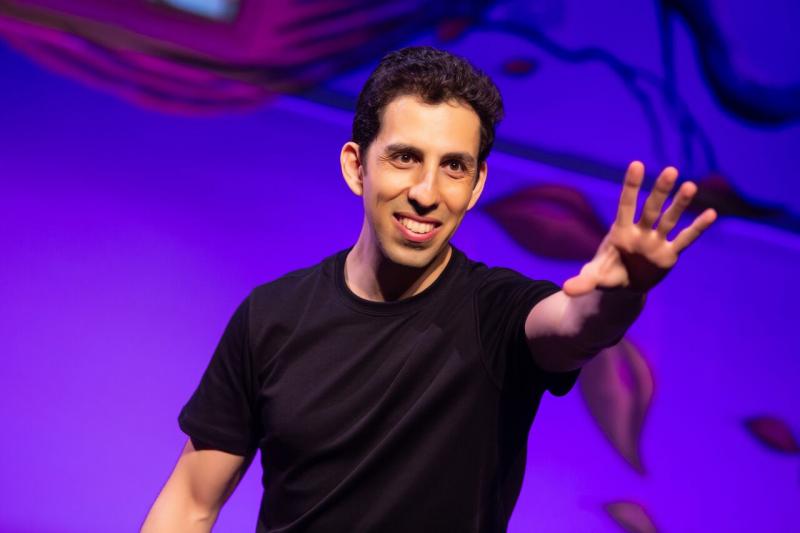 He shows off his waitering skills by pouring drinks from three separate containers and serving them to onstage audience members while blindfolded and with coins taped in front of his eyes.
But perhaps the most wondrous skill he displays is an ability to draw seemingly random lines on a sketch pad, then appear to make them move to form the image of a green leaf or a red rose, and then have those actual items emerge from the page. It's at that moment when you might find yourself, instead of trying to figure out how he did it, just enjoying the loveliness of it all.