Click Here for More Articles on HAIRSPRAY LIVE! on NBC
BWW Review: HAIRSPRAY LIVE! Serves as a Joyful, Optimistic Reminder of a Powerful Message
There is one undeniable quality that HAIRSPRAY has retained as it has journeyed from the big screen to the stage, back to the big screen, and now to the small. The infectious excitement and optimism that Tracy Turnblad sings with in the opening number, "Good Morning Baltimore," is one of the most magical and important gifts that the musical theatre has given in recent decades.
From the moment that the original musical burst onto Broadway in 2002, it has been a literal and figurative rainbow of joy and happiness, and fortunately for the show's legions of fans, NBC's live adaptation, directed by Tony-winner Kenny Leon, has maintained every delightful ounce of the musical's giddy goodness.
As teenage Tracy chases her dream of dancing on Baltimore's most popular afternoon television program in the 1960s, at every turn she is met by people telling her that she's too overweight to be on TV, that she can't dance with her African American friends, and that she's not pretty enough to get the boy. Despite all of the roadblocks thrown in her path, Tracy's belief in herself and commitment to doing what's right creates a wave that eventually sweeps over everyone in the Charm City.
The musical's message of acceptance has grown even more powerful in the years since its 2002 Broadway debut and 2007 film release. The stage show, which features a book by Mark O'Donnell and Thomas Meehan, and a score by Marc Shaiman and Scott Wittman, came to New York less than a year after 9/11, when the city and the country were still looking for a reason to come together and smile. When the big screen adaptation was released in the summer of 2007, Barack Obama was well into his first presidential campaign.
From its roots as John Waters' subversive comedy, HAIRSPRAY has always celebrated the importance of individuals being proud of what makes them different. While that is certainly a sentiment that stands the test of time, in our current society, the message of Waters' world, brought to life in big, bright musical theatre glory, feels even more personal and immediate.
Whether you are overweight, a woman, a person of color, an outcast, in an inter-racial relationship, or simply someone who feels like an "other" in some form or fashion, HAIRSPRAY LIVE! serves as a reminder that no matter what anyone else might say, do, or tweet, that there is both strength and beauty in being proud of who you are.
While the broadcast, overflowing with unmatched levels of talent, wasn't perfect; with a dropped line and cameras in shots here, to control room audio and a faulty giant hairspray can door there; what HAIRSPRAY LIVE! got perfectly right is the inherent love, wonder, and excitement that has made the musical one of the most popular in the world.
Producers Neil Meron and Craig Zadan have developed a tradition over the last few years of these live NBC musicals in casting an unknown to lead the production. Last year, Shanice Williams shone as Dorothy in THE WIZ LIVE!, and this year, Maddie Baillio assumed Tracy's beehive to grab her big break on national TV.
From the moment that she appeared on screen, in her standup bed, it was clear that Baillio had the 1000-watt smile that every Tracy must have. She also displayed a great voice, though not as nasal as we've grown accustomed to from the role over the years. While she didn't display the transcendent charisma that the best stage Tracy's have, the 20-year-old Texas native had a skill set that seemed more appropriate for television.
She brought a subtlety to the otherwise over-the-top character that translated powerfully on the small screen. She might not have had the comic absurdity of Ricki Lake and Marissa Jaret Winokur (the original film and Broadway Tracys, who also had cameos in the broadcast), but she did bring an emotional believability to the part that isn't always as obvious on a stage in front of a thousand people. Baillio is yet another wonderful find for the show's producers and director.
As has always been the case, the standout performance of HAIRSPRAY was Harvey Fierstein, who again played Tracy's mother Edna. Though he won a Tony for originating the role on Broadway, he was not selected to recreate his performance in the 2007 big screen adaptation, so when NBC announced the live broadcast, for many fans, there was no one else who could have played the part.
Fierstein's performance felt incredibly authentic and lived-in. While musical theatre demands a certain level of artifice from actors, Harvey appeared to be right at home in Edna's moo moo. His presence gave the entire production an air of comfort and familiarity that allowed the audience to settle in, and appreciate the wonderful evening of one-of-a-kind television. Harvey also wrote the wonderfully witty teleplay as well.
As Edna's loving husband Wilbur, Tony-winner Martin Short was absolutely charming and adorable.
Much like with having Fierstein involved, one of the joys of this HAIRSPRAY was in seeing Tony-winner Jerry Mitchell recreate much of his original choreography. To be able to watch this new cast perform the iconic moves to "You Can't Stop the Beat" was an absolute thrill for die-hard fans of the musical's theatrical roots.
While the choreo might have been familiar in many ways, one of the best performances of the night came from someone that many tuning in might not have known. Disney star Dove Cameron played Tracy's rival Amber Von Tussle, and made the most out of playing the blonde bully. Cameron proved to be wonderfully adept at walking the line between being mean and nasty; being awful to Tracy, but never venturing into unredeemable territory. She was funny, and had a fantastic voice to boot. Hopefully this will be the first step for her graduating from her Disney roles to more legit musical theatre projects.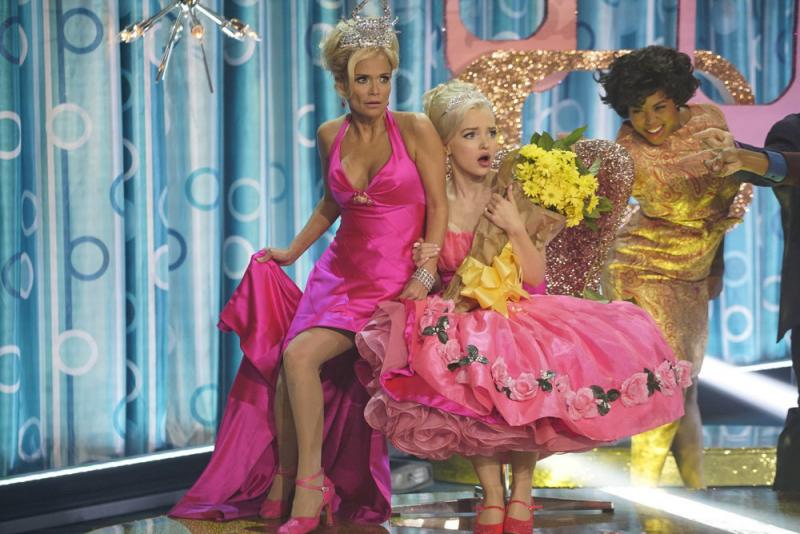 As she did in The Disney Channel film DESCENDANTS, Tony-winner Kristin Chenoweth played Cameron's mother. While the role was probably not properly suited for Chenoweth's vocal or comedic talents, it was wonderful to see her as the vile Velma Von Tussle.
Ephraim Sykes, most recently of HAMILTON on Broadway, was also dynamite as Seaweed, Tracy's black classmate who teaches her the moves that get her on "The Corny Collins Show." It is no surprise that someone with his stage resume would shine in this environment, but Sykes' triple-threat performance even surpassed the highest of expectations.
As Seaweed's unlikely girlfriend, pop star Ariana Grande returned to her musical theatre roots playing Tracy's bizarre best friend, Penny Pingleton. Though few would argue that Grande is one of the most gifted vocalists in popular music today, her signature seductive, breathy affectation (and refusal to sing consonants) felt out of place for the awkward and nerdy Penny, especially before she learns how to shake and shimmy in the musical's final number.
Though it makes sense that Penny would be fairly soft spoken, much of Grande's dialogue sounded swallowed and hard to understand. While her A-list name certainly brought eyes to the broadcast, she was one of the few disappointments of the evening.
The show's other well-known vocal powerhouse was Grammy and Academy Award-winner Jennifer Hudson who took on the role of Seaweed's mother, Motormouth Maybelle.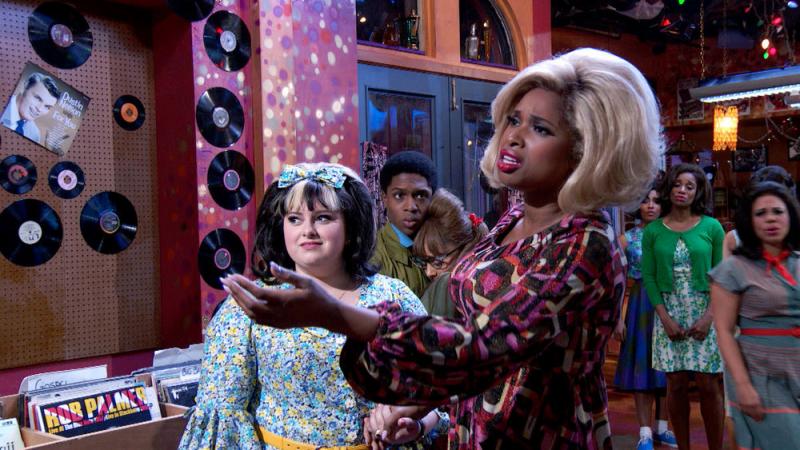 Fresh off a turn in Broadway's THE COLOR PURPLE, Hudson again proved why she is such a special talent. It is no surprise that she delivered heart-breaking, goose bump-inducing performances on songs like "I Know Where I've Been," but it was her mentorship of Tracy that was so striking. Though her Broadway debut didn't end exactly how she had anticipated, her performance in HAIRSPRAY LIVE! proves that she certainly has the ability to conquer any role.
As Tracy's love, Link Larkin, NBC turned to another Disney Channel star, Garrett Clayton. While his performance was perfectly adequate and appropriate, the moment came off feeling just a little too big for him.
DANCING WITH THE STARS champion and potential SINGIN' IN THE RAIN star Derek Hough was surprisingly great as Corny Collins. After his sister Julianne starred in FOX's GREASE: LIVE last January, I think that Derek might have outdone his younger sister.
Shahadi Wright Joseph, from Broadway's SCHOOL OF ROCK, also sparkled as Maybelle's daughter Little Inez, and it was fun to see Tony-winner Andrea Martin as Penny's protective parent Prudy.
The broadcast also featured cameos by Sean Hayes, Rosie O'Donnell, and Billy Eichner, as well as a return of the original Broadway Dynamites Kamilah Marshall, Judine Somerville, and Shayna Steele.
It also bears mentioning that the HAIRSPRAY LIVE! ensemble was full of vibrant and talented performers that added an incredible amount of depth and reality to all of the scenes, whether they were in a television studio, or on the streets of Baltimore.
Peppered throughout Derek McLane's colorful and playful production design were homages to important figures in HAIRSPRAY history, like "Divine's Pet Food" honoring the big screen's original Edna, and "Greenblatt's Baltimore Crabs" giving thanks to NBC Chairman Bob Greenblatt who has championed musical theatre on the network from SMASH to the annual live musicals.
Like Mitchell, costume designer Mary E. Vogt stayed true to the Broadway HAIRSPRAY, recreating many of William Ivey Long's familiar looks.
Despite the noticeable improvements that NBC made by moving this year's production to a Hollywood studio, with multiple soundstages and back lot sets, like all of the other recent live musicals, they weren't able to capture the electricity of a live theatrical performance. While HAIRSPRAY LIVE! incorporated a live audience in some scenes, none of the broadcasts, on either NBC or FOX, have found the right balance between TV and theatre. The natural, rhythmic pace and tempo of a stage performance feels rushed on screen, but the deliberate and technical nature of television often feels like it robs the story of its energy. That chasm might not have been cleared with this broadcast, but the beautiful and professional production proved that Meron, Zadan, and company are on the right track to figuring it out. In many ways, HAIRSPRAY LIVE! was the best live musical on any network over this four-year experiment.
While after the broadcast many will turn an eye to A FEW GOOD MEN LIVE! and next December's BYE BYE BIRDIE LIVE!, I hope that audiences appreciate what a remarkable opportunity we had to see a musical performed live on nationwide, network television that championed the importance of accepting yourself and everyone around you. Over the past year, it's felt as if there hasn't been nearly enough of that going around, but, to paraphrase Motormouth, hopefully HAIRSPRAY LIVE! will change some of the fools' minds.
---
Did HAIRSPRAY take on even more meaning for you this time around? Let me know on Twitter @BWWMatt. You can listen to me on BroadwayRadio or on BroadwayWorld's pop culture podcast Some Like it Pop.
Banner Image: The HAIRSPRAY LIVE! Cast. Photo Credit: Justin Lubin | NBC