BWW Review: Gerard Alessandrini's SPAMILTON Is The Master Parodist's Masterpiece
"I am not gonna let Broadway rot," raps a rising musical theatre artist who describes himself as being "just like a savior / With Mobb Deep misbehavior," in Gerard Alessandrini's positively brilliant spoof of Lin-Manuel Miranda's Tony and Pulitzer winner, repackaged as SPAMILTON.
For nearly 35 years Broadway's master parodist has been lambasting the greats and not-so-greats of musical theatre with his continually revised revue, Forbidden Broadway, which has seen countess editions produced in New York and worldwide.
But while the standard method of Alessandrini's madness has always been to include a variety of victims such as LES MISERABLES ("At the end of the play you're another year older.") and GRAND HOTEL ("People come, people go, people move chairs."), this time he's devoting a full eighty minutes to one production.
It's not his first attempt at such a venture. Fifteen years ago Alessandrini had the idea to present his version of the Encores! concert series, reimagined as Gongcores!, beginning with a full-length spoof of Irving Berlin's short-lived 1962 musical MR. PRESIDENT. While there was no shortage of cleverness, the number of people who understood what he was spoofing was in short supply.
Obscurity is not an issue with SPAMILTON. Through the original Broadway cast recording and numerous televised performances readily available on YouTube, HAMILTON has become a national phenomenon, even to those who have yet to see it live, and its author and former leading man Miranda has become the darling of the Obama White House.
In fact, Alessandrini begins the show with a prologue suggesting that HAMILTON has become as associated with the current administration as CAMELOT eventually became associated with the era of President Kennedy.
From there the story of the rise of Lin-Manuel Miranda ("By fourteen, they placed him in a school with a music charter.") is told in a manner that parallels the plot of his mega-hit, though frequently seguing into detours that include a visit with the star of "An American Psycho In Paris," who sings "I'll Kill My Friends In My Underwear," and, of course, an obligatory appearance by Stephen Sondheim.
While Alessandrini has always displayed a superior talent for clever wordplay in his parody lyrics, what makes SPAMILTON such a remarkable work is that he keeps up with Miranda's intricate rhyme patterns.
Sure, it's a good laugh when the Leslie Odom, Jr. character advises the Broadway hopeful to "smile more, rhyme less," but it's a jaw-dropper when he follows up with "Be terser in your verse, sir. / You're no Johnny Mercer."
Miranda is played by Dan Rosales as a fervent Don Quixote on a quest to save Broadway from inferior musicals, balancing nerdy friendliness with overzealous passion. Chris Anthony Giles makes for a slick and cool Odom, Jr., with Nicholas Edwards playing off the sexy charisma of Daveed Diggs. Juwan Crawley is the Christopher Jackson stand-in, but his spotlight moment comes when he sings in a lovely light tenor.
While the guys are all terrific, the dazzling standout is the dynamic belter Nora Schell, who, as Renee Elise Goldsberry, handles puppet versions of Phillipa Soo and Jasmine Cephas Jones as they search the greatest city in the world for an entertaining Broadway show. ("I've been reading BroadwayWorld on dot com," she raps.)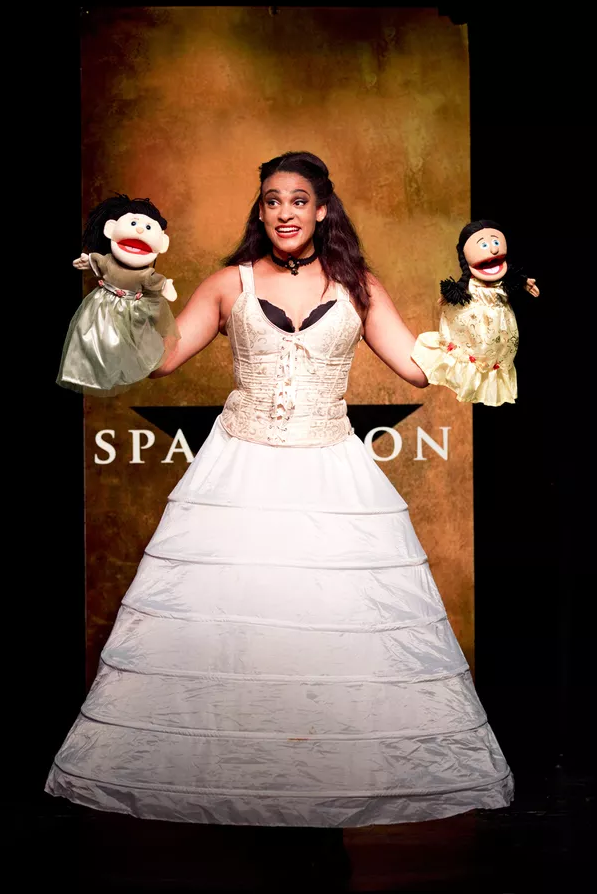 Like her cohorts, Schell plays multiple roles, including Jennifer Lopez, Beyonce, Gloria Estefan and a has-been Audra McDonald ("You haven't won a Tony in months!"). While her vibrant presence and verbal dexterity would make her a natural to step into HAMILTON as a replacement Angelica Schuyler, her crack comic skills and lyrical panache might have you thinking of her playing roles more along the lines of Reno Sweeney.
The great cabaret star and Forbidden Broadway veteran Christine Pedi filled in the "special guest diva" slot the night this critic attended, appearing as SWEENEY TODD's beggar woman pleading for HAMILTON tickets before revealing herself first as Bernadette Peters and later as Liza Minnelli. Another cameo spot has Glenn Bassett singing King George's solo with a lyric suggesting that part of HAMILTON's success lies in the fact that the general public perceives it as a "straight" Broadway musical.
Along with writing the show, Alessandrini also directs, with choreography supplied by Gerry McIntyre and Forbidden Broadway's original music director, Fred Barton, at piano.
Though the closing moments of SPAMILTON include perhaps the funniest sight gag Alessandrini has ever concocted, it's followed by choruses of "I Wanna Be In The Film When It Happens," with a parody lyric suggesting that the realities of commercial Hollywood could undercut the musical's casting concept.
But that's part of the brilliance of Gerard Alessandrini. Beneath the laughter and silliness, there's always an awareness of the fragile state of theatre, especially when the appreciation of inventive creative artists diminishes and the Great White Way becomes more concerned with making Hamiltons than with creating HAMILTONs.