BWW Review: David Arrow's Informative and Bittersweet KENNEDY: BOBBY'S LAST CRUSADE
"We are a great country," presidential candidate Robert F. Kennedy assured his supporters in a speech given moments after winning the Democratic Party's 1968 California primary and moments before he was assassinated while leaving the celebration at Los Angeles' Ambassador Hotel.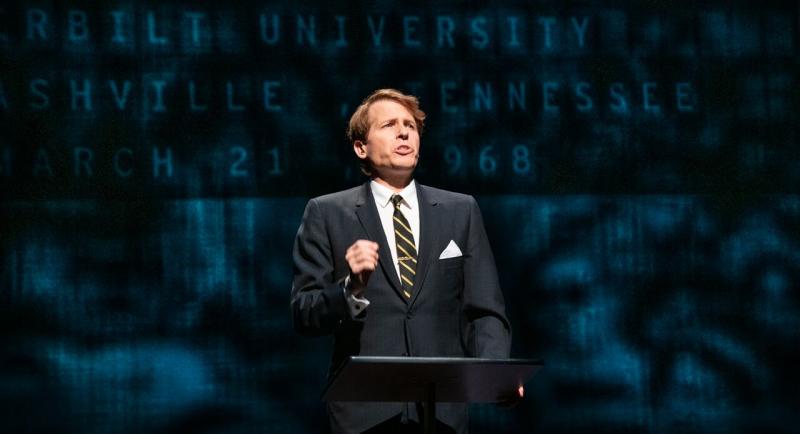 In playwright/performer David Arrow's informative and bittersweet solo piece KENNEDY: BOBBY'S LAST CRUSADE, those words from history are soon followed by spoken thoughts of the author's invention, where the fallen Senator thanks the 17-year-old busboy who comforted him as he lay on the kitchen floor.
The play then flashes back to less than three months earlier and the words, "I am today announcing my candidacy for the presidency of the United States."
The Brookline, Massachusetts-born United States Senator from New York was speaking to a greatly divided country when he made that announcement in March of 1968. Demands to get American soldiers out of Vietnam were growing louder as television cameras brought horrific footage from across the Pacific into American homes every day. President Lyndon B. Johnson's support of the Civil Rights Movement turned the majority of the south against the Democrats and the Feminist Movement was fiercely fighting against patriarchal resistance.
So rather than dramatize a full biography of the man who would become known to the country as RFK while serving as his older brother John's attorney general, Arrow chooses to focus on his brief effort to gain his party's nomination, alternating between snippets of his campaign trail speeches and personal moments away from the spotlight.
Though Kennedy was hesitant when Allard Lowenstein first approached him to challenge Johnson's presumed reelection effort, he did ask his family members for their input.
"We took a poll of my children. We wanted to get a cross section of the younger generation. I got four votes. Two votes went to Teddy and two went to my sister Pat. The others are reassessing their position."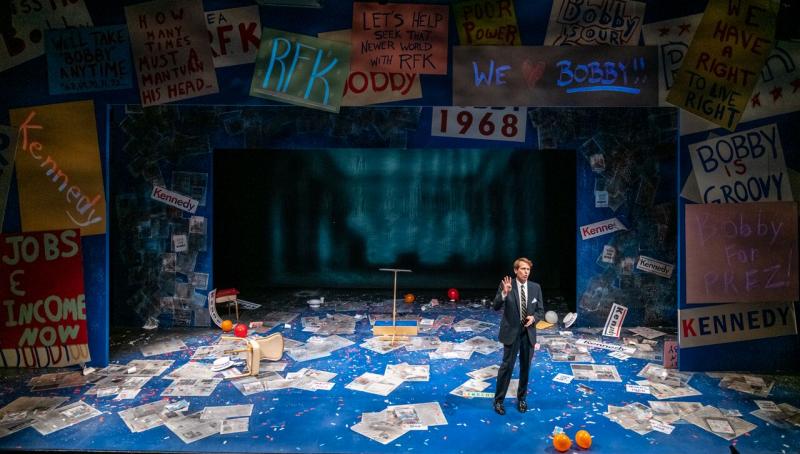 Senator Eugene McCarthy's anti-war campaign was inspiring thousands of hippies to "Get Clean For Gene," and present a more wholesome image of his support to the public, but Kennedy thought he lacked the decisiveness to challenge Republican front runner Richard M. Nixon.
"Poverty is indecent. Illiteracy is indecent. The death or maiming of brave young men in the swamps of Asia, that is indecent," the decisive new candidate firmly proclaims.
We get the softer, self-effacing side of the politician when he expresses regret over some of his actions during his brother's administration, quoting the words of Sophocles: "All men make mistakes, but a good man yields when he knows his course is wrong."
He also sings a bit of Woody Guthrie's "This Land Is Your Land," mussing that it should be the nation's anthem.
Set designer James Morgan places director Eric Nightengale's straightforward production in the hotel's ballroom in the aftermath of the tragic events, with newspapers strewn on the floor along with balloons, confetti and campaign signs.
Arrow certainly resembles his subject, though his inconsistent vocal impersonation can get a bit extreme. But, more importantly, the sincerity is there, in both the public servant and the artist presenting him.