BWW Prompts: Which Singer's Catalogue Would You Turn Into A Musical?
Today we asked readers which music artist should be the next to get the jukebox treatment!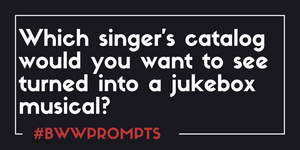 We want to hear from you! Submit your response to our daily #BWWPrompts, where every weekday we ask our readers on Facebook, Twitter, and Instagram questions to spark some theater conversation.
Read some of our reader's answers below!
---
Twitter
"As a child of the '80s, I'd love to see a Madonna musical. With the right choreographer and a huge ensemble, it could be spectacular!" @PSWhore
"The only correct answer is Fleetwood Mac Rumors with the relationship drama of the band as the story." @thinktheatre
"Aretha Franklin" @callmelady
"Jennifer Lopez. I think we deserve it." @NatalieAlana87
"Joan Jett and Pat Benatar." @LeenyaRideout
Instagram
"Jason Mraz! The lyricism is already brilliant, add some musical theatre vibe and that's a show I would love!" @mcconley (M. Collins Conley, Mean Girls on Broadway)
"Ah Taylor Swift. You have so much material to work with and definently range of genres of songs." @marissacmaxwell
"Lady Gaga!" @sabrinaaoliverii
"BEYONCÉ. AND THATS ON PERIOOOOOD." @myiamalone12
"Tori Amos. Musical will be DAYS long." @isvbella__
Facebook
"Not so much a jukebox musical but more an an artist or band that I think could write incredible music for a musical - "fun." Their songs have great storytelling and dramatic structure. Would love to see what they would come up with." Stacey Brunelle
I'm convinced there is a musical to be made using Blondie's catalog. Wish I could write musicals." Gavin Fraser
"The Monkees Musical (with actual monkeys)" Jay Stephenson
"Elton John/Bernie Taupin's Tumbleweed Connection and Honky Chateau - a Western musical." Larry C. Heitzman
"The Carpenters" Chris McLaughlin