BWW Interview - Special CATS Debut of the Month Series:Christine Cornish Smith
This month, BWW's Debut of the Month column features four of the talented actors who are making their Broadway debuts in the exciting revival of Andrew Lloyd Webber's iconic musical Cats, now playing at the Neil Simon Theater. Based on T.S. Eliot's "Old Possum's Book of Practical Cats," Cats tells the story of one magical night when an extraordinary tribe of Cats gathers for its annual ball to rejoice and decide which cat will be reborn.
Today we speak with Christine Cornish Smith, who makes her Broadway debut in the role of Bombalurina!
[NOTE: BroadwayWorld's fabulous photographer Walter McBride captures images of the Broadway stars profiled in our monthly column in a special photo shoot. Check out the pics of Ms. Cornish Smith throughout the feature!]
What was your first experience with Cats?
I was fairly new to the CATS world. I had definitely seen the VHS and remember immediately wanting to be Bombalurina as a ten-year-old! But it wasn't until I knew Andy [Blankenbuehler] was working on a new revival that I really started getting into CATS.
Can you tell us about your character, Bombalurina?
Oooo. I just love Bomb. She is generous, sexy, authentic. She can be a bit wild and out there,
and almost fell into a rough and hard life, but when it comes down to it, she is there for her tribe and knows when to step up in order to protect her family. She is also just no-nonsense. I think that's what I love about her the most. I strive more and more in my own life to strip away the excess and get down to the truth and delving into a character like this almost helps me notice chances to be very honest in my own life.
How do you learn to sing and dance like a feline?
Well I think our company's years of dance training has made it easier to unlock the feline within us all! But we started with improvising as a company on all fours, truly as cats, then slowly found that same felinity on our two feet. I also did quite a bit of research on my own, just observing my friend's cat and watching various videos, etc. Then after all of the feline work, being able to connect it to your human self is important, too. Being able to say, ah, yes this is just a dilation or exaggeration of how a human would act in this moment. For instance, it's not socially acceptable for us to hiss at someone then scamper away. Well, I suppose you could, but.....anyways! So I see Bombalurina as a true character who is taking her actions to the full extent. The feline extent is that extra mile that humans don't get to extend to.
What do you think it is about CATS which allows it to stand the test of time?
The messages are simple and universal. Everyone on this planet can understand feeling lonely, proud, loved, shunned, and this show represents it in a way that crosses over language and cultural barriers. It's truly brilliant. It has lasted also, I believe, because of the commitment it requires and for people to witness that commitment....it really does affect you in a deep way!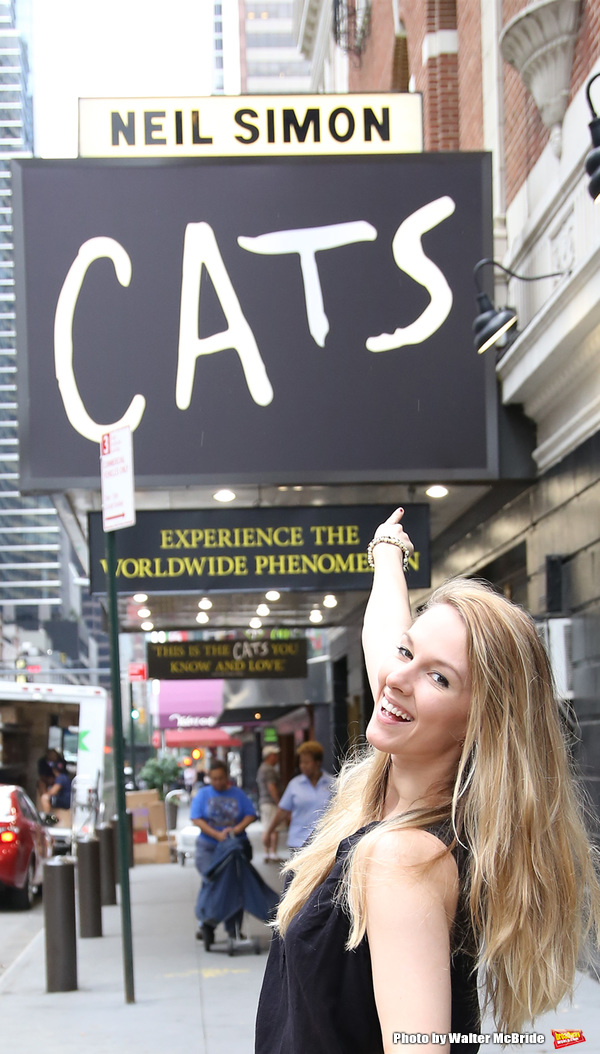 In what ways do you think CATS has revolutionized theater?
It transformed what a musical could be! No it doesn't have to be scene work and a thorough plotline. It can be abstract and different, but still be authentic and full of depth.
What message do you hope audiences take away from the show?
This world is a better place when we put aside our pride, egos, and differences and move forward as one.
What has it been like to work with Tony-winning choreographer Andy Blankenbuehler?
Andy is the true dream to work with. He is one of the hardest working humans I know, but also just gets it. He understands what each moment needs and is willing to keep poking at something until it is able to translate appropriately to an audience. I like that he can take the most commercial and spectacle number, dissect it and analyze it to where each and every dancer onstage is moving with huge purpose and intention. That's hard to do in musical theater, where everything can easily fall into a cheesy dance move. He gets to the root of each moment, and that is thrilling and so fulfilling to work with as a dancer and actor. Basically he is the best, and to put all that I've learned from him in a sentence feels impossible!
CATS features so many beloved songs. Do you have a favorite number?
I mean, selfishly, I love Macavity, but after this process, I think my favorite number to do
onstage is Rum Tum Tugger. Probably because Tyler Hanes is freaKing Brilliant and is always so fully committed to play within the world of CATS. I just always find myself inspired to find new things and work harder when Tyler takes that stage!
What was it like to make your Broadway debut in CATS?
Surreal. Truly. I really did not see this coming, but I could not be more honored. I try to remind myself every show of how much I have wanted this since I was a small, nerdy girl listening to musical soundtracks in Dallas, Texas!
Christine Cornish Smith appeared in the National tour of Joseph and the Amazing Technicolor Dreamcoat. She has appeared regionally in Oklahoma! (Laurey) at the MUNY, A Chorus Line (Sheila) at Riverside Theater, Goodspeed, Fort Wayne Philharmonic, and the Lyric Opera of Chicago.
About Cats: The record-breaking musical spectacular by Andrew Lloyd Webber that has captivated audiences in over 30 countries and 15 languages is back on Broadway! Three-time Grammy® nominee Leona Lewis makes her Broadway debut as Grizabella in the one and only Cats.
Based on T.S. Eliot's "Old Possum's Book of Practical Cats," this wonderfully imaginative show features breathtaking music, including one of the most treasured songs in musical theater - "Memory." Winner of 7 Tony Awards® including BEST MUSICAL, Cats tells the story of one magical night when an extraordinary tribe of Cats gathers for its annual ball to rejoice and decide which cat will be reborn. Featuring a cast of beautiful dancers and singers and the original Tony-winning sets and costumes, this beloved hit is still Broadway's most unforgettable event. Experience Cats for the first time as it begins a new life for a new generation... or let it thrill you once again!
CATS is playing at the Neil Simon Theatre, 250 West 52nd Street (Between Broadway and 8th Avenue).