Interview: Marilyn D'Honau on Dancing in the Original WEST SIDE STORY
Marilyn D'Honau is not only the youngest surviving cast member of the original production of West Side Story, she was also the youngest when the show opened in 1957.
D'Honau was a sixteen- year-old high school senior when she was cast as Clarice, one of the Jet girls. Though she'd been performing professionally since she was twelve, she credits having good ballet training for her successful audition.
In addition to West Side Story, Ms. D'Honau went on to appear in seven other Broadway shows, including the original companies of Pal Joey, Applause and Baker Street. She also performed in a popular touring nightclub act, "The D'Honau Sisters," with two of her older sisters.
A sprightly and agile seventy-seven year old, it was hard to contain Ms. D'Honau's energy and enthusiasm during this interview. She'd constantly jump out of her chair and flawlessly demonstrate different bits of the iconic choreography that have been etched in her body and mind.
In recognition of the upcoming 60th Anniversary of West Side Story, I spoke with her about her early career and her experience with the show.
---
Thank you for taking the time for this interview, Marilyn.
You're welcome, Bob. I'll try to remember as much as I can.
What was life like before appearing in West Side Story? When did your training begin?
I was born in Cranford, New Jersey and started taking dance classes when I was about six years old. I was the youngest of eight children and used to dance around the house in the toe-shoes of my two older sisters, Dorothy and Lillian. We all took class at Madame Eugenie's in Elizabeth, New Jersey and eventually commuted to Manhattan to take professional classes. When I was in the sixth grade my family moved into Manhattan and my parents enrolled all of us in the Professional Children's School.
Tell me about your first professional experiences.
I was about twelve when I began appearing on a television variety show called George Scheck's Star-Time Kids. Connie Francis was the star and she would play the accordion and sing. I was the little ballerina on the show and Mr. Scheck always wanted me to do the same routine. It was called "Swamp Fire" and I choreographed it myself.
When I turned fourteen I replaced Paula Lloyd, a former Ballet Ruse de Monte Carlo dancer, in the Broadway production of On Your Toes. But I went in the show as an adult, not a child. In those days in the ballet field, you always had a baby ballerina. So it wasn't uncommon for me to take on a role like that.
After On Your Toes I danced in a touring industrial show for Michael Kidd. It was for Motorama and we did six shows a day. The schedule was really tough. Since I was still in high school I was trying to memorize geometry theorems in between shows.
How did the audition for West Side Story come about?
I read about it in Backstage and went to the Equity chorus call. In the 1950s we used to audition right on the Broadway stage, not in rehearsal studios like today. It was the first time I auditioned for Jerome Robbins and no one had really heard anything about the show. We just knew that they were looking for young teenagers for a new Broadway musical. Nowadays with readings and workshops you can find out so much information on the Internet before the first casting call.
What were those early rehearsals like?
We had to come in with a story about our character. Where you were from, what your family was like, and stuff like that. Considering that I was the youngest member of the cast, I used my age as part of my character. I played my role like I was the new member of the group. When we entered the drugstore before "Cool", I walked in like I was eager, but also remained cool to be a part of Velma and Graziella's group.
Right from the beginning, the Jets and the Sharks were separated from each other during rehearsals. Jerry wanted to create tension and animosity between the two gangs-and it worked. He wanted us to stay in character at all times. The Jet boys were even after the Jet girls. I remember climbing the stairs to the top of the Winter Garden Theatre with my schoolbooks to get to my dressing room. When I'd turn the corner I had to pass the dressing room of Tony Mordente, Grover Dale, Eddie Roll and David Winters. I was always intimidated by the four of them because they were so tough and always in character. I used to just rush past their doorway.
What do you remember about dancing in "Cool?"
I remember that the girls weren't supposed to be in the number. Whenever Jerry was choreographing on stage he wanted everyone to sit in the orchestra section of the theatre-whether you were in the number or not. He wanted all of us to be present to get into the mood of the show. When he was working on "Cool" he just looked out into the theater and said "You three girls come up here." And that's how Carol D'Andrea (Velma), Wilma Curley (Graziella), and I got into the number.
He set it on the three of us and had us charge forward and hit all of these sharp poses. There were a lot of snaps, shoulder movements and kicks. He also included us in the rag doll section. Unlike the recent revival, the original production had the drugstore set remain onstage throughout the entire number. Later in the number, us girls only had a tiny bit of room upstage to mirror some of the steps being danced by the guys.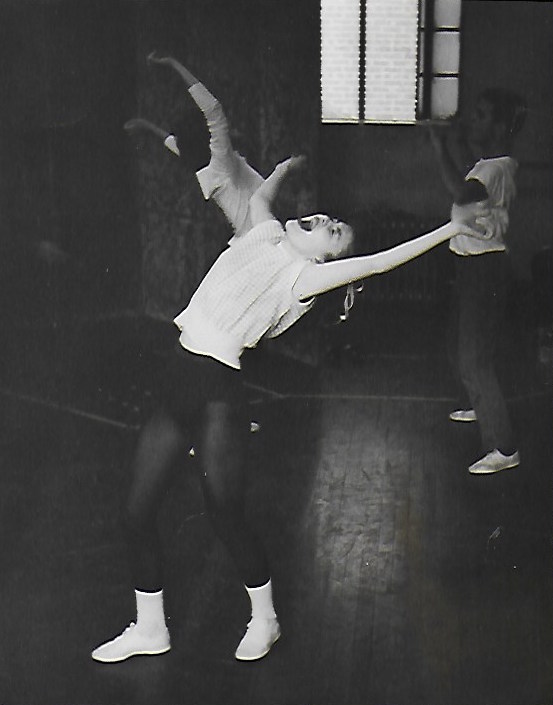 How did Mr. Robbins handle the scene work?
Jerry was such a perfectionist. He took time for everything. Even the small scene where Velma says the line "No thank you-oo, ooblee-oo." We never seemed to get it right. He was such a fanatic on something that we figured was so minor. We thought how many times do we have to respond "Ooo" to Graziella's "And you can punctuate it?" We did so many versions of it that we became paranoid of exactly how to say it. There were always corrections on that, yet it's over in five seconds.
The Jet girls really have so little dialogue in the show-it's all about the boys. We did the scene at the Dance at the Gym, and the one in the drugstore. Otherwise we just danced. The Shark girls had much more to do with "I Feel Pretty' and "America."
Did you ever want to be a Shark girl instead of a Jet?
No! I loved being a Jet girl!
During the rehearsal process was the cast aware that they were a part of something special?
I wasn't aware of it being anything special until much later on. We were all nervous because it wasn't a typical musical-I mean; it has two deaths in it. The show was so different at the time. To us it was more of a drama that had music and dance. When we opened out of town there was silence when the curtain fell. The audience didn't know what to think. It took a moment or so before the applause started.
Jerome Robbins was known to be quite the taskmaster. Were you fearful of him?
Jerry used to hide in the wings during some of the performances. One time as we were coming offstage after the jitterbug section I remember him reaching out from behind the curtain and grabbing my partner David Winters by the arm. I don't know what David did wrong but I just continued to run away as fast as I could. It was never a good thing when Jerry corrected you.
Did he ever say anything to you?
There is one thing that sticks out in my mind. It happened during a rehearsal for "Dance At the Gym." It was when I hit a certain pose after the cha-cha section. I heard him call out, "Marilyn, you look like Joan of Arc!" I don't know why he said that and I never asked. But I guess he liked me because he cast me in his next show, which was Gypsy starring Ethel Merman.
---
Marilyn D'Honau lives in New York City with her husband Tom. She continues to teach weekly ballet classes and was recently honored with the Legacy Award from Dancers Over 40 for her body of work and continued support of the organization as an active member.
She will be appearing with other members of the original Broadway cast to celebrate "COOL! The 60th Anniversary and Reunion Event"" on September 27th at 8pm. Click on dancersover40.org for more information.
Check out "The D'Honau Sisters" performing part of their act on television (1960s) in the clip below!