BWW Interview: Kristin Chenoweth On Performing At London Palladium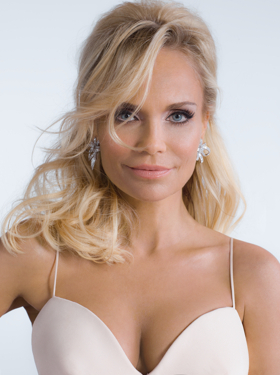 Kristin Chenoweth's work ranges from Wicked and On the Twentieth Century to The West Wing, Pushing Daisies and Glee, plus numerous albums and concerts. British fans will have a chance to see her in person at An Intimate Evening with Kristin Chenoweth at London Palladium on 20 October.
What music can we expect in the show?
There's a lot of songs from my new album The Art of Elegance, which is music from the Great American Songbook, and I'm going to debut some songs as well. And I've got some very special guests joining me - you'll have to wait and see!
I was at the Royal Albert Hall three years ago. This is a bit more of an intimate feel, just me and my piano. But you do have to think about how to fill that space, so I think with this material it should work really well.
You've always had a diverse range musically - is that deliberate?
I do sing the songs that people expect of me, but I must continue to push myself into other areas that I grew up singing in or that make me happy. So for sure you'll get standards and contemporary music, a couple of Christian songs, musical theatre, pop rock, maybe even one I've written. There's lots of new material, so even though I've been singing a lot on the road, London hasn't heard it yet.
Do fans generally respond well to hearing other genres?
Yes, they're always like "Great, who wrote that song, where do we find it?". I love introducing music, especially to my young fans - those classic songs from shows they don't know or different artists. I enjoy putting in Linda Ronstadt, Dolly Parton - it's all over the map. I think that's entertaining. And it shows all the stuff I do and that I enjoy.
What's the biggest challenge in a solo show?
The biggest challenge for me is to keep healthy, keep the voice healthy, so I can ask of it all these different things. It's interesting, what's happening to me now is my voice is deepening as the age comes. Julie Andrews told me that's what would happen and I didn't believe her - I thought I'd just sing high notes the rest of my life!
It allows me to sing material I never thought I'd sing before, but all the while taking care of the top and the middle. It requires a lot of rest, checking in with people I trust to see how I'm sounding, taking care of the body. I like to have fun like everybody else, but I just can't go out drinking and smoking all the time.
Do you enjoy performing as yourself, rather than in character?
I really like talking to people directly. When you're in a role, which actually I haven't done in London before, you're behind that role. When you're doing a concert, you're just you. You decide the material, how it's going to go - that's really freeing for any artist. It's my favourite milieu.
Will there be anecdotes as well?
Definitely, it's become part of the show - people want to hear about me falling into the pit and keep singing, all the things that have gone awry! It's nice for young fans to have hope that if there's injury or something goes wrong, those accidents can be happy and not everything has to be perfect. It's live theatre. Sometimes you walk out and the set isn't there - you have to just roll with it!
Have you felt that pressure to seem 'perfect'?
I think we all do. But they can take me as an example of empowerment where there's tons of mistakes, but when you're born to do it, you're born to do it.
Who do you look up to?
Judy Garland. Her voice was sort of lowering later on - she'd had a hard life, so that might be why. And Linda, knowing what else she could do with her voice. People think the performers of that era were just doing drugs, but they were working. They weren't watching TV and movies - they were at the piano, working.
Are you ever intimidated to take on a song?
If you sing your truth, and continue to go on that journey, you won't have that fear. I was thinking about singing "Memory" and then went "I can't sing that in London", but part of me deeply understands it and so I thought "Why not?". I'm experiencing it now. And I'd love to see a Brit take on "Popular"! I'm thinking about going to see Wicked while I'm there.
I'll be talking a lot about why I've chosen these songs. When you tell people why it spoke to you or how it came to you it makes it so much more interesting - it's not just "This is a song, I hope you enjoy it too".
What does it mean to perform at the Palladium?
I'm so excited to get in there! I think it's going to be a special experience.
Have you got more screen roles coming up as well?
American Gods will return for me, and I'm in negotiations to do another pilot. I've been really lucky with film and TV. If you act your truth, if you are the role, you might bring something maybe they didn't see, and I've worked with people who've encouraged that. It's really busy this year - in a good way!
Of course I'd love to do a play as well. My Broadway debut was a Molière play, Scapin. And there was this fascinating woman, Tammy Faye Bakker - she was a televangelist, and she lost everything, she had this very turbulent life. I would love to bring her life to drama. That's been a fun idea to develop, so we'll see.
What's still on your wish list?
There's so many more things to do! I hope I don't run out of time. I want to play the lead in Hamilton - I always listen to the album before I go out, so that would be awesome! I'm lucky I haven't been typecast as much as one would think, so I'm always hoping for the next surprise around the corner.
I've thought about doing a classical album, but in a different way. I'd really like to introduce people to some of that beautiful music and make it accessible. I'm never going to not do something that challenges me - I might fall flat on my face, but that's how I grow.
Finally, what are you expecting from a British audience?
Audiences are all pretty much wild! Hopefully a lot of love, and ready to have a great time.
An Intimate Evening with Kristin Chenoweth is at London Palladium on 20 October