BWW Interview: Jackie Hoffman's Yente Spins Comedy in Yiddish FIDDLER ON THE ROOF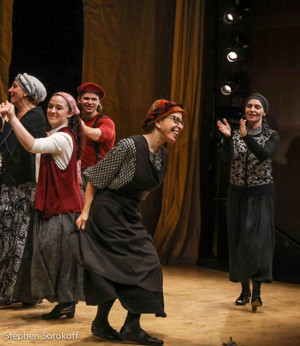 No doubt you've seen at least one production of FIDDLER ON THE ROOF.
If you're lucky, you caught the 2015 revival directed by Bartlett Sher and starring Danny Burstein.
And if you're smart, you'll score tickets for the new Fiddler that's making waves at the Museum of Jewish Heritage, in Battery Park City. It's unlike any you've seen or heard.
This production, which has had the critics swooning since opening and has been extended through Oct. 25, is entirely in Yiddish.
Jackie Hoffman, the comedic actor known for her solo kvetchathons and scene stealer of stage and screen, inhabits the juicy role of Yente, Anatevke's matchmaker. As you no doubt know, the village is about to be driven out by a Russian pogrom. There's a wedding, a bottle dance and familiar heartbreak in this sweeping tale of tradition, family love and displacement.
Yiddish was not a second language to Hoffman, or to most of the cast. Three cast members knew the language and the rest learned their parts phonetically, as is done in opera. "It was like going to emergency Yiddish class," Hoffman said.
She's thrilled to be working with director Joel Grey and the entire cast. "I had to do this part. I've always loved this play, loved it with Zero Mostel," Hoffman said. "But everybody says, 'another Fiddler?' Yet this one is so profoundly different.
"What's so cool is the willingness to be overtly Jewish with this play. Yiddish!" she said. "Coming into the play with the knowledge that it's so different than traditional Fiddlers is so moving. We're all re-discovering it."
This production, by the National Yiddish Theatre Folksbiene, one of the world's best known Yiddish companies, is the first time the Yiddish version has been staged since the world premiere in Israel 50 years ago.
FIDDLER is based on Yiddish folk tales of Sholem Aleichem written between 1894 and 1914. Supertitles in Russian and English flank both sides of the stage. A simple curtain with the Yiddish word for Torah hangs in the back.
Hoffman grew up Jewish on Long Island, where the original Fiddler soundtrack was often played in her home. "Growing up Jewish, we had the album and the movie and there were television programs with overtly Jewish people, like 'Car 54, Where Are You?'" Hoffman said.
"I can't do that, I have the Shapiro's bar mitzah on Thursday," she mimicked from that show. "You don't see that anymore."
When lyricist Sheldon Harnick wrote the original FIDDLER score he wanted to be accepted in a universal way, Hoffman said. The producers were afraid he'd, "...run out of Jews," Hoffman said, referring to attracting audiences. That hasn't happened yet. FIDDLER'S themes are so universal, it's been translated around the world in dozens of languages.
Yente, the perfect busybody, doesn't have a large role, but she's a linchpin in Anatevke. "This is a businesswoman," Hoffman said of the childless widow. "She's like a Jewish Tinder. Joel Grey said this is definitely a woman who knows her business."
As a result, Yente is both ambitious and well-meaning. "It's kind of like I'm playing my grandparents. Learning Yiddish was harder than I thought it was going to be." she said.
"They're very intent on having us say the words exactly right. Growing up hearing it makes it sound familiar, but I have chewing gum issues," she said. "I can't chew and walk at the same time, so it took awhile for me to get this.
"Sometimes there are super hardcore Yiddish scholars in the audience," she said, "and it's important for us to say the words correctly."
This FIDDLER stars a Broadway-worthy Steven Skybell as Tevye, the beleaguered milkman, husband of 25 years to Golde (Jennifer Babiak) and father of five daughters. The song, If I Were a Rich Man becomes, on the Yiddish stage, If I Were a Rothschild, the title of one of the Sholem Aleichem stories from which FIDDLER originated.
"This play has been amazing and gratifying," Hoffman said. "It's a matter of showing up, and Joel did a beautiful job. Jennifer and I have become friends in real life, and the play has changed me in many ways."
Hoffman shares a major character trait with Yente. "I love the idea of pushing people together, and I certainly love gossip," she said. "And I will steal food at any opportunity. And I don't have children."
Hoffman's movie and television career includes her Emmy-nominated performance as Mamacita in FX's FEUD!, roles in GILMORE GIRLS, BIRDMAN, KISSING JESSICA STEIN and numerous stage credits. She recently participated in Lincoln Center's American Songbook series.
"I'm hoping this gig will give me some material." she said, "I'm always crafting."
Hoffman's routine before shows include strenuous vocal warm ups. "I say my lines to death because they have to be rattled off. Yiddish is a very athletic language," she said. "You have to get to that guttural place.
"It's a workout for your mouth."
The National Yiddish Theatre Folksbiene's Fiddler on the Roof is playing at the Museum of Jewish Heritage, 36 Battery Place. Book is by Joseph Stein, music by Jerry Bock, choreographed by Jerome Robbins, with Yiddish translation by Shraga Friedman. Scenic design by Beowult Boritt, costumes by Ann Hould-Ward, lighting by Peter Kaczorowski, sound by Dan Moses Schreier and hair and wigs by Tom Watson.

Related Articles