Click Here for More Articles on Debut of the Month Features
BWW Interview - Debut of the Month - SPONGEBOB SQUAREPANT's Ethan Slater
Ethan Slater makes his Broadway debut as the iconic sea sponge, SpongeBob SquarePants in SpongeBob SquarePants: THE MUSICAL, a reimagining of the beloved Nickelodeon series. In the show, when SpongeBob and all of Bikini Bottom face catastrophe, a most unexpected hero steps up to the plate to prove that the power of optimism really can save the world!
Today, Ethan Slater speaks to BWW and explains why he can't imagine a better scenario than making his Broadway debut in this electrifying, new musical!
[NOTE: BroadwayWorld's fabulous photographer Walter McBride captures images of the Broadway stars profiled in our monthly column in a special photo shoot. Check out the pics of Ethan Slater throughout the feature!]
So I'm guessing you were already a fan of the animated series prior to your casting.
Yeah, I mean it was hard not to be! It came out when I was a kid and it just sort of defined the sense of humor for me and so many of my friends. So yes, definitely a fan!
Many will be surprised to learn that you've been working on this show since your sophomore year at Vassar College.
Yes, at the end of my sophomore year I was cast in what was called at the time, 'The Untitled Tina Landau Project.' It's been sort of a wild ride since then!
And you've known your current co-star, Lilli Cooper since then as well.
Yes, Lilli and I went to school together. That same year we were actually in the Thornton Wilder play 'The Skin of Our Teeth' through the Vassar College drama department. So we've known each other since that time. And she came on board with 'SpongeBob' when we went out of town in Chicago, about a year and a half ago, and that was pretty awesome. It's been really fun to play on stage with somebody I've known so well and I'm such good friends with.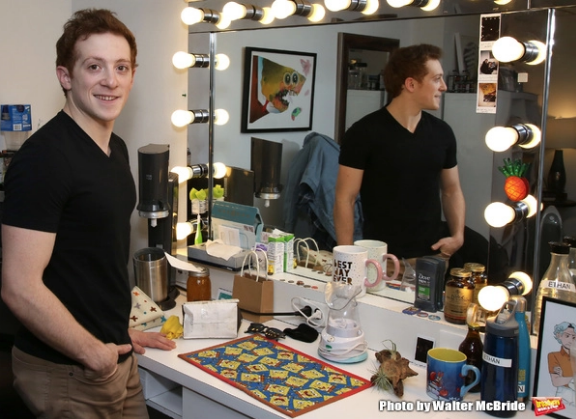 I understand that you approached this role not as a revival of SpongeBob SquarePants, but rather something brand new that is based on the character.
Yes, well I think one of the great things about the show is that it's not an adaptation, it's an original story with an original score. It's not based on an episode, it's totally original, but of course, using the characters of Bikini Bottom that we all know so well. And with that in mind, I think it was really important for all of us to approach our character work as original. We don't have a source material to go to in terms of character arc, or beat-to-beat moments. This is a new script and we had to do our script analysis work for it. One of things that Tina worked with us a lot on was making sure that we were creating characters that are not two-dimensional, but three-dimensional. And that is something that isn't present in any of the episodes of the TV show. So we weren't creating a new character, you know SpongeBob was there, but this version of SpongeBob really had to be created.
Is there anything from your own experiences that you were able to draw from in creating him?
It's hard to say anything specifically but in the more abstract way, my relationships with my friends and my family are really important to me and I definitely have the people in
my life who are my 'Patricks', you know? Actually, Patrick, Danny Skinner, is totally one of my Patricks! And that's certainly something that I was able to draw on. But I also think that SpongeBob is more relatable than one might think. He's totally optimistic, some might call him naive, but he's really sort of all of our better angels. And he loves the people that he cares about and he cares about them deeply, and he cares about his community. And he also won't let fear or imminent disaster get in the way of that. And that's something that I think we can all look up to. It's a hard thing to accomplish in the real world, but I think that's something really beautiful that SpongeBob has been able to do. And it allows me to tap into that within my own self as well. I feel like I've been able to grow personally because of playing SpongeBob.
Did you have the opportunity to work with Tom Kenny, the original voice of SpongeBob?
I actually didn't get to work with Tom Kenny, other than watching hundreds of episodes of the show. I sort of did all that work on my own. And I think at the end of the day, it was a blessing, because it meant that after watching tons of SpongeBob and taking in his voice and working on an impression of sorts, I was kind of able to embody the character on my own, and make the voice my own, instead of trying to replicate Tom Kenny. If I tried to do what he did I think I would fail because he's so good at what he does, and I had to do my own thing. But I was able to meet him when he came to the opening of the show in Chicago, which was incredibly heartwarming. He loved the show, and he and Steve Hillenburg, who created the show, were very supportive and were big fans of our musical. So that was cool.


One of the things that surprised me about the story was how relevant it is in today's world.
Yes, that's definitely intentional and this show was crafted with the world that we live in in mind. You know it's been developed for ten years at this point, so of course the story has changed a lot, and little things have changed a lot. But I think it is a story for now. Unfortunately a lot of those things are always around and they're on the forefront of our minds at the moment, but these are themes that have been a part of the world for a very long time, forever, really. You know, fear tearing a community apart and fear of the unknown taking over a community. So I think that while it is really applicable to now, I think it will always be applicable unfortunately. And I'm really proud of that element of our show, I think it's really brilliant. This is not a frivolous show, is how I feel - it's important, as silly as it sounds to say that SpongeBob is important, I think it feels very important.
It's also fascinating to see how all the creative elements of the production come together to create this magical world under the sea.
Yes, well I think it all starts with the concept by Tina Landau, who really had a vision for the show for it to be anything but an arena show, for it to be a live, party concert, but also for it to be inherently human. And I think that's where it all started. And she's collaborated incredibly well with David Zinn, who designed costumes and sets, to create this immersive underwater party world. Obviously Kevin Adams has lit it up to make it so unbelievably beautiful from moment to moment. And I think there's this kind of DIY quality to all of the design, you know the kelp is made out of pool noodles, and the set is lined with oil barrels, and all those things make it an incredibly fun playground to play on. And it's really fun to do that every night.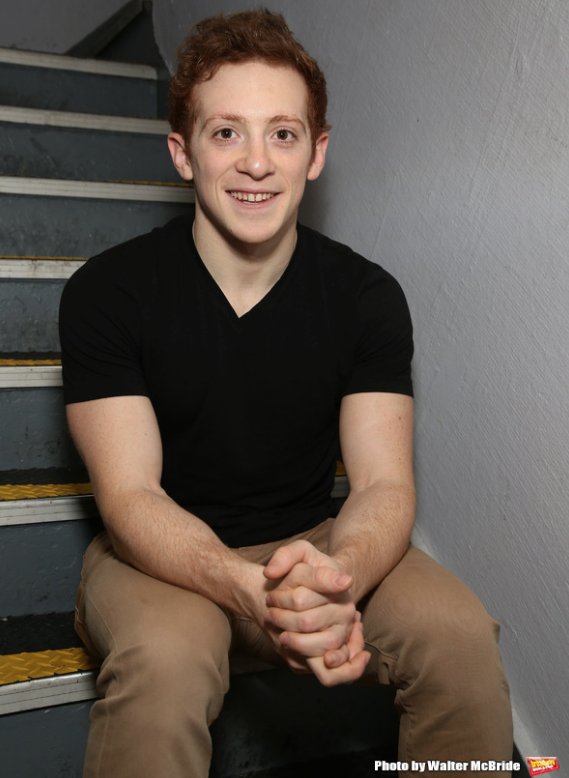 And one of the things that I never thought I would be doing is dancing Chris Gattelli choreography on Broadway! But he's another one of the unbelievable collaborators involved in this and he's just such a joy to work with. I am not a dancer first and foremost. I was actually a little bit nervous about dancing, so I took a lot of classes in the years leading up to this. But Chris was so good at meeting me where I am, at meeting everyone where they are, to create something that works in the world that is not only fun to look at, but it's also really impressive choreography. So that's been a really cool experience for me.
Another thing that makes the show so unique is the score, which features so many iconic artists. How much fun is it to sing their music every night?
It's more fun than you can possibly imagine! And it's been fun since the very beginning. I remember the day during the workshop that we got the John Legend song. We were sitting on the floor and Tina told everyone to close their eyes and she played the song 'I Guess I Miss You.' And we all just welled up in tears. We'd been working on the show, and we knew there was going to be a song at that point in the script, but we didn't know what it was going to be. So when it finally came in, it was just so perfect and beautiful and it was an incredible moment. So I sort of re-live that experience nightly because each of these songs feels inherently like the artists who wrote them. It also feels like part of a cohesive score because of the amazing work of Tom Kitt, who really is an utter genius. But the Cyndi Lauper song feels like a Cyndi Lauper song, and when I get to sing it and to rock out to it, I feel like I'm singing a Cyndi Lauper song. And then not two songs later I get to sing a song by The Flaming Lips, with full cast. And it's not just epic in the moment and really great storytelling, it's also beautifully psychedelic and perfectly Flaming Lips. So the awe of getting to sing songs by these artists, it really hits me each night.
What was like to make your Broadway debut in SPONGEBOB THE MUSICAL?
It was utterly surreal! I mean I've been working on this show for long enough that I knew it was coming, but also I was never really sure, and I never really believed it.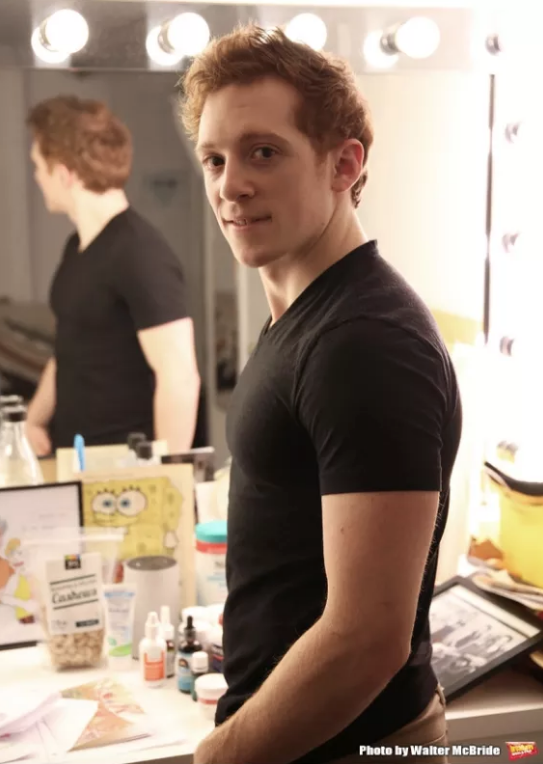 Making my Broadway debut was in and of itself just a dream come true. I've wanted to be on Broadway forever. And now, not only was I making my Broadway debut, but I was doing it in at the Palace Theatre, which is where I saw one of my first Broadway shows ever, ALL SHOOK UP, starring Curtis Holbrook, who is now in SPONGEBOB. It's incredible. He went from being an idol of mine to one of my really closest friends, and it's a really beautiful thing. But then on top of that, making my Broadway debut in a show that I am so proud of, that has taught me so much over the years - I can't imagine a better scenario than that. I feel very, very lucky!
BWW congratulates Ethan Slater on his Broadway debut! His recent credits include the World Premiere of SpongeBob in Chicago (BroadwayWorld Chicago Best Actor Award), and "Modell" in Diner at DTC (Dir. Kathleen Marshall); Off-Broadway credits include Baghdaddy (St. Luke's), PEMDAS (59e59), Claudio Quest (NYMF), What We Know (Teatro Circulo), Independents (FringeNYC); Film credits include "Lightning Bugs in a Jar" (Cannes 2015), "EVOL". He has also appeared in the web series "Redheads Anonymous" and "New Mayor of New York."