BWW Interview - Debut of the Month - GROUNDHOG DAY's Vishal Vaidya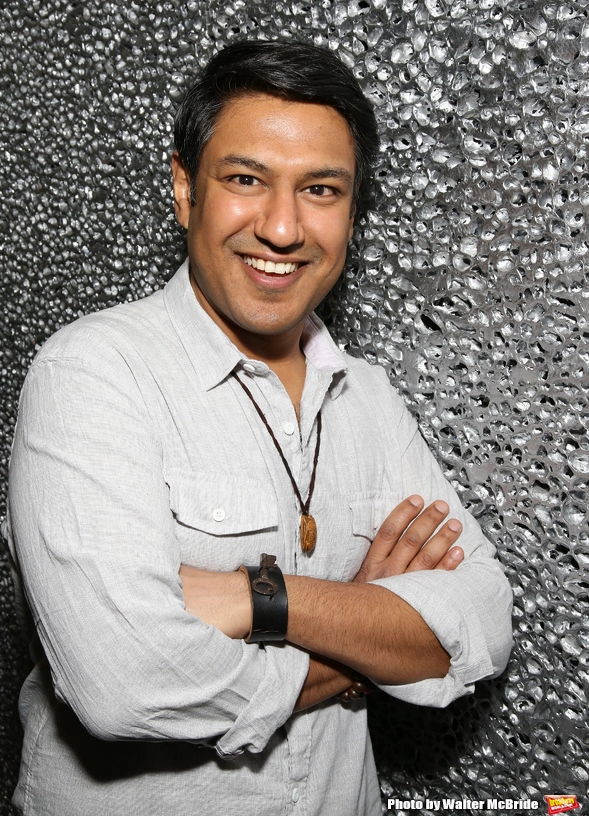 Vishal Vaidya makes his Broadway debut as 'Larry the Cameraman' in the new Broadway musical Groundhog Day. Based on the iconic film, the show is re-imagined by the award-winning creative team of director Matthew Warchus and songwriter Tim Minchin, and features a book by original screenwriter Danny Rubin. Starring two-time Tony Award nominee Andy Karl, Groundhog Day is the classic boy meets girl...boy meets girl...boy meets girl story about living life to the fullest, one day at a time.
Today, Vishal Vaidya speaks with BWW about making his Broadway debut alongside a cast and crew who "exhibit the same spirit as the people of Punxsutawney."
[NOTE: BroadwayWorld's fabulous photographer Walter McBride captures images of the Broadway stars profiled in our monthly column in a special photo shoot. Check out the pics of Vishal Vaidya throughout the feature!]
How familiar were you with the film version of GROUNDHOG DAY prior to your casting?
You know I wasn't terribly familiar. I knew the conceit of it, but I hadn't seen it. But one of the nice things about auditioning for something with the source material being a film is that you can just watch it. So before going in, I watched the movie to get a sense of who Larry the camera guy was, and then sort of used that to infuse my scene work.
Wow, you don't meet many people who have never seen the film!
[laughing] I know, it's such a classic, but I'm kind of bad about movies. There are so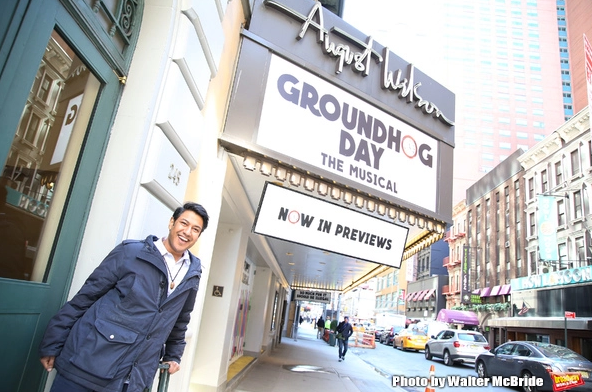 many classics I haven't seen, it's just pretty sad.
So after watching the film, what were your initial thoughts as far as whether it would adapt well to the stage?
Well I really enjoyed MATILDA that Tim Minchin and Matthew Warchus had done, so I knew whatever they were going to do was going to be great. I think they are geniuses and I thought this was such a cool idea and I knew that they would really honor what the movie was and do a really solid job in bringing it to life. And when I heard that Danny Rubin, who co-wrote the screenplay, was going to be a part of it too, I felt really good about that. I know a lot of people may have been like, 'oh, another movie adaptation,' but really almost every musical from the dawn of the musical has been an adaptation of something. It's very rare that you find a truly original musical, and I think this is great source material. There is something very theatrical about it, it's not necessarily real, so yes, I was excited to see what they would do with it and I'm quite happy to be a part of it.
You mentioned Danny Rubin. It must have been extremely helpful to have the original screenwriter on board for the project.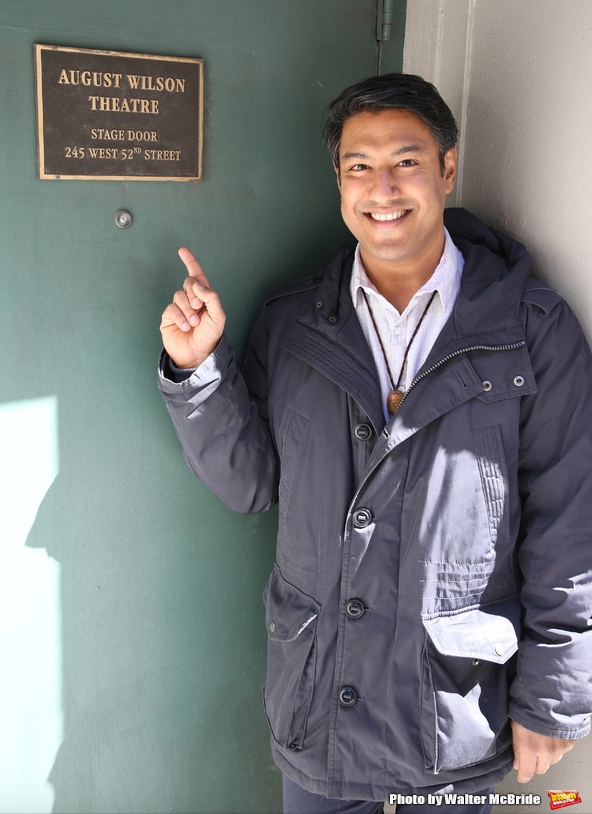 Yes, it's been cool to have him be a part of the process because while it is my Broadway debut, I've been doing theater for a long time, but it's his sort of first big theatrical experience. So his enthusiasm for the theater is really palpable. He warms up with the cast all the time and he watches all the choreography, because as he says, "I'll maybe never be a part of something like this again." So that was my favorite thing about the whole rehearsal process was just watching him. He has such a curiosity for it that a lot of other people don't because we've been doing it for a long time so it's not new to us. He's also very accessible as a writer, which I really like. You can really ask him about anything. So yeah, he's a great guy.
Because Groundhog Day is such a beloved film, did you feel extra pressure to live up to people's expectations?
I didn't feel any but I'm sure the directing team probably felt some of that. But I think having Danny there was probably a big asset. I'm someone who likes to do new shows, and while it was nice to have the source material, Larry in the musical version is kind of different than Chris Elliot's version in the film. So I think that kind of took the pressure off. I didn't have to sort of honor what he did because it's really not the same person in a lot of ways, and now I have nice little arc and story which I like.
So were you given the leeway to create the character as you envisioned him?
Yes. And it's cool because it's such a big production and there's so much going on with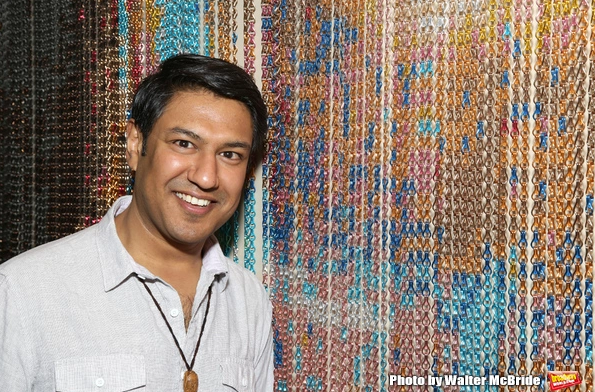 the scene work that especially initially, it was very hands off, which I liked. Matthew would let us explore and play which was both freeing and really nerve-racking to get it right. But I really did appreciate that because you could explore and find things, and mess up too. It took a while to get the flow of everything because everyone, with the exception of Andy's character, doesn't have a linear story arc. There is a sort of nice flow of events but each day is the same time, it's always the morning at Gobbler's Knob on Groundhog Day, and it's been interesting in that way to have a non-linear arc.
Well it doesn't get more non-linear than this show! What is the message you hope audiences will take away from the story?
Well what's cool about the story is that I don't think the message is in your face. It goes about delivering it through the human sort of tragedy of the story. For me, the message is gratitude and embracing community. Especially at the beginning, Phil Connors sort of writes off the people of Punxsutawney as being small-town. There's a lyric in the opening number where he sings, "small town, tiny minds." But really, they are these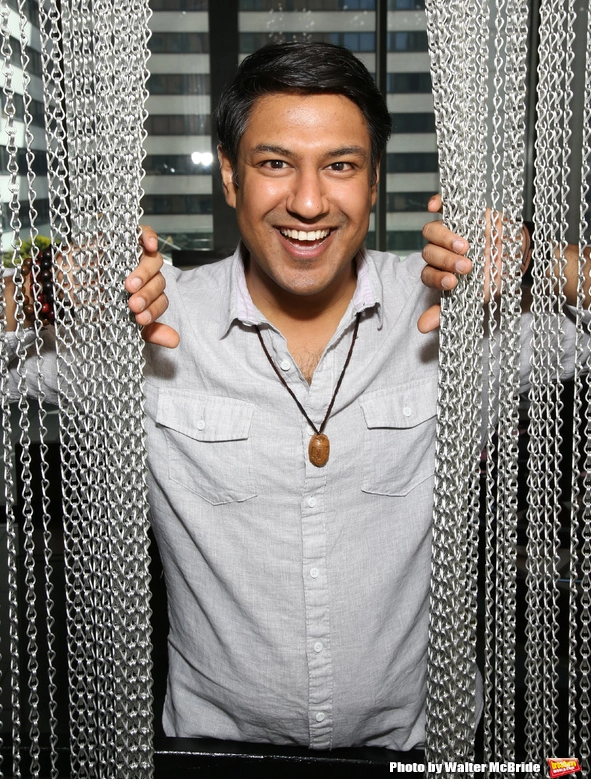 very exuberant, effervescent, happy people, and I think that can't help but ultimately affect him through the course of the story. They are just super-excited that it's Groundhog's Day, while he's sort of this curmudgeon. So I think the message is really just to celebrate life.
If you had the opportunity to live one day over and over again, how do you think you would take advantage of that?
You know I've thought about that because in this story, there are so many reasons why Phil Connors has to remain in the town, there's the snow storm so he can't really leave, and I think one of the things that the show teaches us is to see things, to be grateful for what's around us. So if I were to live a day in 2017, and since I have the luxury of being in New York City, I think I would probably stay here. There are endless things to do. I can probably live the same day over and over again in New York City for I don't know, fifty years, and not tire of exploring. There's just so much, it's so densely packed with incredibly diverse people and things to see, I just love it. But I would definitely pick a nice, late Spring day, not one like this past week with all the snow and slush. The snow is always beautiful but we can do without the slush, probably my least favorite thing about the city!
So what was it like to make your Broadway debut in Groundhog Day?
Well we'd been working on the show for a long time and I'd been feeling super grateful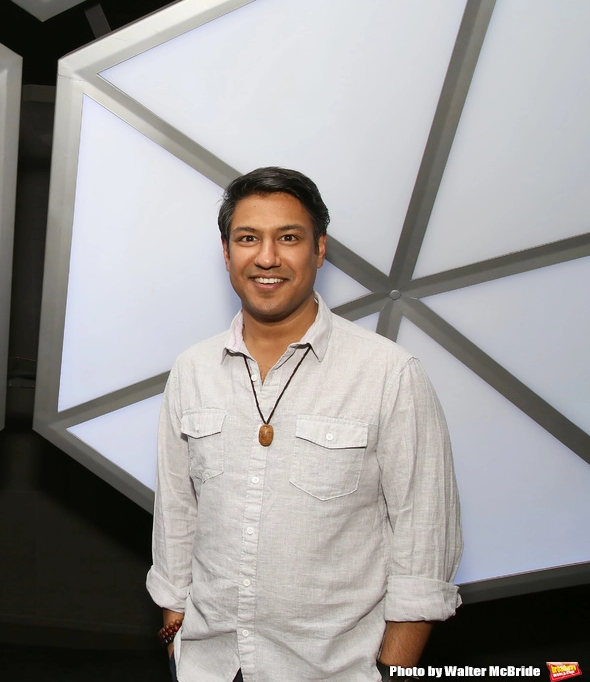 and nervous and excited and terrified, every feeling really, and I was really excited to start. And the great thing about our show is that everyone is always doing something, there's so many costume changes and, because we're repeating the same day over and over again, you're always running around both backstage and onstage to achieve that. So once it starts, it really doesn't stop.
So the opening number of the first preview was really nerve-racking for me and I was kind of in my head, and then we got to a point where we hit some technical issues and had to stop and ended up doing a concert version of the show. But it was just very cool the way that it all happened because I had the opportunity to watch the show, a lot of parts of the show that I hadn't had a chance to see and listen to because I'm normally doing other stuff backstage. So while that first preview was maybe unorthodox, it was really special. And I got to watch the audience watching the show, which I normally would never get to do.
But then, in the spirit of Groundhog Day, the next night when we finished, that was when I sort of got the rush of emotions, like 'wow, I'm here,' and that was really special. It was really this overwhelming emotion of gratitude, because it is a great show. It's not just that it's Broadway, which obviously was a big dream of mine, it's also that it's a great show and the people in the company are really hard-working and really good people. They're funny and super-talented, and our stage crew and wardrobe are incredible and nice. Really everyone working on the show has that same spirit of the people of Punxsutawney, that vibrant ebullience I think is manifested in this company as well. There's just so much in this show that it's really kind of a feast. And I feel very, very lucky.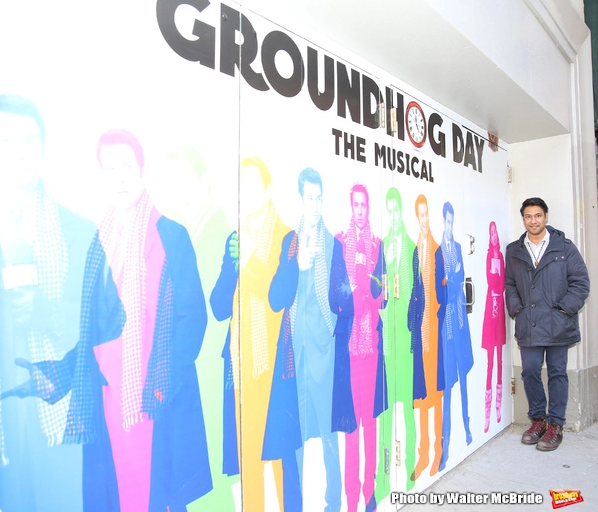 Vishal Vaidya recently appeared in 1776 with City Center Encores! and The Secret Garden with Shakespeare Theatre Company. Other credits include Ford's Theater, The Kennedy Center, Cincinnati Playhouse, Baltimore Center Stage, Adventure Theater (Helen Hayes nom.), and Olney Theatre Center.
Photo Credit: Walter McBride / WM Photos