BWW Interview: Andreas Wyder of DR. SEUSS' HOW THE GRINCH STOLE CHRISTMAS at AT&T Performing Arts Center
Dreams only come true if you fiercely chase them. A young, charismatic Andreas Wyder chose to follow his lifelong dream of performing by heading to the Big Apple right out of high school. Since moving, Andreas has been seen in the national tours of PETER PAN 360 and TITANIC: THE MUSICAL. Now back on the road with Dr. Seuss' HOW THE GRINCH STOLE CHRISTMAS, I caught up to Andreas while he stopped in Wisconsin to learn more about his journey to the stage.
Name: Andreas Wyder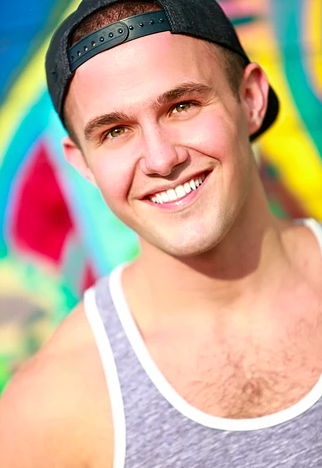 Hometown: Born and raised in the woods of Farmington, Maine.
Role: Young Max in the national tour of Dr. Seuss' HOW THE GRINCH STOLE CHRISTMAS.
Lorens Portalatin: Thank you for making time to speak with me today. How does it feel to be back in Whoville for the 2017 holiday season?
Andreas Wyder: This year has truly been my favorite year so far. I feel like my Max this year is the best and the brightest and the most grounded and real that he's ever been. I'm experiencing the show in a whole new way.
Lorens: Before we dive further into THE GRINCH, I'd love to hear what made you fall in love with theatre and pursue your career right out of high school.
Andreas: I can pinpoint it back to being 3 years old in Maine and my beautiful, incredible, inspiration of a mother showed me CATS the musical on VHS tape that she recorded off PBS. I wore out that VHS and I truly would watch it multiple times a day. I knew all the choreography; I would paint my face, dress up in my living room and do the whole show for my family and anyone who would listen. I really am blessed that I had support from my mother and father. By the time I was in high school [this] was all I ever wanted and my main dream was to be a performer and be on Broadway. So right before what would've been my junior year of high school I talked to my parents and the school and told them I really need to finish [school] up this year. I've got dreams to achieve, man! I turned 17 in May, graduated in June and was in NYC by July. Thank God it started working out pretty soon after, I got my first big regional show, then my first national tour in TITANIC the musical at 18, and then GRINCH came about soon after and the ball has been rolling since. Something inside me was just saying, "Just go do it. See what happens."
Lorens: Many of our readers are aspiring performers, what is some advice you would give them to pursue a performance career?
Andreas: Hmm...I would definitely say 'don't be afraid to be a theatre geek'. Watch as many shows as you can. Listen to as many cast recordings and as much music as you can. Just sing all the time if that's what's in your heart. Never dull the shine that is within you. Embrace exactly who you are in this moment and live in it fully. Who you are inside of you will be the key to your success. No one else can ever be you. If it is your dream, your passion and the fire in your heart no one can ever tell you no.
Lorens: In 2015/2016 you played the role of Nibs in the National Tour of PETER PAN 360 that stopped by Dallas, what was it like being a Lost Boy?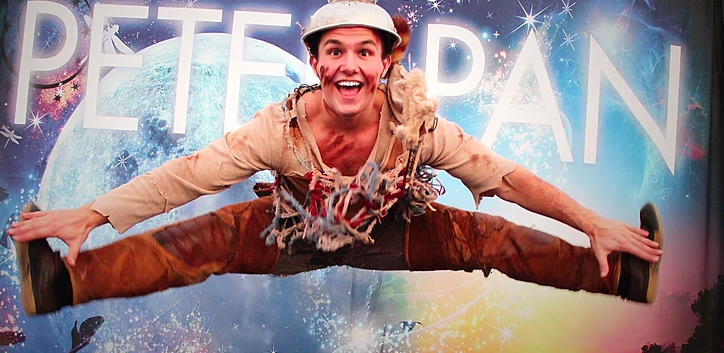 Andreas: That tour really was something special. I personally love tales of magic and fantasy and the timeless battle of good versus evil. It was a unique production of Peter Pan because it was fully in the round in a huge circus tent with projections all around the walls, our stage could revolve, and we learned Chinese Pole Acrobatics! I also got to learn how to fly!
Lorens: You've added some great roles on your resume over the past few years, are there any that you're particularly proud of?
Andreas: I truly do love getting to create a role and luckily that's a fun thing I've been able to do in NYC. I did Kerrigan and Lowdermilk's immersive new musical THE BAD YEARS the summer before last and they are a brilliant musical theatre duo so getting to work with them was an honor. I've also gotten to work with Carner and Gregor while workshopping some of their new musicals into concerts. This past year I got to be in MAMMA MIA as Pepper and Sky. Every role I do I end up falling in love with because they're all so different.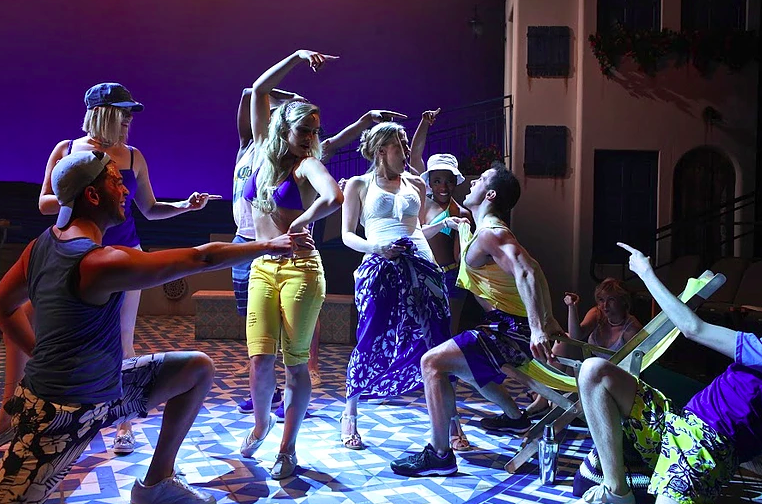 Lorens: T
his is your 4th time playing the role of Young Max. How has Max changed or evolved for you throughout the years?
Andreas: Getting to play a role where it's just 110% joy, curiosity, friendliness, kindness, and goodness - I don't even have to try [to 'play Max']. I get to spread that love, joy, and light and I'm trying to really live in that.
Lorens: What's the most magical aspect of being a part of Dr. Seuss's Whoville?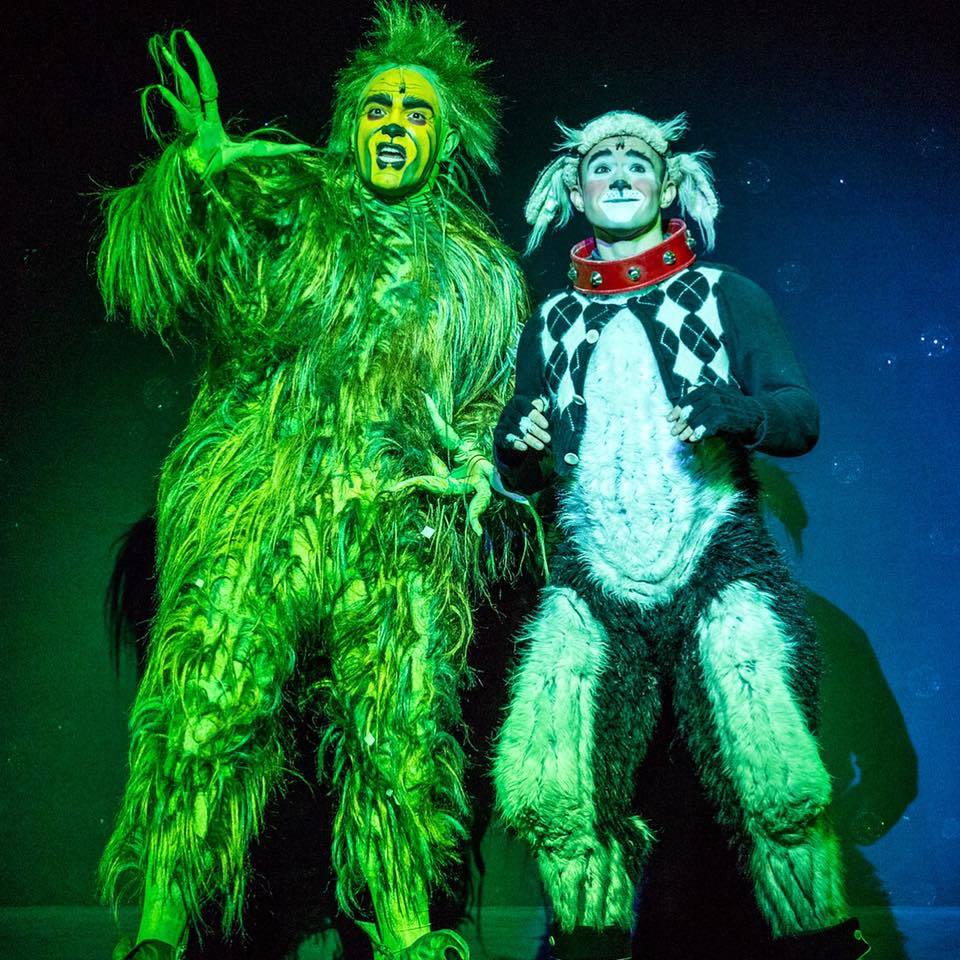 Andreas: That's such a hard question! [Laughs] The most magical thing about our tour is the beautiful energy that our cast and crew and our whole company share on and offstage. It all sounds so cheesy, but this group of people is filled with such inspiring, gracious and good souls. We have so much fun together... and then getting to feel that energy translate onstage as well makes our jobs that much more magical.
Lorens: In theatre, every performance is completely different than the last, what are your most memorable onstage mishaps during THE GRINCH tour?
Andreas: Whoa, let me think! One time I went onstage for GRINCH without my red collar. It's so boring but it's my one little pop of color and the costume looks so strange without it. I got the first whole number of mine and thought to myself "Oops, I don't have my collar on."
Lorens: This year, you've been in a show after show after show, do you have anything lined up for next year?
Andreas: When I get back to this city after tour this year I will be in a duo concert at Feinstein's 54 Below with my best friend, Emily Kay Shrader. Emily was on the national tour of SISTER ACT THE MUSICAL, is a singer-songwriter and overall fantastic. And then I'm back to auditioning and working on my own projects.
Lorens: If the rest of your career was a choose-your-own-adventure opportunity, what roles might you choose to follow Max?
Andreas: I'm ready for this question! My #1 answer is definitely Boq in WICKED. I got to audition for him for the first time this year and getting to dive into his material was so fun. Boq is a role where I fit the height requirement; I fit the look, the character description, and the vocal range so he's a very realistic goal of mine. I just saw the new Spongebob musical on Broadway and the whole time I was watching it all I could think was "I need to be Spongebob!" I wasn't familiar with the show growing up but the show is visually stunning, the cast was awesome and the songs are so fun!
Lorens: What is your go-to audition song?
Andreas: I always sing weird songs for auditions. Ideally, you'd get material from the show but for GRINCH I read the character description for Max and ended up singing 'Tomorrow' from ANNIE. Sung genuinely is a hopeful and beautiful song. It was a risky choice but they loved it! The casting director, Alison Franck, she since has become one of my best friends and we've talked about it. She's told me that it was a choice but it's exactly right for Max. If he could have his own 11 o'clock number that would probably be it! Sometimes it really pays off to trust your gut and make a strong choice.
Lorens: Just for fun! You're website states you love singing songs from FROZEN and giving big hugs, now that Frozen is coming to Broadway could you see yourself as Olaf?
Andreas: Um, a hundred thousand million percent, yes. FROZEN is another dream show of mine. I love that show so much!
Lorens: Thanks again for your time and break a leg tonight!