BWW Exclusive: Broadway On A Budget: A Broke College Student's Guide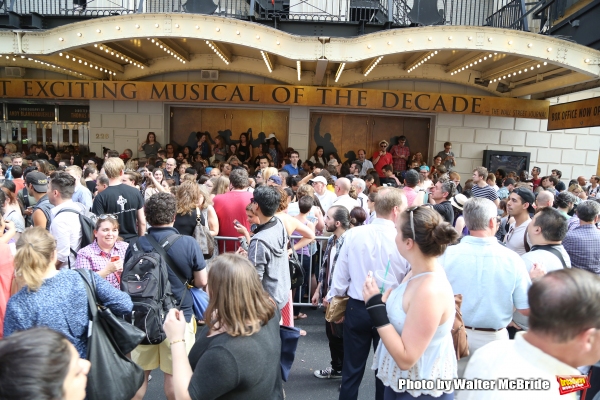 Now that July has started with a massive heat-wave, a comparison can be made between the high temperature outside and the current prices of Broadway tickets nowadays. This can cause theatre fans to feel stuck between a rock and a hard place... if they don't know how to make seeing their favorite shows a little easier.
It can be hard to see all of the shows that you want to see, whether you're in New York on an already pricey vacation, or just a busy college student like me whose cash flow is limited to birthdays, holidays, and finding a five dollar bill on the sidewalk once every two months or so.
So, here are some handy tips to hopefully help you find some tickets at a little less than full-price.
---
Lottery and Rush: Most Broadway shows offer either a lottery, rush, both. While the cost for the tickets offered varies, they average anywhere from $30-$50.
For lotteries, check each show's unique policy about the time of each drawing and whether it's online (like Lincoln Center's MY FAIR LADY), in-person (like the Tony-winning revival of ONCE ON THIS ISLAND), or if the show offers both (like long-running favorite THE BOOK OF MORMON).
Lotteries are especially useful when you are in the city or within a close proximity. Your chances vary depending on the popularity of the show, so don't bank on scoring those HAMILTON seats right away, and it's probably smart to enter multiple lotteries on the same day in order to increase your chances of seeing something. What it comes down to is if luck will be a lady with you.
Then there's my particular favorite, the rush line. Unlike the lottery, with the rush line, planning takes precedence over chance. At each show where rush seats are available, there are a limited number for first-come, first-served tickets at the box office available when it opens.
Expect to show up at least a few hours early for most shows, and join (or start) a line outside. The BroadwayWorld Message Boards are usually helpful to look for suggestions on when to arrive. The more popular the show is, the earlier you will need to get there. In some cases, lining up the night before is necessary.
Rush seats are usually in the orchestra on the far sides. Typically this makes them partial view, but most shows keep the action in center stage enough not to miss anything.
---
Standing room only: SRO tickets are usually between $25-$45 and will only be on sale the day of performances that are sold out, so while many shows do offer them, not every show will have them available for every performance.
Shows that are very popular, such as DEAR EVAN HANSEN, have turned their SRO seats into an extension of their regular lottery, in order to prevent fans from sleeping on the street outside.
---
Pick your seats wisely: Many theaters do not sell partial view seating online, but will at the box office. Like rush tickets, these are mainly on the far left or right sides of the theater, and are also often in the mezzanine or balcony.
Speaking of mezzanines and balconies, each Broadway theater is unique in terms of size and shape. The view that you get from the rear balcony of the Shubert Theater, for instance, won't be the same as the view from the rear balcony of the much smaller Cort or Walter Kerr Theaters.
Try the website A View From My Seat for reference points when buying the cheaper tickets in the back of the theater.
---
Discounts: If you've ever braved both the crowds and costumed characters of Times Square, you've probably seen the "Red Steps" and below it, the TKTS booth. TDF's famous discount booths offer same-day discounts to a variety of Broadway and Off-Broadway shows from 20% to 50% off.
Other TKTS booth locations are situated in Lincoln Center, Downtown Brooklyn, and South Street Seaport.
BroadwayWorld also offers discounts on select shows, and of course, the TodayTix app and SeatGeek are useful for buying last-minute, cheap tickets. TodayTix is also the home for many shows' online lotteries.
---
Ticket Programs: Finally, there are a variety of programs for students and young people such as Lincoln Center's LincTix, for ages theatregoers aged 21-35. For young audience members, there is also the $30 Under 30 at Manhattan Theatre Club and $25 HipTix from Roundabout Theatre Company.
---
However you go about getting your theatre tickets this summer, hopefully you can avoid the heat without breaking the bank.