Click Here for More Articles on 2021 AWARDS SEASON
BWW Exclusive: A Retrospective of Chita Rivera's Tony Nominated and Award Winning Roles
Broadway legend Chita Rivera will be presented with a Tony Award for Lifetime Achievement in the Theatre at the 72nd Annual Tony Awards on June 10, 2018.
This award recognizes theatre artists that have made significant contributions to theatre throughout their lives.
A multi-gifted performer, Rivera's career spans from the Golden Age of Broadway to today. Having lived her life in the theatre, Rivera shows no signs of stopping anytime soon; not even a broken leg in 1986 could slow her down. Lately, she has been keeping busy touring both solo and with Tommy Tune, receiving an honorary doctorate from the University of Florida, performing at The Muny's 100th anniversary celebration, and attending the Chita Rivera Awards, which are named after her.
Rivera has graced stage and screen alike and gathered countless credits over the years. BroadwayWorld takes a look back at the life and Tony Award wins and nominations of Chita Rivera, including some of her most cherished roles and performances.
---
Born in 1933, Chita Rivera grew up in Washington, DC. In her youth, she attended the Jones-Haywood School of Ballet, but was soon selected to attend the prestigious George Balanchine School of American Ballet on scholarship when she was a mere 15 years old.
In 1952 at the age of 19, Rivera was cast in her first touring production, Call Me Madam, which starred Elaine Stritch. Her Broadway debut came a year later when she took over the principal dancer track in Frank Loesser's Guys and Dolls, replacing Onna White. More shows followed, but her career made a significant leap forward in 1957 with the opening of West Side Story where she played Anita. The fiery, passionate woman remains one of her most recognizable roles, and "America" is still in her repertoire. She also took the role to London and opened the production in the West End in 1958.
Chita performed a condensed version of "America" at the Concert for America, featuring original choreography by Jerome Robbins and Peter Gennaro.
---
Chita's next Broadway appearance was as Rose Alvarez in Charles Strouse and Lee Adams' Bye Bye Birdie, for which she received her first Tony Award nomination in 1961 for Best Performance by a Featured Actress in a Musical. She starred opposite Dick Van Dyke as Albert Peterson. With choreography by Gower Champion, Chita danced her way and into the audience's hearts.
Chita recreated "The Shriner's Ballet" from Bye Bye Birdie for American Dance Machine.
---
In 1975, Chita Rivera originated the role of the saucy muderess Velma Kelley in Chicago, starring alongside real-life friend Gwen Verdon as Roxie Hart. Bob Fosse adapted the play of the same name (by Maurine Dallas Watkins), which follows two murderesses as they vie for fame and attention. This show marked her first of many collaborations with composer/lyricist duo John Kander and Fred Ebb. Once again, Rivera received a Tony Award nomination for Best Performance of a Leading Actress in a Musical in 1976.
At the 1984 Tony Awards, Rivera and Verdon reprised their roles from Chicago and performed two standout numbers from the show, featuring Bob Fosse's timeless choreography: "All That Jazz" and "Nowadays."
---
With Bye Bye Birdie being a commercial success in the 1960s, composer Charles Strouse and lyricist Lee Adams tried to bring back the show in the sequel, Bring Back Birdie. Unfortunately, the show was not a success like the original, and only ran for a total of four performances. However, Ms. Rivera gained another Tony nomination for Best Performance by a Leading Actress in a Musical in 1981.
The next Tony Award nomination for Chita Rivera came in 1983 for her performance as The Queen in Merlin, with music by Elmer Bernstein and lyrics by Don Black. Merlin was another short-lived show, closing after only 199 performances.
A year later in 1984 Chita starred alongside Liza Minelli in Chita's second Kander and Ebb collaboration, The Rink. The musical follows Anna, an Italian-American mother and owner of a roller skating rink (played by Chita Rivera) and her daughter, Angel (played by Liza Minnelli) who returns when she discovers Anna plans to sell the rink. This performance earned Chita her first Tony Award for Best Actress in a Musical.
Chita Rivera and Liza Minelli performed "The Apple Doesn't Fall (Very Far From the Tree)" from The Rink at Radio City Music Hall.
---
Jerry's Girls, a revue featuring the music and lyrics of Jerry Herman, opened on Broadway in 1985 and starred Dorothy Loudon, Chita Rivera, and Leslie Uggams, among others. Jerry Girl's only received one Tony Award nomination in 1986, which went to Chita Rivera for Best Performance by a Leading Actress in a Musical.
In the 1990s, Chita Rivera began her journey with Kiss of the Spider Woman, another Kander and Ebb musical. The musical had its first major production in the West End, and then transferred to Broadway in 1993. The show won a Tony Award for Best Musical and Chita Rivera earned her second Tony Award for Best Performance by a Leading Actress in a Musical.
Based on a novel by Manuel Puig, the action follows two men in an Argentine prison in the 1970s. To escape the terrifying reality they face, one of the men fantasizes about fictional 1940s movie star, Aurora, played by Rivera.
Chita Rivera performed the rousing number "Where You Are" at the 1993 Tony Awards. The number also features Brent Carver as Molina, Anthony Crivello as Valentin, and the ensemble. Choreography by Rob Marshall.
---
While Chita has originated many roles throughout her career, she has also had the opportunity to appear in revivals of various shows, including the 2012 Broadway revival of The Mystery of Edwin Drood. It was Rivera's performance as Liliane in the 2003 revival Maury Yeston and Arthur Kopit's Nine that earned her another Tony Award nomination.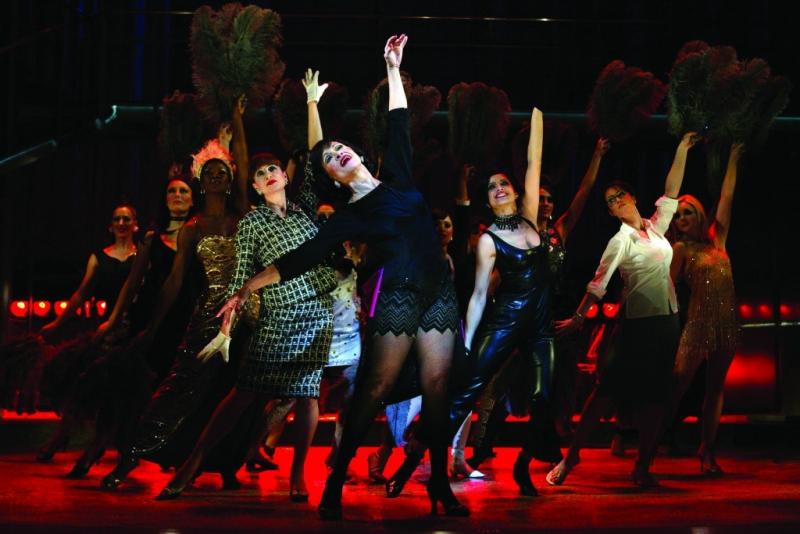 Chita Rivera: The Dancer's Life chronicles her life as a performer and features highlights from her career. The book for the production is by Terrence McNally, and contains music by Lynn Ahrens and Stephen Flaherty, among other composers and lyricists. The show earned Chita her ninth Tony Award nomination.
In one of the show's segments Dick Van Dyke reunited with Chita onstage to perform numbers from Bye Bye Birdie.
---
The Visit, her latest collaboration with Kander and Ebb, opened on Broadway in 2015. Based on a 1956 play Friedrich Dürrenmatt, Chita Rivera played Claire Zachanassian, a rich, elderly widow from a provincial town that comes back and vows revenge on her ex-lover, played by the late, great Roger Rees.
In the ballad, "Love and Love Alone," Chita's character reflects on her past and dances with her former self, played by Michelle Veintimilla. Choreography by Graciela Daniele.
---
A theatrical icon and one of Broadway's greatest triple-threat talents, Chita Rivera is one of the most nominated performers in Tony Award history having earned 10 nominations and won twice. Over the years, Chita Rivera has acquired numerous non-Tony accolades, such as being honored at the Kennedy Center in 2002 and with a Presidential Medal of Freedom in 2009. Tune into the Tony Awards on Sunday, June 10th at 8 PM ET on CBS to see the distinguished, devoted Chita Rivera receive the Lifetime Achievement Tony Award.