Click Here to Visit the College Center

Blogs are the opinions of the authors and do not necessarily reflect the opinions of BroadwayWorld. BroadwayWorld believes in providing a platform for open and constructive conversation.

BWW Blog: Welcome Back to the Grind!
Hello Broadwayworld! It's Lea coming to you from Queens College. Let me be the first to officially welcome everyone back to school and welcome to the 2018 - 2019 school year. This is my 4th year here at Queens College so it makes me an upper senior. I'm not graduating yet. I still have a couple more classes to do. I am writing about what has been happening thus far since late August because here at Queens College things pick up fast while at the same time being manageable. I'm talking about productions here.
This is the first time all of my classes this semester are near each other whereas other semesters I would be spread out all over campus. The first class I have is Jazz dance (woo hoo!) which I am excited about but worried since my injury (I have positive-ish news about that) which had prevented me from dancing. I have learned so far that there are types of jazz from swing, ragtime, blues, etc. As of now, we are learning swing with partners. I have not danced with a partner since my classmates and I were forced to learn ballroom dancing in elementary school where boys and girls did not want to do anything that had to do with the other sex. By the next blog you will find out more about that experience.
The second class I have is Acting 1. I know what you are thinking. I am an upper senior how did I go 4 years without taking an acting class? I actually did take an acting class but it was in my community college. I'm taking it as an elective since my acting class from my community college was credited here in Queens College. I just learned that Acting 1 here in my college is improvisation while higher acting level classes are for scripts, etc. I'm terrified because your girl here calls herself terrible at improv. I am not the best at acting on the spot but good at scripts and memorizing them.
My last class is not really a class but more like Independent Study. I, like every drama major, have to complete 135 hours of work in the scene shop. This is coming from a girl who has never done handy work in her entire life. I keep telling my mom that by the end of this class I should be able to fix something in our house (Hey mom if you are reading this, remember this by next summer). 135 hours seems like a lot but I am put on run crew position as Assistant Stage Manager for the faculty dance show that will be up in December so that gets a lot of hours in. Right now the main focus is going to be on the fall drama show which is the play She Kills Monsters by Qui Nguyen going up end of October. Work right now is 2 three-hour shifts: one in the morning and one in the afternoon on different days (Tuesday afternoon and Thursday morning).
Last blog I told you about my birthday gift that was given in July and the performance was for September. Well, did anyone guess what show it was? It was Pretty Woman! When my parents gave me clues saying it was based on a movie or the musical helped make it into a movie, and there was a famous song in there, I was stumped. I gave out the clues on Facebook to help me out, and most of the answers were Phantom and Frozen. Where did Pretty Woman come from? My parents are in their sixties and they think the song "Pretty Woman" by Roy Orbison is famous. My mom got a rush ticket for the same day so we got to see it together albeit from different seats.
It was amazing seeing this story even though I have never watched the original movie with Julia Roberts (but I do know about the shopping scene where she says "Big mistake, Big, Huge! I have to go shopping now"). I was even more excited to see all of these people onstage like Jason Danieley who I saw in Next to Normal (fun fact: we share a birthday), Orfeh from Legally Blonde which I saw when I was 15 and Andy Karl who I saw in many different shows (Pretty Woman marked the 8th musical I have seen Andy Karl in. Been a fan of his since Legally Blonde, 9 to 5, Wicked (one of my favorite Fiyero's), Mystery of Edwin Drood (One of my favorite musicals), Jersey Boys (First Tommy DeVito), Rocky, Groundhog Day and Pretty Woman).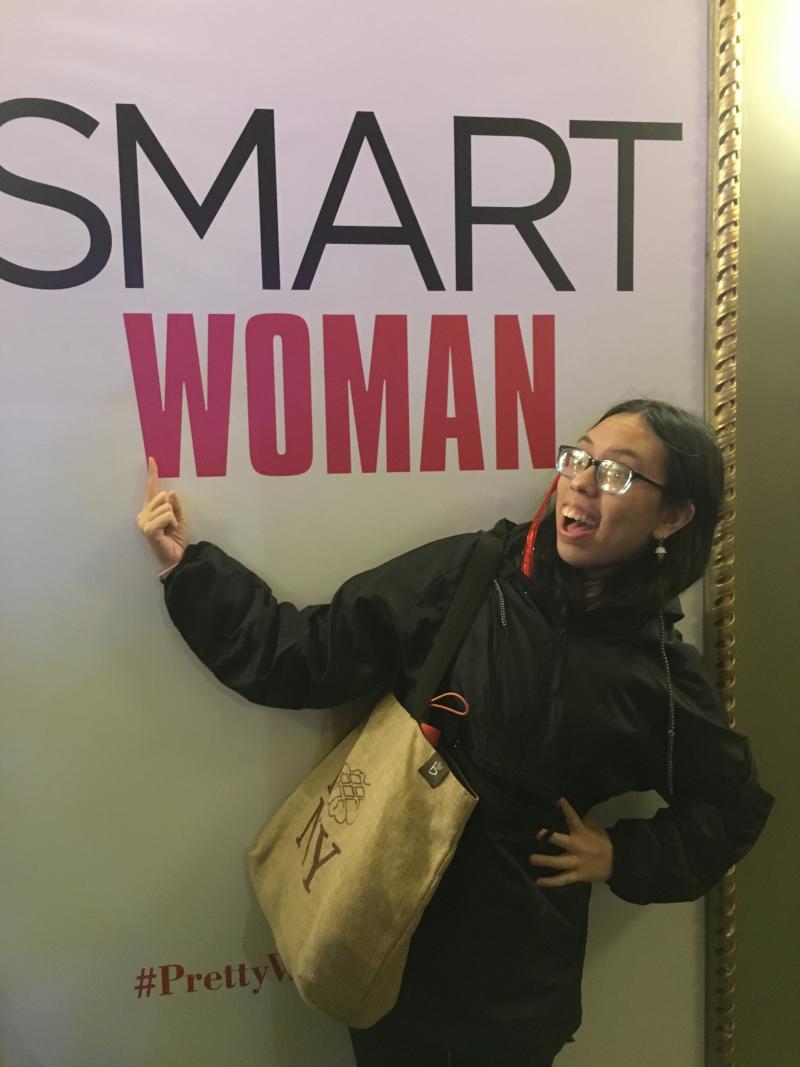 Now let me talk about the star of the day. I know many people who are disappointed when an understudy goes on but for me, I'm happy because I'm seeing a different take on a role. I opened my playbill and saw that Samantha Barks who plays Vivian Ward was not in, so I saw her understudy Jillian Mueller (remember that name if you ever see Pretty Woman) and bonus: It was her first time going on as Vivian. I could see cast standing in the wings watching her as the star. Andy Karl bowed down cheering her on as she took her bow at curtain call. I could tell there were no nerves on her and she was pretty confident and having fun. Pretty Woman was amazing. Any time you have an understudy go on, don't be sad. Be excited because you might be their next fan. Jillian Mueller, you are a star! To the cast of Pretty Woman, thanks for a great time. I will be back again soon.
A few days later, I was getting ready for an audition and I opened my social media page to see it overflowing with sadness. The news broke that Marin Mazzie, who I say is a legend in every way, had passed away. Marin was one of the first people I heard when I first started getting into theatre. I saw her represent Spamalot at Broadway in Bryant Park and finally saw her onstage in Next to Normal. I met her and her husband, Jason Danieley, at the Broadway Flea Market. She is really sweet. Her final Broadway role was as Anna in The King and I after her diagnosis of cancer. I saw not only a star but a warrior. I have started binge watching a Marin Mazzie Youtube concert only to find her in these great roles like Kate in Kiss Me Kate and Mother in Ragtime. One moment I remember was at Broadway on Broadway and she got to the climax of "I Miss the Mountains" and a flock of birds flew in the same direction. If she can send birds away like that, then she must have sent chills whenever she sang and acted on stage giving her heart. Thank you, Marin Mazzie, for the gift you gave onstage showing you can be kind and give performances of passion. I, along with many fans, send their heartfelt condolences to her family and friends.
Thanks to my friends who sent messages of love and support my way after talking about my foot last blog. My foot is better and I don't want to wear the support sock anymore but I bring it just in case. I have a hard time balancing on it so if anyone can help me please do so. Parents want me to take it easy exercising at Broadway Dance Center before going hard core dancing. Speaking of BDC, I had a great acting technique class with Lane Napper who is a dancer, choreographer, actor, and dialect coach. He has a guest appearance on "The Good Cop" on Netflix (Episode 10). I watched his improv section and got to do some script work where I played an awkward customer at a coffee shop stuck in the middle of a relationship argument between two friends/ roommates. Its nice being able to work with someone who is knowledgeable in this business.
There is a reason why I choose to intentionally submit this blog a few days later. I want to be able to write out the words thoughtfully and carefully after letting the events of the past few days slip by so I can accept things more graciously. Plus, I don't know if any stories like this have been shared (I mean I have been through so many rejections in my life that I could write a short novel of them). I went in for auditions for She Kills Monsters, very nervous but comfortable that there are people I know auditioning. I took the preparation for this audition very seriously as I do with every audition. I went in and went out for what felt like five minutes. I honestly thought I did well but felt the audition was rushed and could not really process how I did. I took my mind off of it by seeing my friend Allie who I have not seen in a long time. She's always a source of comfort and strength. Long story short, I did not get cast. Was I sad? Yes. Did I cry? Yes ...for a short time. To ease my sadness about the casting result, I tried digital lotteries on my day off and got into Beautiful (which by the way was amazing...My first time since seeing it February 2014 when the show opened with Jessie Mueller and now with my second time, I saw her sister Abby. I will have more details on the next blog). I am going to quote my mother who told me this after failed auditions: "When one door closes, a window opens". I took this rejection very calmly knowing there are others who also got rejected but I am happy for those who did get cast (for some, it may be their first show on campus). For those cast, enjoy the ride. This is one experience you are going to remember. I look back at my rejection and I have to say I've had a much better reaction to the last times I got rejected.
Advice sharing now: Rejection is not the end of the world. You may think it is at the moment. It means that the timing is not right. It happens whether you are in theater, business, science, cooking, basically going for any job/ internship, etc. I know now I can focus on school, this blog, trying to find an internship, my secret projects (not telling still but when it comes time, I will reveal it all), and have adventures. I'm not giving up on auditions. I'll be back!!!!
That is the end of this blog: Look out for the next one where I will talk about Beautiful in full detail, more school adventures, and of course my Broadway Black Friday aka Broadway Flea Market 2018!!!!!!!!!!!!