Click Here to Visit the College Center

BWW Blog: So Much Happened in So Little Time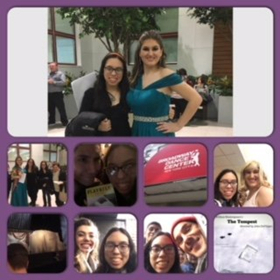 Hello, Everyone! Its Lea writing after a long absence and an eventful time. So much has happened within a short amount of time. I'm recapping this from my last article to finals week so bear with me. Time to recap.
Before Spring Break, I got to watch my friend Allie perform at a musical theatre showcase from the musical theatre organization in the music school on our campus. The theme was comedy so songs that are funny. Tim, a castmate of mine from Middletown, was also in this showcase. Some songs include "Hello" and "I Believe" from The Book of Mormon, Hans Solo (PS - Does anyone know if this song is on iTunes? I want it on my music playlist), "Everyone's a Little Bit Racist" from Avenue Q (Tim who was playing Princeton when he said the line from the show about Mexican Bus Boys (If you know Avenue Q you know what I'm talking about). I was sitting with a group of drama kids and a guy in our group acted to stand up angry. At Intermission, one of the directors came up to us and said thank you for laughing and she said she lost it when that guy stood up. The other numbers included "Taylor the Latte Boy", "Diva's Lament" from Spamalot, etc. My friend got to do "What is this Feeling" from Wicked as Glinda (Galinda) and Elle Woods in "OMG you guys" from Legally Blonde. I got could not stop laughing from all these songs. The performances were really good.
Following that, Monday before spring break was busy. I had journalism class where we presented our midterm videos. This video was about the making of our play Middletown and I got to interview the director/professor. I showed my Middletown director my midterm video. She loved it. I still have to give it to her because the video is too long to email it. I think the class enjoyed my presentation and I'm so proud of myself after all the sweat and crying.
Now we have our final which is about food. Oh boy! This is coming from someone who loves watching cooking videos on YouTube and is a picky eater. This project involves making a video with a partner which is nice, even though it involves more coordination and time management. My partner and I are doing it on a recycling center in Brooklyn that accepts cans and bottles and also makes its own compost on site.
Later that night, my mom and I attended my friend Allie's performance of her senior recital. I love supporting my friends in whatever they do. She sang some opera and some Broadway tunes ("Green Finch and Linnet Bird" from Sweeney Todd). She sang "Love Never Dies" from the show of the same title as her encore. I have been friends with her since my last year of high school and I'm so proud of her. Needless to say, she was fantastic.
Speaking of class work, I got assigned to ask a question for my contemporary theatre class about the play we are reading which is one of my favorite musical obsessions: Rent. I will admit it. I'm a Rent-head. I love it. I saw it on Broadway seven times, twice Off-Broadway and a high school production.
Something else happened out of the blue. The Thursday before my spring break started, I get a text from a friend to read something from Shakespeare's The Tempest. I read for a few of the characters. In a whirlwind, I got cast as Juno. This is for our school's festival of the arts in May. OMG. I promise to write more about that and that has been keeping me busy for the past couple of weeks.
Friendships and relationships are important to keep in college though everyone is busy with their own schedules. It takes work. March 31st marked the 3rd anniversary of the start of my relationship with my boyfriend. We have tried for a lotto since the beginning of the week and kept losing. The day of our anniversary, I got a text saying that I won for The Phantom of Opera for the afternoon show. Phantom is playing a big role this March (If you read a couple blogs ago you know what I mean). It was exciting to do this for our anniversary and, coincidentally, this was Peter Jöback's final day, plus my high school is doing Phantom next year and Kaley Ann Voorhees was on as Christine (wanted to see her perform Christine since hearing her do that section in Prince of Broadway). I love both Ali (the Filipina who is currently playing Chistine) and Kaley. This marked my 3rd time seeing Phantom, my boyfriend's 2nd but its our first together. My heart was racing throughout the entire show. It was so freaking amazing.
Before I finish, I do want to point out something that I tried something new and loved it. Its called Body Art. I attempted it at one of my favorite places: Broadway Dance Center. Its like a mix of movement and stretching with a focus on breathing. Try it. I love trying new classes and this class was really good.
That is what has been happening. See you on the next blog.

Related Articles
Lea Passione is currently studying drama and journalism at Queens College. Living so close to the city is what awakened her passion of theatre. She (read more...)