Algonquin To Open English And Spanish Versions Of THE PAPARAZZI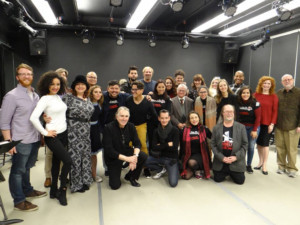 In a historic move, Algonquin Theater Productions is announcing that it will be partnering with legendary Mexican director Mauricio Cedeno to produce two versions of the same show, "The Paparazzi", one in English and one in Spanish, to run simultaneously in 2019. The English version will feature New York actors while the Spanish one will be comprised of actors from Guadalajara and directed by Cedeno. The new Al Tapper musical has already been produced in Mexico to great acclaim so it just made sense to bring those actors here to New York.

"We have an extraordinary opportunity here," says Algonquin Artistic Director Tony Sportiello, who flew down to see the Mexican version. "We need to be collaborating with the artists and musicians from Mexico, not alienating them. These are incredibly creative, passionate actors and directors who want the same thing we do - a chance to tell a story and connect with their audience. Lately our country has been taught to fear anyone who does not look like us, does not talk like us. But once you sit down with someone from a foreign land you quickly understand that they are absolutely no different from us."

Tapper agrees. "The conversation is always about building a wall. A wall between white nationalists and the anti- fascists who believe in equal rights. Also a wall between Mexico and the United States. So what can be done? The answer is ART which crosses all boundaries and builds bridges between peoples and knocks down any real or perceived walls."
This is the third collaboration between Mauricio Cedeno and Algonquin. In 2010 they produced Tapper's "Sessions", which became the first Off Broadway musical ever to play in Guadalajara, Mexico's second largest city. This was followed by the screwball comedy "National Pastime", which won more awards than any musical in the city's history.
Cedeno embraces the opportunity. "It is about breaking borders positively, to demonstrate that art can not depend on politics, it is about making the cultural hearts of two countries can join a single rhythm and make history, to open roads for both cities. I hope this is the beginning of a gap that many artists from the USA and Mexico can successfully cross."

Sportiello is actively seeking producing partners who share the same vision but he doesn't think it will take long. "This is more than a play, more than a theatrical experience. This is a cultural experience, a bridge between two worlds."

The goal is to have both productions up and running early in 2019.