A Deluxe Edition of the SCHOOL OF ROCK THE MUSICAL (ORIGINAL CAST RECORDING) to be Released November 30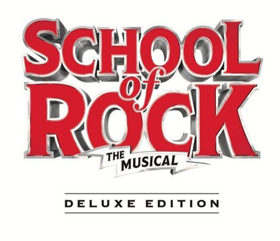 School of Rock The Musical (Original Cast Recording) will be released as a deluxe edition on November 30th via Warner Bros Records. New song and music video "School of Rock - The Musical (Medley)" available now - watch below!
The official video for "School of Rock - The Musical (Medley)" features "Teacher's Pet," "Stick It To The Man," and "When I Climb To The Top Of Mount Rock." arranged and produced by Kurt Hugo Schneider, a musical creator and YouTube star whose channel has brought in over 1.5 billion views to date. Rising talents VINCINT and Kirsten Collins contributed vocals to the new recording and can be seen performing in the video.
School Of Rock, a musical that brings the film to life with songs by Andrew Lloyd Webber, is a worldwide phenomenon. Based on the hit film, this musical comedy follows Dewey Finn, a wannabe rock star posing as a substitute teacher who turns a class of straight-A students into a guitar-shredding, bass-slapping, mind-blowing rock band. The show features 14 new songs from Webber, all the original songs from the movie and Broadway's first-ever kids rock band playing their instruments live on stage. Since launching in New York in 2015, School Of Rock has seen cast members share the stage with Stevie Knicks, Slash, and the Spice Girls' Mel C. Jack Black, who played Dewey Finn in the film version, summed up his experience watching the musical by saying "I laughed, I cried, I rocked." The production is on Broadway through January 20th 2019, in London through October 2019, Melbourne through mid-February 2019, and a North American tour is running through mid-2019. School Of Rock will also be opening in China, Sydney, Brisbane and across Asia in 2019.
The video was filmed at an actual School of Rock, one of 220 throughout the globe where over 30,000 students master music through performance-based education. School of Rock helps aspiring musicians master skills, unleash creativity, and develop tools they need to thrive in life. Founded as a single school in Philadelphia, PA in 1998, School of Rock has become a rapidly growing international franchise operating more than 220 schools in ten global markets. Since 2009, School of Rock has grown student count from 4,000 to more than 30,000. School of Rock offers a wide variety of music lessons, including guitar lessons, singing lessons and piano lessons.