Outskirts Theatre Co. Welcomes New Artistic Leadership Ahead of 10 Year Anniversary Season
In March of 2023, the Outskirts Theatre Board of Directors officially named Samantha Paige as the new Co-Artistic Director.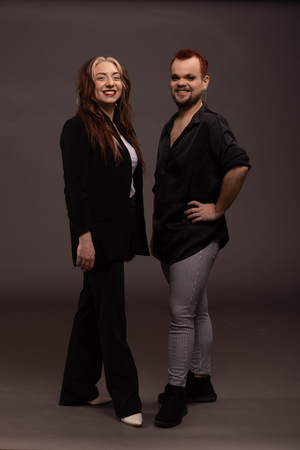 After a decade of producing entertaining, thought-provoking theatrical productions and providing professional opportunities for emerging artists, Outskirts Theatre Co. is ready for some big changes.
"It isn't lost on us how lucky we are to have survived to the ten year mark," said Outskirts Theatre's founder Ryan Rehak. "From starting with literally nothing on the floor of my college dorm, to surviving a global pandemic, and every hurdle that's happened in between - it really is quite incredible."
Rehak started Outskirts Theatre as a student in Carroll University's Theatre & Arts Management Program. Aside from serving as Artistic Director since its inception, he has also directed many of the organization's productions. His leadership of the organization has been a success on account of his background in the nonprofit sector and the arts. Rehak spent five years as the Theatre & Venue Relations Manager of Footlights, an arts magazine and playbill publisher that served over 150 theatres in the midwest. He's also served in a variety of leadership roles in artistic organizations throughout the area, including as the Office Manager for the Wisconsin Philharmonic, Community Engagement Manager for Renaissance Theaterworks, and a season as the Associate Managing Director of Waukesha Civic Theatre.
"I'm proud of the work my team and I have accomplished over the last decade," said Rehak. "But as we continue to grow, there's only so much we can do without additional strong leadership, talent, and support."
Following a move many arts organizations such as Chicago's Steppenwolf Theatre have made since the beginning of the pandemic, Outskirts is moving to a new leadership model featuring Co-Artisitc Directors to lead the way.
"It's a move I've wanted to make for a long time, but I've never found the right person for the role," said Rehak. "In order to successfully pull it off, the role needed to be filled by someone not only with talent and experience to create and represent our work, but also someone who has the passion for this organization and the drive to do anything to make this a success."
In March of 2023, the Outskirts Theatre Board of Directors officially named Samantha Paige as the new Co-Artistic Director, while Rehak will remain as the other. Along with Rehak, Paige will lead the staff that also includes Artistic Associates Dyllan Brown, Allyson Imig, and Francesca Steitz.
"The Outskirts Board is delighted to welcome Samantha Paige as our Co-Artistic Director," said Kristin Hansen, Outskirts' current Board President. "We are launching our 10th Anniversary Season with shows that Ryan and Sam will bring to life for our audience members - those who have been with us since the beginning and those who are discovering us now. With such talented people as Sam and Ryan leading this theatre company, the future is bright!"
Paige joins the Artistic Leadership team after over two decades in the performing arts. She has worked professionally as an actor, vocalist, dancer and choreographer. After graduating from Milwaukee High School of the Arts, she has worked with a wide variety of local arts organizations including Carte Blanche Studios, Sunset Playhouse, In Tandem Theater, Greendale Community Theatre, Marquette University Theatre, and more.
She first began working with Outskirts Theatre in 2018, playing one of the leading roles in their production of The Children's Hour. Shortly after, she took on the dual roles of Snow White and Choreographer in Disenchanted! - a production that sold out its run at Waukesha Civic Theatre, followed by two successful remounts at Summerstage of Delafield and in the Milwaukee Fringe Festival. Paige joined the staff as an Artistic Associate in 2019, and has also choreographed every musical for the organization since.
"Having Sam step up into the role of Co-Artistic Director opens up so many opportunities for Outskirts," said Rehak. "We are ready to hit the ground running in our 10th Anniversary Season, and it is certainly going to be a job big enough for two."
Outskirts will launch the season in August, with four productions throughout 2023-2024. This season will mark Outskirts' first as a permanent resident company of Waukesha Civic Theatre - providing reliable space to the organization for rehearsals, administrative tasks, educational classes, and performances. Two of the four productions this season will take place at WCT.
Under the guidance of Rehak and Paige, Outskirts will also launch the Growing Artistic Professionals (GAP) Program in an effort to secure their place as a true springboard for artists between community and educational theatre and professional work. The program will offer emerging artists the opportunity for professional development, scholarships, networking, and refining their skills to kick off their careers.
"It is an honor and a privilege to be at the helm of Outskirts, working in partnership alongside its founder," said Paige. "Running a theatre company has been a dream of mine for many years, and I'm thrilled and grateful to finally see my dream become a reality. Our 10th Anniversary Season will be spectacular, and we are so excited to share it with you. Thank you to our patrons, and to those who continue to work with us. I am so proud of the resilience of this team and company, and cannot wait to see what the next decade of Outskirts Theatre brings to our community."
---
Join Team BroadwayWorld
Are you an avid theatergoer in Appleton? We're looking for people like you to share your thoughts and insights with our readers. Team BroadwayWorld members get access to shows to review, conduct interviews with artists, and the opportunity to meet and network with fellow theatre lovers and arts workers.
Interested? Learn more here.
---