BWW Review: THE FLINT STREET NATIVITY at Holden Street Theatres – The Studio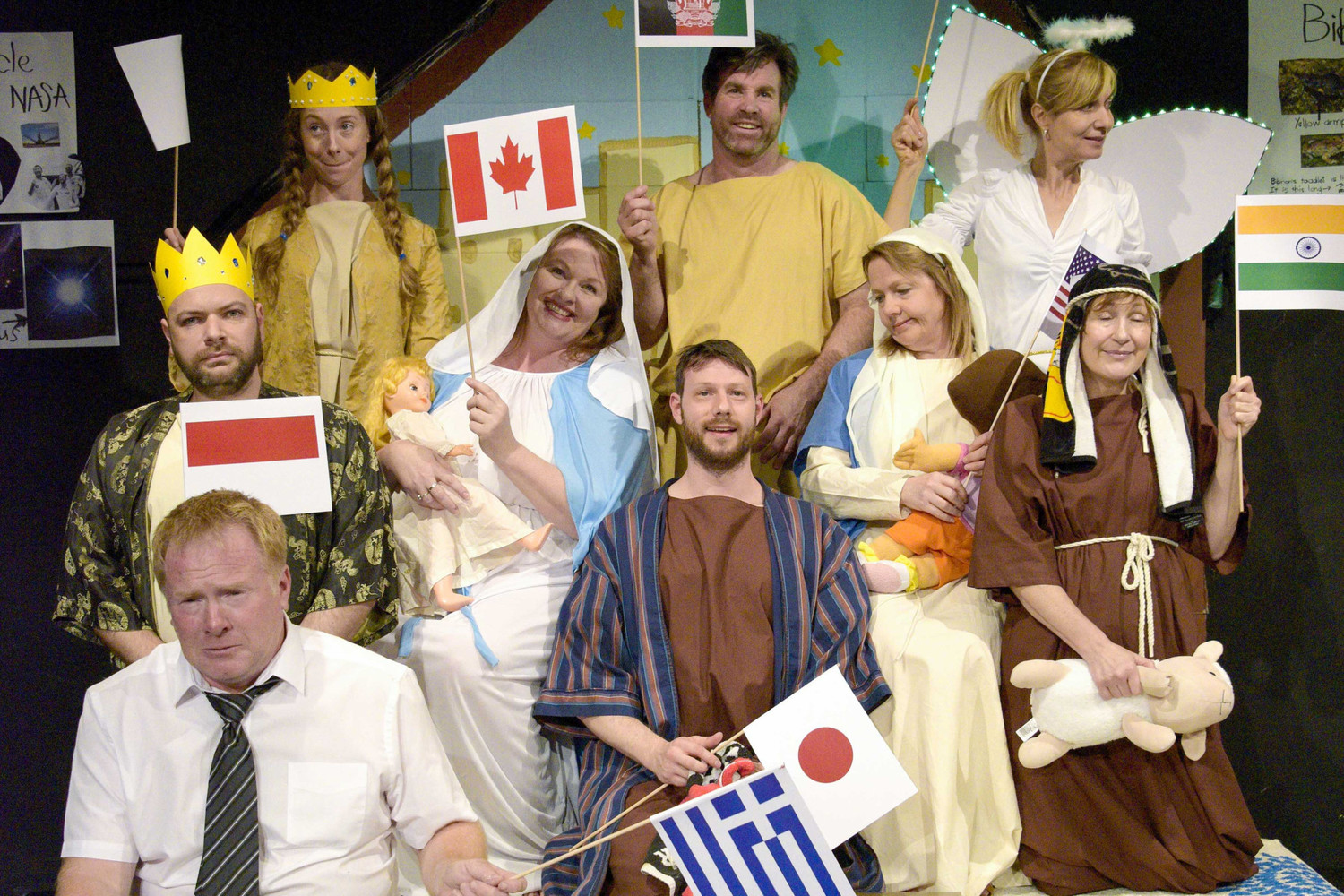 Reviewed by Barry Lenny, Thursday 8th November 2018.

The multiple award-winning company, Red Phoenix Theatre, is ending this year with a comedy, The Flint Street Nativity, written by Tim Firth and directed by Michael Eustice. The seven-year-olds at Flint Street Junior School are presenting the annual nativity, but things do not run smoothly. The old theatrical adage, to never work with children or animals, is supported by the series of difficulties and disasters that occur. Firth drew on the experiences of his family and friends, who were teachers, combining true stories that were collected over a period of ten years.

The discovery of the little-known and, seemingly, quite rare small frog, Bibron's Toadlet, has halted the building of the new hall, so the Nativity is being performed in the old building, a disappointment to all, but there is worse to come.

The Angel Gabriel's Machiavellian plottings to take over the role of Mary, whilst bullying another angel and the bright-eyed and unceasingly cheerful Wise Gold, the brooding Innkeeper's determination to win Mary away from Joseph, Joseph's insistence on focussing on his parents in the audience, wearing a gormless grin and oblivious to the play going on around him, the Narrator, trying to make sense of an ever-changing storyline, the Star of Bethlehem, whose 'Uncle' Ted, who is not really related and more a friend of his mother than his father, works for NASA, the child insisting that the five-pointed silver icon is not what a real star looks like, the Wise Frankincense being laughed at because of his lisp, the shepherd, with intimate, if rather inaccurate, details of how babies are born, based on observing animals on her family's farm, and the class's stick insect escaping, are only a few of the problems driving the unseen teacher, 'Mizzis' Horrocks, to distraction and, quite possibly, a nervous breakdown.

Originally written for television in 1999, and released on DVD in 2005, Firth rewrote the script and added music for a live performance in 2006. Surprisingly, this has never been performed in Adelaide, which suited Red Phoenix perfectly, as the company is committed to performing only works never seen here before. As a critic of long-standing or, perhaps, long-sitting, one starts to feel as though one has seen it all before, with many plays and musicals turning up with monotonous regularity, so it is always a pleasure to attend one of their productions to see something new.

We see both the onstage and backstage antics in this hilarious production that can best be described as highly organised chaos, mayhem delivered with great precision. The children are all played by adults and, in a brief scene to end the production they assume the roles of their respective parents. To be honest, I think that Firth could have omitted that ending as the level of hilarity is suddenly reduced to merely comical, with a fair degree of poignancy, as we see how dysfunctional, even unpleasant, they all are and we are made aware of how that affects the children, but I am sure that we had all already picked that up in the main part of the play, anyway.

There are, of course, the obligatory Christmas carols, but with new words, with the children expressing their thought, hopes, fears, and observations. There is both humour and profound moments in these songs that add another layer and bring depth to the play.

Michael Eustice has assembled a great cast for this production, the ensemble consisting of Brendan Cooney, Derek Crawford, Cheryl Douglas, Brant Eustice, Nick Fagan, Sharon Malujlo, Tony Sampson, Tracey Walker, Tim Williams, Lyn Wilson, and Anita Zamberlan Canala. Each deserves a commendation for their performance, with not a weak link anywhere, but to detail each person's contribution would take far too long. Most important, though, is their impressive work as a tight ensemble, bouncing off one another encouraging each other to ever greater craziness.

Kate Prescott's set, Libby Drake's costumes, Richard Parkhill's lighting design, and the rest of the production support, all add to the fun and games, and there are a few good laughs in Jan Farr's props, too.

Michael Eustice has set his cast a cracking pace, and they generate enough energy to power a city. There is constant laughter from the audience, with barely time to take a breath. The production played to a full house on opening night, and there are heavy bookings already for the remainder of the season. If you want to catch this one, you'll need to book right now.