BWW Review: KINGS OF WAR: ADELAIDE FESTIVAL 2018 at Adelaide Festival Theatre, Adelaide Festival Centre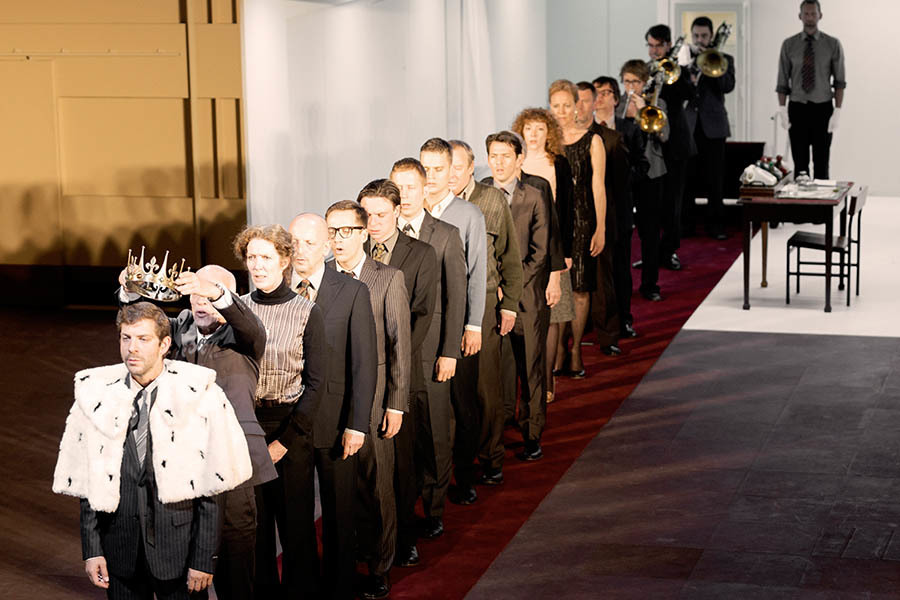 Reviewed by Barry Lenny, Saturday 10th March 2018.
Kings of War
, presented by Toneelgroep Amsterdam, draws material from five of the history plays of William Shakespeare, specifically: Henry V, Henry VI Part I, II, and III, and Richard III. This production starts with the death of Henry Bolingbroke, now Henry IV, and the ascension to the throne of his son, Henry V, so we do not get to see how the young Prince Hal changes with age from being a dissolute young man to a great king, nor do we see anything at all, sadly, of Sir John Falstaff. The entire second half of the production is, actually, all about Richard III, the first half covering all of the wars and intrigues leading up to his appearance, and the delivery of that famous opening speech. Running at 4 ½ hours, including the interval, this is a mammoth enterprise for both performers and audience, a few of the latter not quite making the distance in the long first act, and needing to slip out and return, and not everybody made it back after the interval, which could have profitably been a little longer, as people were still lined up at the bar trying to get a drink as the final bells were sounding. The first thing that one is aware of is the enormous and elaborate set, described in the press release as a war room, but looking suspiciously like the communal day room in a mental asylum. There is more than one flying over this cuckoo's nest, though. Clinically white corridors run off this main room, but we are able to see what happens in them through the use of Tal Yarden's live video stream, which is projected onto a huge screen that is made up of twenty smaller, high-resolution screens. Very effective close-ups and alternative viewpoints are also made possible by this use of video. The video could even be seen as an investigative television news report, or even one of those voyeuristic, so-called 'reality' shows. In those corridors, we occasionally see a person on a hospital gurney and we wonder whether that king was just given a lethal injection by his enemy, or was it, perhaps, simply a tranquiliser to calm an overexcited inmate with delusions of grandeur? On one side of this war room is a wide sliding panel that goes up to reveal what might be a nurses' station, but acts as a minstrels' gallery, wherein sit four trombonists, BL!NDMAN [brass]: Konstantin Koev, bass trombone, Charlotte van Passen, alto trombone, and Daniel Quiles Cascant and Daniel Ruibal Ortigueira, tenor trombones. This brass group was formed especially for this production. They play the music specially composed for them by Eric Sleichim, the founder of BL!NDMAN, and they also sometimes act as the accompaniment for the renowned countertenor, Steve Dugardin. Musically, this is a fascinating performance. The performance is in the Dutch language, with English surtitles projected above the action, the translation being by Rob Klinkenberg, from the adaptation by Bart van den Eynde and Peter van Kraaij, the latter also being the dramaturge. Putting it all together fell to the highly respected director, Ivo van Hove, who has done a sensational job in creating a powerful production as well as bringing it forward into the current time with the use of technology and through An D'Huys costuming, added to the work of set and lighting designer, Jan Versweyveld. A cast of only fourteen actors play all of the characters, from the time that Henry V came to the throne in 1413 to the death of Richard III in 1485, such a short period to be filled with so many violent deaths. Hélène Devos, Jip van den Dool, Fred Goessens, Janni Goslinga, Aus Greidanus Jr., Marieke Heebink, Robert de Hoog, Hans Kesting, Ramsey Nasr, Chris Nietvelt, Harm Duco Schut, Bart Slegers, Eelco Smits, and Leon Voorberg are a superb ensemble, each one also a sensational principal performer in their own right. All of the Bard's characters are injected with a modern touch that brings them into our world, where they could just as easily be our politicians, corporate high-flyers, and competing world leaders, vying for higher positions and killing the careers of their opponents, and we have all seen that happening plenty of times in Australian politics, as well as in many countries overseas. Shakespeare has always been relevant, but this remarkable production helps to remind us just how incredible relevant he still is, half a millennia later. Do not miss this production.
Born in London, Barry was introduced to theatre as a small boy, through being taken to see traditional Christmas pantomimes, as well as discovering jazz (read more about this author...)