SHOW
DATES
THEATRE

Elefunny Comedy Night


A terrific line-up of up-and-coming comedians is taking over Blue Elephant - grab a drink and witness some of the most exciting acts the UK
3/28

Blue Elephant Theatre
59a Bethwin Rd Camberwell London SE5 0XT
London

James Haskell - Sex, Tries and Videotape


James Haskell the #1 podcaster with The Good, the Bad and the Rugby, author of Sunday Times Bestselling book "What A Flanker", smash-hit follow up
3/29

Richmond Theatre
Richmond Theatre, Little Green, Richmond
Richmond

James Haskell - Sex, Tries and Videotape


James Haskell the #1 podcaster with The Good, the Bad and the Rugby, author of Sunday Times Bestselling book "What A Flanker", smash-hit follow up
3/29

Richmond Theatre
Richmond Theatre, Little Green, Richmond
Richmond

Sap


Following a critically acclaimed run at the Edinburgh Festival Fringe, the award-winning SAP returns for an extensive UK Tour, including runs at London's Soho Theatre,
3/28 - 3/29/2023

Mercury Theatre
Balkerne Gate, Colchester CO1 1PT
Colchester

Mad(e)


An epic story of life, death, and everything in between, Mandala Theatre are taking MAD(E) on tour from January – March.  A tale of three
3/30

Arts Centre Washington
Biddick Ln, Washington
Washington

Pepper & Honey


So, what is "home"? That's the question Ana, a young Croatian woman, poses as she settles in the UK. Ana has been on a journey.
4/30 - 3/30/2023

Greenwich Theatre
Crooms Hill, Greenwich , London, SE10 8ES
London

Sir Ranulph Fiennes: Living Dangerously


Named by the Guinness Book of Records as 'the world's greatest living explorer', Sir Ranulph Fiennes has spent his life in pursuit of extreme adventure,
3/30

Richmond Theatre
Richmond Theatre, Little Green, Richmond
Richmond

The Strange Affair of Herschel Grynszpan


"The Strange Affair of Herschel Grynszpan" is a radical new musical workshop, based on the true story of a teenage assassin. It is 1938. A
3/29 - 3/30/2023

The Other Palace
12 Palace Street, London, SW1E 5JA
London

Ellen Kent's La Bohème


Senbla presents Opera International's award-winning Ellen Kent Production featuring the Ukrainian Opera & Ballet Theatre Kyiv, with international soloists, highly-praised chorus and full orchestra. La
3/31

Richmond Theatre
Richmond Theatre, Little Green, Richmond
Richmond

The Witness


The sacred and profane collide in Jo Blake and Carbon Theatre's new performance The Witness, inspired by the rediscovered Gospel of Mary Magdalene.  The Witness
3/31

Attenborough Arts Centre
University of Leicester, Lancaster Rd, Leicester LE1 7HA
Leicester

We Are What We Overcome


WE ARE WHAT WE OVERCOME By Matt McGuinness Combining upbeat  original music  with thought provoking  comedy  and  stories ,  We Are What We Overcome  is
3/31

Greenwich Theatre
Crooms Hill, SE10 8ES
London

We Are What We Overcome


WE ARE WHAT WE OVERCOME By Matt McGuinness Combining upbeat  original music  with thought provoking  comedy  and  stories ,  We Are What We Overcome  is
3/31

Greenwich Theatre
Crooms Hill, SE10 8ES
London

All Roads


  'If only he knew. If only he listened.'     A tragic event. Two young Black lives are blown apart.  In the madness of grief,
3/9 - 4/1/2023

Attic Theatre Company. Touring to: Tramshed; New Wimbledon Theatre Studio; Theatre Peckham; Bernie Grants Are Centre
Tramshed, New Wimbledon Theatre Studio, Theatre Peckham, Bernie Grant Arts Centre
London

Around the World in 80 Days


Tilted Wig (Murder, Margaret and Me; Lady Chatterley's Lover; The Picture of Dorian Gray) are heading on tour with York Theatre Royal's Around the World
3/28 - 4/1/2023

Exeter Northcott Theatre
Stocker Rd
Exeter

Blood Brothers


Willy Russell's legendary musical tells the captivating and moving tale of twins separated at birth, who grow up on opposite sides of the tracks, only
3/28 - 4/1/2023

Belgrade Theatre, Coventry
Belgrade Square, Corporation Street, Coventry CV1 1GS
Coventry

Ellen Kent's Aida


Senbla presents Opera International's award-winning Ellen Kent and the Ukrainian Opera & Ballet Theatre Kyiv production, with international soloists, highly-praised chorus and full orchestra. In 
4/1

Richmond Theatre
Richmond Theatre, Little Green, Richmond
Richmond

Ministry of Science Live!


SCIENCE SAVED THE WORLD This year saw Science lead the way in getting our lives back to normal. Now, the UK's favourite science team are
4/1

Greenwich Theatre
Crooms Hill, SE10 8ES
London

Quality Street


In a co-production with New Vic Theatre, Northern Broadsides is reviving their delectable production of Quality Street, stirring in a good helping of Yorkshire wit
3/29 - 4/1/2023

Devonshire Park Theatre
8-10 Compton St, Eastbourne BN21 4BW
Eastbourne

Quality Street


The cast has been announced for the delicious Regency farce Quality Street, touring the UK this year. The lead, Phoebe Throssel, this time will be
3/29 - 4/1/2023

Devonshire Park Theatre
The Point, College Road, Eastbourne, BN21 4J
Eastbourne

The Little Prince


An enchanting story of love and friendship for children and grown-ups alike, retold on stage by a pilot stranded in the desert. Come and find
3/31 - 4/1/2023

Woolwich Works
The Fireworks Factorr, 11 No. 1 Street
London

The Witness


The sacred and profane collide in Jo Blake and Carbon Theatre's new performance The Witness, inspired by the rediscovered Gospel of Mary Magdalene.  The Witness
4/1

The Core
George St, Corby NN17 1QG
Corby

Trolls-OnLine


Epoch-making, mould-breaking, taboo-busting, TROLLS OnLINE delivers an exhilarating cascade of musical delights laced with satire and irony. But don't be frightened, there is poignancy, there
3/30 - 4/1/2023

The Cockpit
The Cockpit, Gateforth Street, London, NW8 8EH
London

When We Died


He's dead, and it's her job to prepare and present his body for his family's final goodbye. She often imagines what each person's life was like.
4/1

Greenwich Theatre
Crooms Hill, SE10 8ES
London

An Evening with Adam Frost


Following a successful 2022 tour, award-winning British garden designer and Gardeners' World presenter, Adam Frost, is heading back out on the road! Spend an evening
4/2

Richmond Theatre
Richmond Theatre, Little Green, Richmond
Richmond

Fireman Sam


When all of his friends go away, Norman Price decides to find adventure in Pontypandy… Norman becomes the star of a visiting circus. But with
4/2

Greenwich Theatre
Crooms Hill, SE10 8ES
London




Back to the Main Page | Browse Local Theatres
---
Latest UK / West End Reviews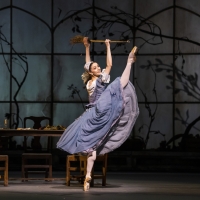 Review: CINDERELLA, Royal Opera House
by Matthew Paluch - March 28, 2023
Opening nights tend to be special. So what's 'A Gala Celebration' opening night at the Royal Opera House going to feel like? Spontaneous combustion?! Perhaps from the ticket prices…...
Review: THE VERY BEST AND WORST OF MR SWALLOW, Duke of York's Theatre
by Laura Jones - March 27, 2023
For the first time, Nick Mohammed's beloved alter ego Mr. Swallow is setting off across the UK on tour with The Very Best & Worst of Mr. Swallow. And what better way to kick off your very first tour than with a sold-out London show?...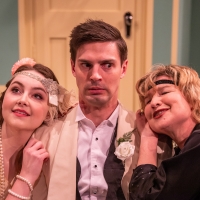 Review: HAY FEVER, The Mill at Sonning
by Mica Blackwell - March 27, 2023
A staple of the British stage, Noël Coward's Hay Fever was inspired by the playwright's travels in New York meeting an eccentric family. Supposedly, the matriarch wasn't kind to Coward's perceptions of their lifestyle, but this comedy of manners still paid off and has become one of his best known wo...
Review: WINNIE THE POOH, Riverside Studios
by Alice Cope - March 27, 2023
The hotly anticipated UK production of the new musical adaptation of Disney's Winnie the Pooh has arrived in London at Riverside Studios. This charming new stage show takes us on a series of whimsical adventures with the well loved characters created by A.A. Milne including Christopher Robin, Winnie...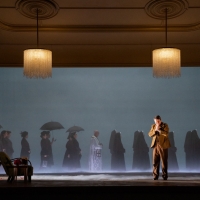 Review: THE DEAD CITY (DIE TOTE STADT), London Coliseum
by Alexander Cohen - March 26, 2023
Annilese Miskimmon directs an arresting new production of Korngold's cult operatic meditation on melancholy...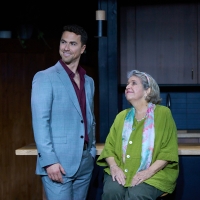 Review: MARJORIE PRIME, Menier Chocolate Factory
by Cindy Marcolina - March 26, 2023
Jordan Harrison's 2015 Pulitzer Prize finalist is a reflection on mortality that doesn't dare to go into the depths of the matter. It ends up being rather stagnant philosophically and anthropologically, but Dominic Dromgoole's latest production is a delicate take. Running at 85 minutes on paper but ...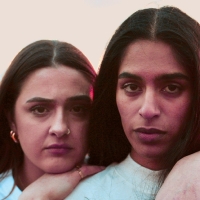 Review: WASTED, Lyric Hammersmith
by Cindy Marcolina - March 25, 2023
Running at around 50 minutes, it's snappy and positively Gen-Z in pace and subject. Fernandes crafts a script that wanders from deliciously colloquial to slightly expository, but remains solid throughout. ...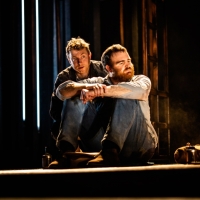 Review: OF MICE AND MEN, Birmingham Rep
by Laura Lott - March 24, 2023
John Steinbeck's 1937 novel, set in California during the Great Depression, may be a period piece, but the parallels with current life in the UK are unmistakable. Dealing with themes of poverty, displacement, prejudice and the desperation for independence, Of Mice and Men makes a timely return to th...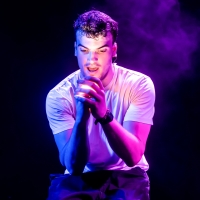 Review: COLOSSAL, Soho Theatre
by Katie Kirkpatrick - March 23, 2023
In Colossal, Patrick McPherson presents us with what initially seems to be a love story. As the show develops however, we gradually discover what it really is: a twisting, tricky tale of morality. McPherson has been on the Fringe circuit for a few years now, finding success in Edinburgh and in Perth...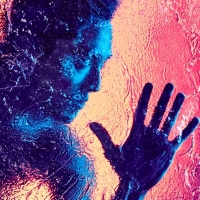 Review: CREATURE BY AKRAM KHAN, Sadler's Wells
by Louise Penn - March 24, 2023
Creature is a fascinating experiment, but requires a familiarity with both pieces of source material and a constant attention to what is going on in the story. This may ultimately isolate the audience from full enjoyment. It has much to say on experimentation and torture, but doesn't quite make the ...