Review: TWO BILLION BEATS, Orange Tree Theatre
Excellent acting and thoughtful writing makes up for the occasionally sluggish pace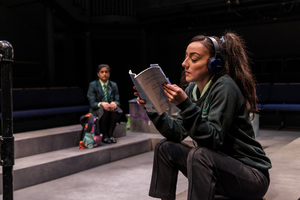 Asha is an idealistic young woman who wants to pass her exams while challenging the system. Bettina is her younger sister who just wants a hamster and to get on the bus without being hassled.
Sonali Bhattacharyya's Two Billion Beats beautifully captures the intricacies of a siblings' relationship as the pair navigate exam pressure, racism and social injustice. When Bettina asks for her sister's help, Asha's desire for the truth to be heard has consequences for both of them.
Shala Nyx takes on the role of Asha with energy and purpose. Her youthful indignation is very convincing as she questions authority and popular opinion, taking inspiration from lesser-known Indian activist B R Ambedkar and suffragette Sylvia Pankhurst.
Tanvi Virami plays Bettina as strait-laced, slightly awkward with a simpler world view. Her love for her sister is clear to see and her pleading with her to pretend to like her is both touching and recognisable to many in the audience.
The chemistry between the pair is palpable, showing energetic banter and teasing. Bettina just wants Asha to notice her; Asha is preoccupied with maintaining high grades without compromising on her beliefs.
Bhattacharyya raises the importance of the decisions we make and the impact they can have on our own lives and that of others. As I noticed in other versions of the story, it would be interesting to explore Asha's belief that a male Muslim teenager is at more a social disadvantage than her sister, a female Asian of Hindu heritage, despite facing racism herself.
It is rare for the Orange Tree Theatre to revive a production. Even rarer is to bring it back less than a year since it was last seen. Two Billion Beats was first seen in the theatre's Inside/Outside season, going on to be fully staged last February.
Bhattacharyya's writing remains vibrant and perceptive; the relationship between the sisters is entirely believable and brims with realism. Nimmo Ismail also returns to direct, but this revival feels less pacy than the last production, particularly towards the end, which feels like it runs out of steam.
A solid revival that is, perhaps, a little too soon.
Two Billion Beats is at the Orange Tree Theatre until 4 February
Photo Credit: The Other Richard