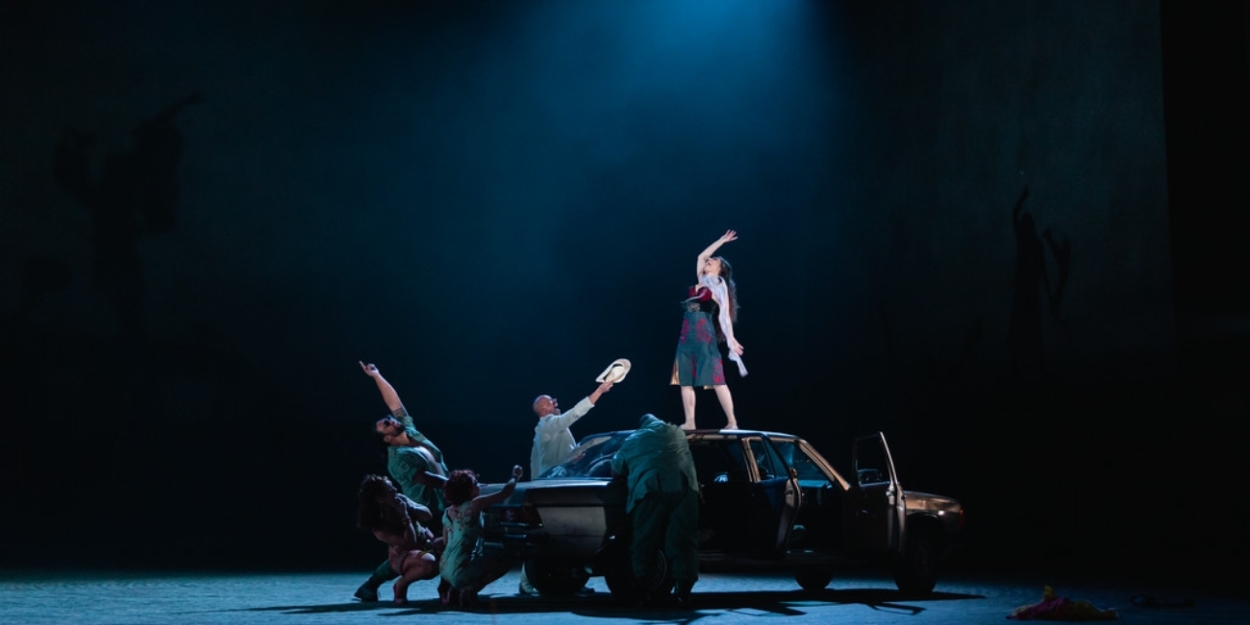 Review: CARMEN, London Coliseum
The sizzling revival runs until 24 February

It starts with sultry yellow light, sweaty biceps, and unbuttoned shirts. But this is no holiday in the sun. With a firm and unflinching emphasis on male fragility, toxicity, and violence towards women
Calixto Bieito
's 1970s set production of
Carmen
, first seen at the ENO in 2012 and now revived for a third time by
Jamie Manton
, feels more contemporary than ever when news headlines about abuses of power and sexual assault are rampant.
The plot is classic opera territory. Venerable soldier Don José is besotted by the sensuous factory worker Carmen. They elope, but cracks begin to show in their relationship when the hunky matador Escamillo throws a spanner in the works. Like many operas, the love triangle has a serrated edge. Hearts beat fast and blood is spilled.
Underneath the Mediterranean flare and humid passion is a layer of dirt. Bieito's production is torrid and grubby, with beaten-up old cars and dust under the fingernails. You'll want to shower afterwards just looking at it. By the end stone cold light paints the stage in brutal honesty. Nothing is clean. Don José, his shirt stained, his psyche fractured and warped with jealousy, has nowhere to hide.
Even if you know nothing about Carmen you'll be able to hum its iconic prelude here rendered with brawny vivacity by conductor Kerem Hasan. It barges its way onto stage like one of the muscular soldiers with a shot of adrenaline in its arm. Bizet's technicolour score dazzles and shimmers, a sonic kaleidoscope. No wonder everyone is sweating.
But Carmen is multifaceted, and Hasan carves the score's finer details with nimble fidelity. Ginger Costa-Jackson's Carmen's "Habanera" is escorted with a luxurious silky-smooth timbre that elevates her intoxicating sensuousness away from the testosterone fuelled earthiness of the first act.
Her performances will surely go down as a highlight of the ENO's season. She moves like a magpie with a fox's smile. Her effortlessly elegant but firm vocals draw Sean Panikkar's Don José, the chorus, and the entire room into her orbit with her seductive gravity.
Panikkar's Don José on the other hand is more grounded, truculent, scowling stroppily with indignation like a hormonal adolescent. His voice is pristine and his precise diction cuts like a sword straight to the heart of his tumultuous vulnerability and crumbling sense of masculinity. There is no vindication for him. The moral compass points directly towards him as a red-handed abuser with Carmen as his innocent victim.
Despite the often-austere set, the production is sizzling with vivacity thanks to the supporting cast and chorus. A special mention must go to Carrie-Ann Williams smoothly stepping in to cover Micaëla due to illness. Whilst Nmon Ford's Casamillo takes his time to find his feet, his "Toreador Song" - another of the opera's most eminently memorable tunes, was awkwardly overpowered by the orchestra's dynamism. Put it down to first night nerves as he soon found his footing to deliver a sumptuous third and fourth act.
Carmen is at the London Coliseum until 24 February
Photo Credit: Adiam Yemane