BWW Review: TOUCH, Soho Theatre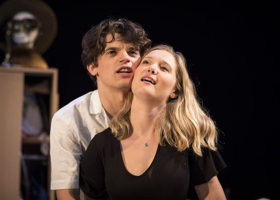 Neat freaks beware: Touch is your ultimate nightmare. This latest offering from DryWrite, the company that launched the now stratospheric Fleabag, centres on another woman with a chaotic personal life - this time, mirrored by the symphony of filth that is her cramped bedsit.
Dee has swapped Swansea and a nice if dull local lad for a temp marketing job in London and more adventurous sexual encounters - from exploration with a female friend to a baby-faced intern, bossy boyfriend and mysterious older man.
Her living quarters are no less jam-packed, evoked by ULTZ's rotating island of squalor: a permanently broken loo jostling for space with giant laundry bags, a groaning wardrobe, unopened post, empty bottles, a scuttling mouse, and a shower full of dirty dishes. In the hilarious opening sequence, Dee combines drunken attempted striptease with similarly half-hearted tidying. (Kudos to movement director Polly Bennett for creative use of wooden spoons.)
Dee's partners all want to intervene in some way, but she defends this situation as a means of personal expression and independence. Why should she live the conventionally defined adult life - or, more specifically, that expected of a "ladylike" woman? But her gender thesis statement is rather muddled, part of Dee's robust but confused attempts at self-definition.
Her various partners contribute to that identity search, but all are too limited in scope - from wanting her to be sweet wife and mum back home to kink with a side of social commentary. Dee is very much a product of the Tinder age: overwhelmed with loaded choices, struggling to reconcile her feminism with the turn-on of a controlling man, or to find a 21st-century female guise that's compatible with a relationship but doesn't involve chipping away pieces of herself.
Tonally, Vicky Jones's 90-minute piece can feel similarly unsure, mixing broad sitcom with discursive sections that come unmoored from the drama, and it's rather too baggy to pay off its interesting but meandering ideas. Jones's The One hit similar beats, but with a much sharper sense of taboo and how to create real emotional impact from high-wire comedy - plus it was blessed with a barnstorming central performance from Phoebe Waller-Bridge.
Yet Touch also has a fantastic asset in the utterly charming Amy Morgan, who makes Dee's blithe lack of control both joyful and terrifying - frank, boozy, rebellious sexual liberation with a hollow core. While Jones (who also directs) is careful never to judge Dee's behaviour, there's an ambiguity about her level of fulfilment that Morgan plays beautifully.
Edward Bluemel is superb as the blissfully entitled posh kid, and there are great turns too from James Marlowe as a controlling "nice guy", Matthew Aubrey as the genial ex who so easily falls back into old patterns with Dee, Naan Agyei-Ampadu as the fun-loving but hypersensitive Vera, and James Clyde as the right-wing deviant who might actually be the most enlightened communicator.
If slightly underdeveloped, it's still another entertaining work from a company dedicated to telling real women's stories in a candid, refreshing and audacious way.
Touch at Soho Theatre until 26 August
Photo credit: Helen Maybanks