BWW Review: THE SON, Kiln Theatre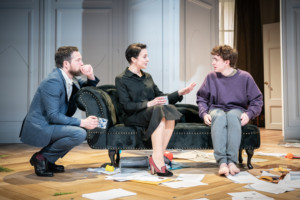 Teenager Nicolas (Laurie Kynaston) is going through a difficult phase. He used to be the happiest of kids but everything changed after his parents' divorce (Amanda Abbington and John Light) two years ago.
He believes that moving in with dad Pierre and his new girlfriend Sofia (Amaka Okafor), who have a newborn, might help, but mental health and societal pressure take their toll on the whole family.
Following The Mother and The Father, The Son concludes French playwright Florian Zeller's cycle. Translated by Christopher Hampton and directed by the incoming artistic director of the Donmar Warehouse, Michael Longhurst, the piece is a complex examination of the outcomes of depression.
Light dominates the production. From hip-swaying seemingly without a care on the notes of "Happy" by Pharrell Williams to crumbling on the floor stricken with grief, he gives a masterly performance. He portrays Pierre as a lawyer through and through, his body language finely tuned to switch swiftly from harbouring aggression to breaking down in pieces.
He is no stranger to Shakespearian rage, but he shatters the stage with Zeller's. The subtle hints at his own paternal issues and the dysfunctional relationship with his older son weigh heavily on his character, influencing his actions and vicinity to Nicolas while threatening his tie to his youngest.
At the other end of the scale, Abbington's Anna begins her journey as a hopeless mother who doesn't know how to deal with her child anymore. They join forces to guide him out of his depression but ultimately do what's best for them, convincing themselves that they're acting for his benefit and justifying this futilely.
Abbington is understanding and forthcoming, bringing a sort of precarious balance to Light's concealed irascibility. While she is Pierre's past, Okafor's Sofia represents his present and future but doesn't have the power to influence her partner as much as his ex-wife does.
The inherent clash between relationships and their approach to the illness play a decisive role in how mental health is treated in The Son. It highlights the stigma that surrounds it and the deadliness of refusing to seek help: Nicolas is clear about his feelings from the start even if he feels he isn't, reiterating how he thinks he's ill.
His parents only notice the signs they want to and don't do anything constructive to give him the crucial professional support he needs. Zeller looks at existential pain with chilling method, demonstrating how overlooking the clues leads to an inexorable landslide.
Designer Lizzie Clachan paints Nicolas' destruction on a pristine set. The upper-middle-class room with white walls that open onto a grand piano gets progressively more trashed by the characters, who stand tall and - the adults at least - nearly always perfect-looking upon the mess.
Longhurst runs the intermission-less one-hour-45-minutes work smoothly, playing with Zeller's rhythmic scene changes by letting other actors linger on the stage like ghosts in each other's lives.
Lee Curran curates the lighting design, which perhaps too directly carries out the emotions conveyed by the company. His contribution does, however, help Clachan's visual work pop out even more with an ever-changing temperature throughout the show.
The Son strays from Zeller's previous ambiguity but enters a bigger conversation, bringing its harrowing views to it. He introduces characters who are flawed human beings, too focused on their own lives to be able to see the full picture even when their own teenage child is flirting with death.
The Son runs at Kiln Theatre until 6 April.
Photo credit: Marc Brenner.