Review: THE MAGIC FLUTE, Soho Theatre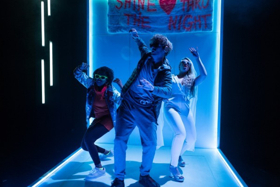 OperaUpClose bring their Olivier award-winning formula of classic opera + contemporary interpretation + singing er... up close back to Soho Theatre after 2015's brilliant Carmen. This time, it's Mozart's tale of love lost and found, The Magic Flute, in a new English translation by Glyn Maxwell. Have they pulled it off again?
We're greeted by a scene we may well have witnessed minutes earlier outside on Dean Street - a hen party, a homeless man, the detritus of the West End's mix of mayhem and misery surrounding us. People take selfies, people beg for food, some succeed and some fail to gain entrance to exclusive clubs as the paps pap for the papers. From the street, Tamino (tousle-locked Peter Kirk) and Pamina (feisty Abigail Kelly) get home, but don't get it on - indeed, don't get along at all - and Peter dreams of girls and magic and adventure.
Just six singers (alternating casts working through the week) deliver the whole show, working hard with costume changes, visits into the audience and, naturally, wonderful singing, the highlights including Kelly's aria and some excellent comic work by Tom Stoddart's Papageno and Felicity Buckland's Papagena.
There's good stuff too from Julian Debreuil's sonorous bass and Luci Briginshaw's powerful soprano, the contrast almost visceral in impact at such close quarters. The voices are complemented by Alex Beetschen's innovative orchestration, which finds room for a guitar, but never forsakes its revered source material.
If that is what works, what doesn't work is the storytelling. From my first sight of this company's work (2010's Bangkok Butterfly), it has met me halfway - at least - stripping back the complexities of operas while losing none of the joy. Of course, boutique shows are never going to be as big as the ROH's productions - that is not their intention - but they are an ideal entry drug to the hard stuff with the full orchestras and mighty choruses.
I regret to say that, this time round, I just couldn't follow who was who, who was where and why he and she were angry or pleased with him and her. Talking to others in the house, I found that I was not alone - "I love it, but I don't know what's going on!" said the opera fan in the next seat to me.
Perhaps director, Valentina Ceschi, can give us a few more clues, particularly as the double casting and the splendid, but ultimately dizzying, rotating set add a visual challenge to the intellectual one of disentangling the twisting between real and imaginary. At the moment, it's just a bit too much like hard work to discern the narrative thrust - though it's never less than lovely to listen to and to watch.