BWW Review: REVOLT. SHE SAID. REVOLT AGAIN., Shoreditch Town Hall, 2 September 2016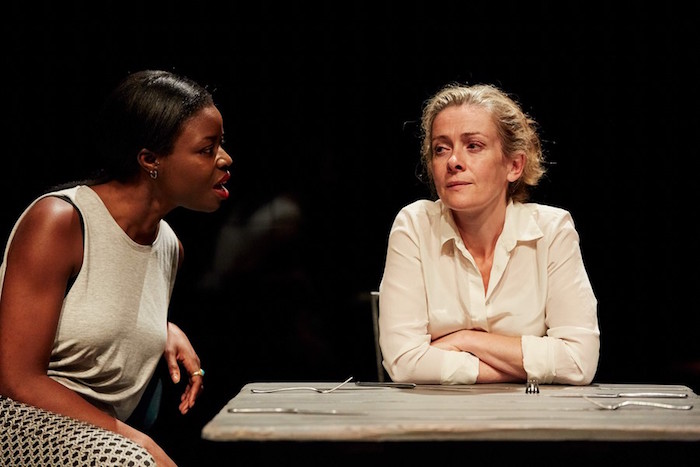 I hope there's a time when we don't feel that Alice Birch's bold, blackly funny, uncompromising battle cry of a play is a necessary intervention. A time when we're not reeling from - among many others - sexist Olympics commentary, relentless online attacks on women who dare to enter political debate, or the news that American swimmer Brock Turner served only three months in prison after raping an unconscious girl. A time when the play's explosive anger and draining sadness isn't met by our own.
Birch's third-wave feminist piece was inspired by the historian Laurel Thatcher Ulrich's statement that "well-behaved women seldom make history", and first appeared at the RSC's 2014 Midsummer Mischief festival. It's certainly not well-behaved, in content, language or form, a fast and furious Caryl Churchill-esque series of vignettes that fragment and echo in jagged, explicit poetry. Text on a screen heralds a series of calls to revolution: revolutionise the language, the work, the body.
In the first scene, a woman negotiates dirty talk with her boyfriend, asking him to make love with her, not to her. His is the language of mastery, possession, assault; when she tries to match it, he panics. How can her sexual organ be as active as his when it's "a gap", he tellingly complains. Birch wittily deconstructs lazy, simpering erotic terms like peeling off a woman's dress - "it's not potato sex" - and savages the notion that the female body is a temptation just by its very existence.
Somewhat predictable, if blisteringly articulated, is the earnest liberal comparing a surprise, unwanted marriage proposal with a bomb. More intriguing is the fraught family reunion that chips away at cosy notions of motherhood and offers bloody consequences for a world devoid of kindness, and a meeting between boss and employee that shows the creeping intrusion of work into our lives and ways in which women are fobbed off.
Most effective is an initially farcical sequence involving supermarket employees questioning a woman who exposed herself on Aisle 7. Her reasoning is chilling: she relates the effort to "constantly" fortify herself against attack, finally deciding to just open herself up to violent invasion - to rape. That way, perhaps she can delude herself that she has a choice.
Erica Whyman stages with great clarity and precision, superbly showcasing Birch's ideas. Just as recurring themes emerge in the text - from bluebells, cheese and watermelon to insomnia, controlled smiling, trespass and combat - so expressionistic images emerge in Whyman's production: splashes of red in a monochrome world.
An excellent quartet play multiple roles. Emma Fielding is riveting as the supermarket protestor, a sphinx-like absentee mother and a calculating boss; Beth Park is quietly moving as a broken girl and unblinkingly delivers Birch's final challenge to the audience; Robert Boulter excels as the boyfriend consumed by lust, almost tipping over his chair in excitement; and most impressive is Emmanuella Cole - fierce, vital, coolly intelligent, cautious but yearning for connection.
Birch's concluding collage is too scattershot, hurling half-hearted missiles at everything from cupcakes, porn and rape jokes to anarchy, consumerism and armchair feminism. In a play with such purposeful awareness of language - Birch pauses to question whether she makes a description of domestic violence "too sexy", or if she passes the Bechdel test - the weaknesses are more glaring. It's also an inescapably Western, middle-class take on contemporary gender inequality.
But this is not an evening that provides all the answers, nor can it be. It's not a full stop (despite the title) - it's an invitation, an urgent demand, to join the conversation. Think, speak, act. The threads running through Birch's disparate scenes demonstrate the interconnectivity of our experiences, and the resources we have to draw upon if we unite. As Birch points out, the hope that the world will get better on its own is no longer enough.
Revolt. She Said. Revolt Again. is at Shoreditch Town Hall until 17 September
Picture credit: Richard Lakos
Watch a trailer for the show below