Review: DRY POWDER, Hampstead Theatre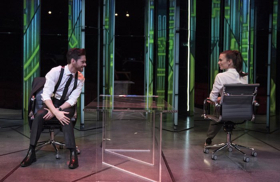 Inequality is a hot topic for dramatists, but Sarah Burgess's deliciously dark comedy comes at it from a surprising perspective: allowing those high-finance gorgons to have their say. Of course, part of the strategy is giving them enough rope to hang themselves with, but this cynical satire argues that no one is clean here; we all have our price.
Manhattan private equity fund KMM Capital Management has an "optics" problem: they've just laid off hundreds of workers after acquiring a grocery store chain, on the same day as boss Rick hosted a lavish engagement party featuring an actual elephant. (The wedding's in Bali - it's a thematic link!) A damning New York Times editorial, mass protests and investor unease swiftly followed.
So what, says laser-focussed colleague Jenny - cold, hard financial analysis personified. She believes the successful are unfairly vilified, and that their only duty is to their investors: the purity of the free market. Rival Seth thinks they can salvage their PR via the takeover and miracle growth of an American family business; Jenny sees a better return if they strip it for parts.
Burgess's piece is starkly schematic, with Jenny and Seth essentially the devil and angel on Rick's shoulders. While Seth gives an emotive, Don Draper-esque pitch for the future of Landmark Luggage and its midmarket, bespoke suitcase-wheeling customer, she only sees weakness in choosing the less profitable path. Ship those jobs to Bangladesh - optics be damned.
The financial jargon is initially baffling, with the play coming into focus more as we hone in on this one deal and its repercussions for actual people. That might be partly strategy on Burgess's part, showing the otherworldly bubble these financiers occupy; the programme glossary explain terms like "dry powder" - which evokes weaponry, but in fact means available capital.
Previously seen at New York's Public Theater with a starry company (Claire Danes, Hank Azaria and John Krasinksi, plus Hamilton helmer Thomas Kail), the Hampstead production again benefits from a stellar cast, crisply directed by Anna Ledwich. The standout is Hayley Atwell, making a welcome return to stage.
Jenny has the potential to become a cypher - the vampiric machine with an almost alien-like bafflement of human behaviour - but Atwell creates a fascinating portrait of someone whose understanding of numbers comes at the expense of social cues, yet who has just enough self-awareness to attempt to cover her deficiencies.
"I apologise" she trots out reflexively whenever she oversteps the mark, but you can tell she doesn't instinctively understand why someone else has reacted differently to her. Yet she's far more comfortable in who she is than her hypocritical colleagues are; with that ruthless intensity comes a welcome candour, best seen in a speech she gives to NYU finance students.
In contrast, Seth ostentatiously parades his good-guy virtues, palling up with Landmark's CEO (Joseph Balderrama doing sterling work as the genial but increasingly suspicious Jeff), and Tom Riley superbly conveys Seth's desperate need to fulfil his inflated self-image. Though more socially aware than Jenny, there's a similar emotional arrested development - it's no coincidence that the bickering pair keep bringing up their school days.
Aiden McArdle's Rick, too, is anxious about appearances - particularly his media portrayal, but also swayed by Jenny's warning about seeming weak to others. Appropriately, Andrew D Edwards' design is dominated by revolving, floor-to-ceiling mirrors. Despite Seth's evocation of the French Revolution, there's really no one holding these people to account but themselves.
That's a frightening conclusion, as we see multiple moments where resolve hardens and profit wins out - money valued above all else, and philanthropy merely used as cover. Even more alarming is how horribly persuasive their arguments become; we, too, are reflected in those mirrors. Sharply provocative and dangerously funny.
Dry Powder at Hampstead Theatre until 3 March
Photo credit: Alastair Muir