BWW Review: CRAZY FOR YOU, New Wimbledon Theatre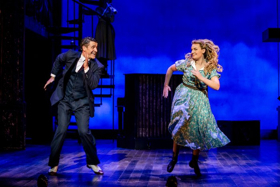 The UK tour of Gershwin musical Crazy for You has reached its London leg, and is still in fine, energetic form. Originally a Depression-era work, it joins retro pleasures like 42nd Street in providing much-needed Brexit escapism: a world in which all our problems can be solved with tap and jazz hands.
It's a somewhat unwieldy piece, however. In 1992, book writer Ken Ludwig overhauled 1930 Gershwin show Girl Crazy, rejigging the plot and raiding the brothers' back catalogue for extra material. Some songs are worked in organically, others...are not.
But no matter. Here, story is really just a flimsy excuse to usher in the next big number, comic confusion or romantic set-up. In brief: New York hoofing wannabe - and reluctant banker - Bobby Child is sent to ex-mining town Deadrock, Nevada, to foreclose on its theatre, but instead falls in love with spirited local girl Polly. He pretends to be impresario Bela Zangler and offers to save the theatre by putting on a show!
There's enough of a wink and a nod to acknowledge the plot's absurdities, and/or places where it's shamelessly ripping off other works, plus a few metatheatrical gags that induce affection for the material. Yes, it's hammy, but it's all about the love of showbiz, god darn it - and if you really want to read into it, the power of art to re-energise a depleted community.
Nevertheless, Paul Hart's tour cast have a slightly irritating tendency to draw out punchlines, robbing the banter of its pace and rhythm. It's also a dangerous tactic to play out every joke to the audience and wait for laughter that doesn't always come; better to keep it within character interaction, and hope the humour emerges more naturally.
Claire Sweeney (who replaced Caroline Flack) is particularly guilty of over-egging, but then the limited role of Bobby's rejected fiancee Irene does need jazzing up. Fortunately, she gets one red-hot number later on, delivered with relish.
Tom Chambers is also playing at the broader end of the spectrum, but his Tigger-ish ebullience fits the overeager, occasionally cheeseball Bobby. If he lacks some of the polish of his castmates, again that just about works for this starry-eyed hopeful whose dreams often outpace reality.
Fortunate, too, that Polly is meant to be the stronger of the pair, as the dynamic Charlotte Wakefield commands the stage. Her characterisation is excellent, she creates gorgeous lines even while saddled with stubby ankle boots, and her vocals are rich and beautifully textured - bringing real yearning to the slightly dubious "Someone To Watch Over Me". She's the consummate leading lady.
Even with the 1990s update, there are a few moments like the aforementioned number that sit uneasily in the #MeToo era, including the comic dismissal of workplace harassment and romanticising a guy who lies and manipulates.
The show is on safer ground celebrating community spirit, as showbiz and Nevada folk come together in common purpose. The actor-musician ensemble is a real asset here, allowing the action to flow seamlessly and making the transition to group performance seem more natural; hey, he may be a cowpoke, but he can already style out a piccolo! The joyfully organic "Slap That Bass" and "I Got Rhythm" are both highlights.
Among the well-drilled Follies girls, Seren Sandham-Davies is a particular pleasure as the screwball-ditzy Patsy. Neil Ditt brings pizzazz to Zangler, Christopher Fry is an effective villain/impressive trombonist, Ned Rudkins-Stow slaps bass with gusto, and Kate Milner-Evans is formidable as Bobby's battleaxe mother, hat feathers bristling dangerously.
Nathan M Wright's choreography is a pleasant riff on period, with some neat formations managed within a small space. Diego Pitarch's costumes are a vivid delight, and there are some lovely musical arrangements from Catherine Jayes.
If not really reaching the ecstatic heights of Regent Park's 2011 production, nor quite transcending its peculiar form, there's still plenty to enjoy here - not least Gershwin earworms to follow you home, accompanied by bright taps and ecstatic happily-ever-afters.
Crazy for You at New Wimbledon Theatre until 10 March, then continuing on tour
Read our interview with Charlotte Wakefield
Photo credit: Richard Davenport