BWW Review: BRING IT ON: THE MUSICAL, Southwark Playhouse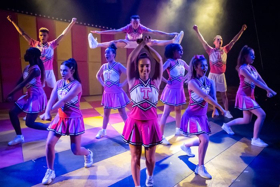 There's an explosion of spirit and - yes - "cheer face" at Southwark Playhouse, hosting the long-awaited UK premiere of this 2011 musical; last year's planned national tour was sadly postponed.
But Ewan Jones's dynamic British Theatre Academy production, with its minimal scenery and tight ensemble perfectly filling a midsize space, suggests it's the ideal piece to go on the road - not to mention its timely, uplifting message of inclusion.
The 2000 Kirsten Dunst-starring movie became a surprise hit and spawned multiple direct-to-video sequels. The stage version is most closely aligned with third instalment Bring It On: All or Nothing, which plunges its rich white girl into an inner-city school and pits her old cheerleading squad against her new one.
In the musical, Campbell has just achieved her dream of becoming head cheerleader at Truman High, but school redistricting moves her to Jackson - which (gasp) doesn't even have a squad. So can she transform the hip-hop dance crew, led by the hostile Danielle, into competitive cheerleaders?
The formula is well worn, but there are some enjoyable twists and turns along the way - including one that, refreshingly, tests our protagonist's likeability. The book also contains meta commentary, showing that it's very much in on the joke; Danielle immediately calls out the prevalence of white saviour narratives, while Truman "biatch" Skylar notices that "everyone's gone through all this, like, personal growth".
It's the kind of confident wit you'd expect from Bring It On's heavyweight creative team: Lin-Manuel Miranda (Hamilton), Jeff Whitty (Avenue Q), Tom Kitt (Next to Normal) and Amanda Green (Hands on a Hardbody). And the enjoyable melting pot of their styles underlines the show's key theme of empowerment through shared creativity and respectful teamwork.
The story is slow to get going, but kicks into high gear once Campbell is thrust into unfamiliar surroundings. Former Truman mascot Bridget, who was never allowed on the squad, conversely finds her school experience vastly improved, as the Jackson kids celebrate her fuller figure and unconventional dress sense.
The show is savvy about interrogating who makes the rules and why, even within its building-to-competition framework. It's hugely positive messaging for young (or really all) audiences, encouraging empathy for outsiders and individual strength, rather than unthinking social conformity.
Earnestness is balanced with delicious snark, particularly in an All About Eve subplot that builds to a vampy number crowned by lyric "I am the one percent!". Similarly, the (slightly syrupy) ballads alternate with rap and R&B-inflected pop, a propulsive beat making the big ensemble numbers irresistible entertainment.
Miranda fans will certainly find his signature here - among the rich melodies and harmonies, arranged by Alex Lacamoire, the cross-cultural and cross-musical genre voyaging, and the textured, slant-rhymed rapping. One clued-up male cheerleading convert sums it up thus: "Y'all think cheerin' is feminine? Then I'm a feminist swimmin' in women, gentlemen".
Leading a company brimming with triple-threat talent, Robyn McIntyre nicely conveys Campbell's intensity and fervent desire to create one perfect moment now - ahead of an uncertain adult future. Chisara Agor brings nuance to Danielle, whose toughness acts as a shield, and who's allowed to be dignified and also a little petty. Both have strong vocals and slick moves.
Kristine Kruse provides the heart of the show as the eager Bridget, and her coming-of-age number, "Ain't That Thing", is a major standout: a celebration, and ownership of, sexuality, with a fabulous assist from Mary Celeste's Nautica and Matthew Brazier's cross-dressing diva La Cienega - the latter demonstrating the show's laudably progressive values.
Isabella Pappas is enormous fun as classic mean girl Skylar, though sometimes loses the lyrics when she belts, and Sydnie Hocknell effectively reveals the layers of Eva's scheming. There's also great support from - among others - Ashley Daniels, Haroun Al-Jeddal and Ben Terry. The fact that this youthful group is more or less the age of their characters adds authenticity.
Most impressively, Jones's entire ensemble maintains real discipline and power, whether delivering smooth transitions or exuberant set-pieces with jump splits, cartwheels, layouts, stunts, pyramids and (memorably) slo-mo mascot grooving. The formations in this exacting space are brilliantly realised, and the different settings clearly evoked.
Designer Tom Paris provides lockers in alternating colours, working for both schools, and a tongue-in-cheek illustration. A five-piece band robustly backs the action, and Ben Jacobs' lighting pumps up the adrenaline-fuelled performance pieces - a cheerleading element that translates particularly well to stage.
There are certainly elements to nitpick in the story - not least a mention of college scholarships that, if properly interrogated, would add significant stakes to the action; economic and racial inequality is otherwise minimised in this generally sunny show.
But it's a thrill to see a musical aimed at impressionable audiences that centres female ambition, self-discovery, risk-taking and - most importantly - friendships, with romantic travails more of a footnote. A high-flying triumph.
Bring It On: The Musical at Southwark Playhouse until 1 September
Photo credit: Eliza Wilmot
Related Articles View More UK / West End

Stories

Shows
Marianka Swain is the UK Editor-in-chief of BroadwayWorld. A London-based theatre critic and arts journalist, she also contributes to several other outlets, including the Ham (read more...)