Review: BLACK IS THE COLOR OF MY VOICE, Trafalgar Studios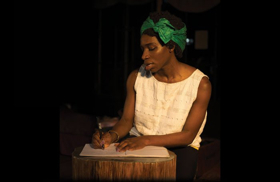 Inspired by the music and the political activism of the legendary Nina Simone, Black Is The Color Of My Voice is the tiny gem of a show, written by singer and writer Apphia Campbell. The production has been shown all over the world since 2013 and it now makes its West End debut as it comes to London's Trafalgar Studios in a heady stream of power, emotion and raw talent.
Mena Bordeaux is the character created by Campbell who is Simone in all but name. Through her we follow her early life, from piano-playing child genius to her political engagement with the American Civil Rights movement. As she sits alone in her room, she talks to a photograph of her late father, recalling events such as her first love, her discovery of jazz, her abusive husband and her devastation at the Birmingham Alabama church bombing and the death of Dr Martin Luther King.
Campbell has a very natural stage presence. From the moment she walks onto the sparse set, she is utterly convincing in the role. Her grief for her late father and the passion she demonstrates about racial injustice is tangible. Through her words and recordings of famous speeches, we see snapshots of her journey through the civil rights movement and her commitment to fighting injustice.
There are also lighter moments, particularly her imitation of her mother's joy at the discovery of her daughter's 'gift from God' and subsequent devastation at her turning to 'the Devil's music' through jazz.
Campbell gives a powerhouse of a performance, with a rich timbre and deeply emotional vocals, she manages to evoke Simone without ever seeming to imitate her. This is very much Campbell's show.
She has incredible control and takes the familiar music and lyrics and breathes new pathos and passion into the tracks. With a deep smokiness to her voice, songs such as 'I Loves You Porgy' and 'I Put A Spell On You' are hypnotic and highly evocative. All backing music is pre-recorded, which takes nothing away from Campbell's performance, but having some piano played live would add yet another layer to a brilliant show.
Campbell's best moments are actually where she sings A cappella. A dreamy rendition of 'Black Is The Color (Of My True Love's Hair)' sends tingles down the spine and is even more impressive for its totally stripped-back simplicity.
Director Arran Hawkins makes good use of the small space, making sure Campbell's performance is absorbed by every corner of the room and Clancy Flynn's clever lighting design creates intimacy and drama when needed.
This is a highly intimate and immersive show. At only 70 minutes, the degree of content and emotion packed in is even more impressive. With a run of only four weeks, hurry to get a ticket.
Black Is The Color Of My Voice is at the Trafalgar Studios until 2 March
Photo Credit: Joshua Michael Tintner