BWW Review: BERENICE, Linbury Theatre, Royal Opera House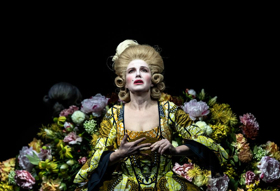 Art speaks across time and space, but this production of Handel's Berenice need bridge only one of those dimensions: 282 years after its first production at Covent Garden, its second arrives to open the London Handel Festival - and it could hardly be more timely.
I wasn't alone in checking my phone as quickly as possible in the interval and after the curtain call to see how events were panning out just a mile or so away in the Palace of Westminster, as our rulers balanced duty to a country's people against competing claims of love of party, perhaps love of ambition and maybe even love of the attention political shenanigans always brings. There's not much new under the sun.
Rome's solution to its problems with Egypt back in 80BC is to coerce its Queen Berenice into marriage with their Prince Alessandro - an alliance sealed in blood. But though Berenice knows that war will be so averted, she rails against the railroading, believing marriage is for love not political expediency. My deal or no deal...
Rome's solution to downsize just a little, marrying Alessandro to Princess Selene, Berenice's sister, instead - it's all just power games, after all. But Alessandro wants Berenice, even if she doesn't want him, and, well, soon we're in "it's complicated" territory - and that can be dangerous when the stakes are in a school playground, never mind in a theatre of war. (Truth be told, it's very complicated indeed, but such tangled narratives matter less in opera than in other art forms - the music tells us what we need to know.)
Claire Booth has just the right hauteur to play the wilful, ultimately doomed Queen - we're rooting for her, but we know she's playing with fire. Her best work is done with Rachael Lloyd's Selene, the two women determined to have their own way, to follow their hearts - but never blind to suitors' growing charms. Both sing with thrilling passion.
Jacquelyn Stucker is wonderfully convincing in the trouser role of Alessandro (as the programme points out, the castratos of 1737 are hard to come by in 2019 - pesky political correctness, I suppose). Patrick Terry has a lot of fun channeling a little of Kenneth Williams in Carry-onish mood for his absurd would-be lover, Arsace, who does at least have the wit to do the right thing when push comes to shove. Terry's countertenor is sensational up close and personal in this smaller of the ROH's two auditoriums.
Laurence Cummings conducts the London Handel Orchestra with a light touch - we're mainly in comic territory, the tragic coming after the action is done - and director Adele Thomas uses the stage to its full capacity, and then some, but never lets things drift.
Selma Dimitrijevic's translation (again, the programme notes are excellent on the challenges of the task) has a 21st-century zip - the framing device of the characters being actors in a theatre dressed in 18th century costume, powdered and bewigged, gives us just a hint of ambivalence about who these people really are.
It would, however, be welcome to see surtitles support the production, because, no matter how clear the singing, they always help. And, given the observable fact that my ears, their sharpness as dulled as any fiftysomething's, were considerably younger than many of those around me, I'm guessing I'm not alone in that.
So even if it gets a little demanding keeping up with the intrigues and juggling the "who loves who" plotting, the music and singing are plenty enough to drive the show and delight our senses. Poor Berenice didn't live long, but it's good to see the opera named after her live on, back where it, quite literally, belongs.
Berenice is at the Linbury Theatre until 7 April.
Photo Clive Barda