BWW Review: ALYS, ALWAYS, Bridge Theatre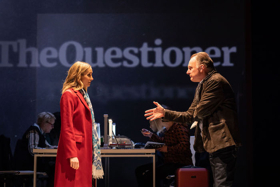 Harriet Lane's memorably unsettling 2012 novel, about an overlooked sub-editor who infiltrates the literary elite, has been adapted for stage by Lucinda Coxon. Its combination of psychological thriller and industry satire is decently translated, but a conservative production from Bridge boss Nicholas Hytner (who, astonishingly, is here directing his first ever play by a female writer) makes a middling case for the virtues of a theatrical version.
Frances works on the book section of newspaper the Questioner (any resemblance to Lane's former workplace the Observer may or may not be coincidental). She's treated with careless disregard by her bosses and fears for her job in the next round of cuts, until a chance encounter: while driving home, she witnesses a car accident and hears the dying words of Alys.
Alys turns out to be the wife of important novelist Laurence Kyte, and Frances's association with the golden Kyte family alters her status at work, and - as she skilfully manipulates the relationships - gives her the opportunity to escape her provincial background and become someone new.
Downton's Joanne Froggatt effectively illustrates Frances's transformation, although it's more of an external one: better clothes and hair, more confident speech and manner. While Lane's Frances is fascinatingly slippery - in part due to her unreliable narration, and the gulf between her thoughts and her interactions with others - the stage incarnation is much simpler, especially with her increasingly dubious tactics signposted in rather soapy ways.
It's an understandable shift, since Frances is defined largely by her passivity, her ability to draw out others' confidences, and her unwillingness to "be the story". But, with most of the complexity stripped out of Froggatt's Frances, there feels like a missed opportunity to find a theatrical form of Lane's compellingly ambiguous writing, which in turn echoes the major theme of how we embellish or fictionalise our lives.
Instead, the storytelling is rigorously straightforward, closer to a TV procedural. That's reinforced by the staging, with its overreliance on thuddingly literal video projections. Frances's attraction to the Kytes is in large part lifestyle envy - here conveyed in spoken description, listing brands and postcodes, and in generic film. Both OK solutions, but not really specific to this medium, and reducing her desire to the shallow and vapid.
The character who pops most on stage is (perhaps not surprisingly) Laurence's wannabe actress daughter, Polly, in a warmly comic turn from Leah Gayer - who makes a promising professional debut here. The spoiled little rich girl's vague plans to take Shakespeare to the masses on a student tour draw particularly knowing chuckles.
Robert Glenister is good, too, as the solipsistic writer blinkered by success, and Joanna David balances loyal empathy and shrewd professionalism as Laurence's agent and a close family friend. But the Kyte plot lacks the tension needed to sustain it.
Instead, it's the workplace scenes that really crackle, thanks to Sylvestra Le Touzel's marvellously monstrous editor Mary, who goes from Miranda Priestly to smarmy sycophancy once she sniffs out Frances's Kyte connection.
There's great work, too, from Simon Manyonda as her deputy Oliver, more interested in the parties and travel freebies than producing copy (as a sub-editor myself, I couldn't possibly comment on the accuracy of such portraits...), plus Danny Ashok as Frances's friend-zoned colleague Sid.
However, the satire isn't specific enough to really bite, more checking off buzzwords like "clickbait", "hot-desking" and "paywall", and the updates made to bring the workplace into 2019 are too cursory. But there are still some delightfully stinging observations - like the increasing deployment of celebrities to "write" articles, in place of experienced journalists.
Of course, these aren't the most universal of jokes, and although there probably is a sizeable overlap between the privileged bubble depicted in the play and the Bridge's audience, this won't be the work to diversify the latter, or bring in many newcomers.
Grant Olding supplies original music, played live by cellist Maddie Cutter - a nice addition, but mainly used in transitions rather than more expressionistically. Jon Clark's lighting shifts, in contrast, are sometimes too intrusive, with a key upstage confrontation hard to discern in the gloom.
The latter really feels like it's waiting for a camera to push in for a close-up, and many of the intimate domestic scenes would likewise benefit from that. A big reveal at the end only works because it's pushed to the point of melodrama (and gets its requisite gasps) - in fact, it rather recalls Mike Bartlett's TV hit Doctor Foster.
Perhaps that blurring of telly and stage will be a selling point to many, rather than a drawback; in the interval last night, audience members around me were happily identifying which TV programmes they recognised the actors from. But for those wanting a must-see, purely theatrical masterpiece, the Bridge still has yet to deliver.
Alys, Always at the Bridge Theatre until 30 March
Photo credit: Helen Maybanks