Review: A TASTE OF HONEY, Trafalgar Studios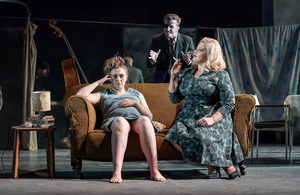 Shelagh Delaney's A Taste of Honey has returned to the West End for the first time in 60 years following a successful 2014 run at The National Theatre's Lyttelton Theatre and a UK tour. Set in the late 1950s in Salford, Delaney's play tells the story of single mother Helen (Jodie Prenger) and her daughter Josephine (Gemma Dobson), and starts with their move into a shabby bedsit in a rundown part of town.
Not long after they move in, Helen marries a younger man, leaving Jo to fend for herself in their flat. Seventeen-year-old Jo quickly falls for Jimmie (Durone Stokes), a black sailor who proposes and promises he'll return to her when he's back from duty.
When she discovers she's pregnant, it is her gay friend Geoffrey (Stuart Thompson) who moves in and assumes Helen's role in her absence. That is, until Geoffrey informs Helen about Jo's predicament, which sends her charging back into her daughter's life. The story comes full circle when Helen eventually forces Geoffrey out of the flat, leaving the two women with only each other for company.
Director Bijan Sheibani's staging includes a three-piece jazz band who help to add depth and pace to the production. The damp and dingy set, designed by Hildegard Bechtler, along with Paul Anderson's dim lighting viscerally convey the post-war working-class life that Jo and Helen find themselves living in.
Sharp-tongued and unforgiving, Prenger is perfect as Helen. She is brilliantly complemented by Dobson as her daughter, who offers a wonderful performance, helping to emphasise Jo's loneliness and sadness. Both women put up fronts for the most part, but Prenger and Dobson give the audience a small glimpse of the vulnerability that lies beneath the surface.
Delaney's play, which premiered when she was just 19, offers a real insight into the lives of working-class women in the 1950s. Poverty and inequality are prevalent themes, and it's sad that even after 60 years, these are still topics that will resonate with audiences in today's society.
A Taste of Honey at Trafalgar Studios until 29 February, 2020.
Photo Credit: Marc Brenner
Related Stories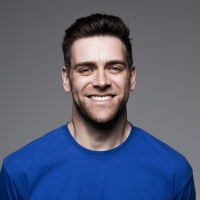 Interview: MY DAD WROTE A PORNO's James Cooper on Writing and Developing his First Musical, LOVESTUCK

November 11, 2022

Away from the podcast, Cooper has been creating and developing his first ever musical. BroadwayWorld caught up with him to talk about the process, what he's learnt and what's next for the brand new musical Lovestuck. We also have an exclusive first look at one of the songs from the show.
---
Review: REHAB THE MUSICAL, Playhouse Theatre

September 9, 2022

First premiering five years ago at the Union Theatre, Rehab the Musical draws on songwriter Grant Black's own personal experience of rehab.
---
BWW Review: THE BREACH, Hampstead Theatre

May 14, 2022

Naomi Wallace's The Breach is the first in a trilogy of plays about different communities in Kentucky. Receiving its UK premiere at the Hampstead Theatre, Wallace's play focuses on four teenagers who live in Louisville, Kentucky – siblings Jude (Shannon Tarbet) and Acton (Stanley Morgan) and Acton's friends Hoke (Alfie Jones) and Frayne (Charlie Beck).
---
BWW Review: THE MERCHANT OF VENICE, Sam Wanamaker Playhouse

March 3, 2022

The Merchant of Venice is vastly considered to be Shakespeare's most controversial and problematic play and director Abigail Graham does not shy away from the tough antisemitic and racist themes covered in the bard's text.
---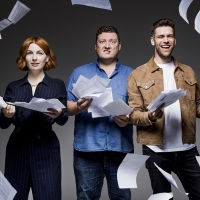 BWW Interview: Jamie Morton Explains How MY DAD WROTE A PORNO Went from Podcast to Stage Show

November 11, 2020

Earlier this year Jamie Morton, co-creator of popular podcast My Dad Wrote a Porno, was touring North America when the live shows were shut down due to COVID-19. Outside of the podcast world, Morton also co-runs a musical comedy cabaret night in London called Round to Rita's.
---