BWW Review: A SPLINTER OF ICE, Jermyn Street Theatre
Ben Brown's intriguing and touching play finally comes to the West End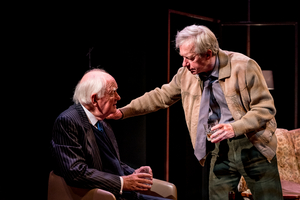 Alan Strachan and Alistair Whatley's well-received production of A Splinter Of Ice was streamed online before a national tour. This understated and intriguing look at friendship, loyalty and allegiance now comes to the Jermyn Street Theatre.
In 1987, the Cold War is very recent history. Ben Brown's play imagines the conversation that may have taken place between novelist Graham Greene and his old MI6 boss Kim Philby when Greene visited him in Moscow while attending a peace conference.
On the surface, this is just a meeting of two old friends, but Philby was a traitor, a Soviet spy who betrayed his country and the pair have not met for 35 years. As the conversation flows, along with the vodka, a fascinating story of spies, fidelity and the evasion of capture and justice ensues.
Oliver Ford Davies has wonderful stage presence and shows quiet conflict as Graham Greene; he is a man divided between his loyalties to his friend and his country. Fundamentally Greene admires Philby for fighting for what he believes in and he put his own reputation on the line by writing the preface to Philby's memoirs.
Stephen Boxer is gruff and unrepentant as Kim Philby. Cracks start to show in his icy demeanour when Greene brings up a suicide attempt and the agents who Philby sent to their death through his actions. A mass of contradictions, Boxer openly shows Philby's disdain for the politics of the country of his birth, but also that he Misses Coleman's mustard and Marmite and pours over the English sports' results in The Times.
Philby's devoted wife Rufa is played by Karen Ascoe. She shows warmth and genuine love for Philby, particularly in a short but touching conversation with Greene while Philby washes up, but the role feels distinctly under-written.
Michael Pavelka's design depicts Philby's flat in sparse and shabby Soviet style. A chess set sits on one side of the room, reflecting the verbal, strategic game the men play in their conversation. The Times sits on one table, a Russian paper on the other, with a pile of Dick Francis books under the coffee table. It is an ordinary room, hosting stories of extraordinary lives.
There is a lack of action that makes the first act feel a little pedestrian at times, as Brown's script establishes the origins of the old friendship between the men. Philby begins by stating that there should be no questions and Greene must draw the conversation out from him gradually, which then occasionally slips into feeling like a question and answer session. However, the relationship between the men feels incredibly genuine and natural and it is these two actors that carry the production. Their stories are intriguing, comical and tragic and the way they are delivered is quite captivating.
There is a definite tension where Greene has spent his life glamourising the art of spying in his fiction and Philby has spent his life living their consequences. The audience is the witness to this moment in time; Greene and Philby would both be dead within four years of the meeting, which adds to the poignancy.
Despite slow moments in the script, viewing this production feels like watching an intimate masterclass in acting; Ford Davies and Boxer create a touching and utterly believable snapshot into lives we can only imagine.
A Splinter of Ice is at the Jermyn Street theatre until 30 October
Photo Credit: Steve Gregson