BWW Interview: Paula Garfield On 15 Years Of Deafinitely Theatre
Marking the 15th anniversary of pioneering company Deafinitely Theatre, Artistic Director Paula Garfield is directing a new production of Mike Bartlett's Contractions. It begins previews at New Diorama Theatre on 1 November.
What was the first theatre you saw?
My first visit to the theatre was at the age of 12, with my eldest sister on her school trip. I can't remember where, but the show was My Fair Lady. I watched it all the way through, and when it finished, I cried because I didn't know what anyone had been saying. At the age of 12, I wasn't thinking about the theatre's duty to provide me access - I saw it as my problem, I was Deaf.
When did you become aware of that lack of access provision?
It wasn't until many years later, whilst working as a professional actress, that I began to notice that there wasn't enough theatre created with a Deaf audience in mind. I was often the only Deaf actor or one of two working within a mainstream theatre company.
When friends came to watch, I would ask what they thought. They would tell me it was lovely to see me on the stage, but overall it was "OK", as they didn't know what the hearing actors were saying. Directors would tell me that whilst they wanted Deaf actors in the company, using sign language, their plays were not aimed at a Deaf audience.
However, I did notice, during my 15 years as a professional actress, that access began to improve with the provision of captioning and BSL interpreted performances.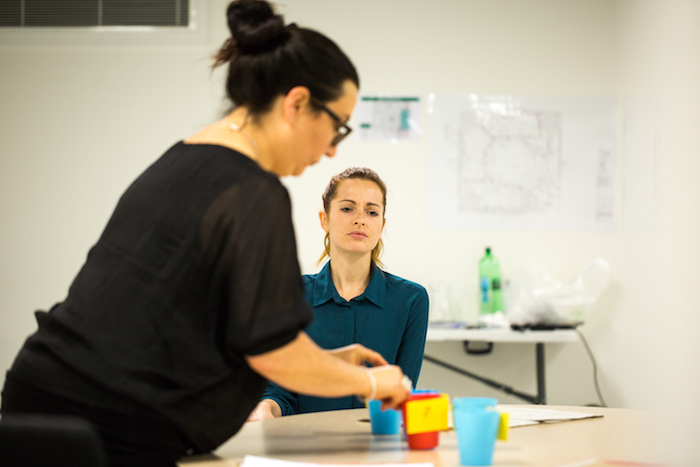 What sparked the idea for Deafinitely Theatre as a company?
I became disillusioned with the world of acting and theatre. Often the only Deaf actor in the company, I experienced a lack of Deaf awareness and bullying from other actors. On a year's tour, I was left psychologically damaged by the treatment I received from the rest of the company - ignored, left out of group events etc. I also got the feeling that I should be grateful that I had even been offered the work in the first place.
At 35, I met Jo Hemmant (Arts Council) and told her I wanted to change my career but didn't know how. I wasn't an academic and I had no qualifications. She told me she was responsible for encouraging Deaf/disabled artists to apply for R&D funding.
I couldn't complete an application with English as a second language, but a friend, Kate Furby, offered to help. I remember we got £7,000 and during that period I learnt about budgeting, contracts, booking venues, paying actors etc. That was in 2002. In 2005, I applied for NPO funding - the rest, as they say, is history.
Did you have a set mission for the company in terms of who it was aimed at, what work you would take on?
My mission for Deafinitely Theatre was to place British Sign Language (BSL) as the primary language on the stage. I grew up with no language so wanted to highlight the beauty, visuality, creativity and poetry of sign language. Within our work, I use a combination of BSL, Visual Vernacular (VV), gesture, facial expression and body language.
I wanted a Deaf person to lead the creative process, to provide opportunities for Deaf actors, giving them the freedom and a safe space to create the work, and to increase the number of BSL users working within the creative team, i.e. stage management. As for the work itself, I wanted to present plays from a Deaf perspective - that's what a Deaf director can bring.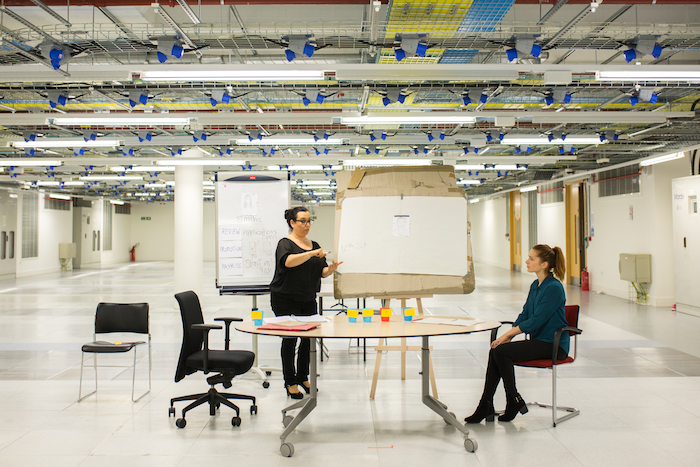 What are some of the big misconceptions about Deaf people in a theatrical context?
There is a general misconception that those Deaf actors who speak well can cope within a mainstream company, without communication support from interpreters etc. For those who don't use their voice, there is an assumption that they cannot act or communicate. Directors should always look at skills first, and not focus on whether a Deaf actor speaks or not. Directors should always see Deaf people as individuals - we are not all the same.
Directors cast Deaf actors without considering the use of sign language consultants, translation experts or the assistance of Deaf directors. They assume the actor can do their own translation. This would be the same as assuming that a hearing actor does not require a voice or dialect coach.
It's important to remember that until 2015, there was no professional training available for Deaf actors. There is currently just one course available at the Royal Conservatoire of Scotland - however, there are just 12 students on the three-year course. That's 12 students across the whole of the UK.
Do you have a different directorial process in the rehearsal room?
As a Deaf director, I don't have the privilege that hearing directors have of selecting from a wide range of actors. For example, for the role of the Manager in Contractions, I needed a Deaf actress, over 50 - I know of only three actresses who fit this requirement. Luckily, my sister was one of them and was prepared to take on the challenge of this difficult role. I cannot just cast anyone - they have to have the skills to carry the story.
I always have to think about how accessible the play is for a hearing audience, so this creates additional work, as it's something I have to consider throughout rehearsals. Whilst the ACE have stressed the importance of diversity, mainstream companies can rehearse as normal and just stick an interpreter on the stage at the end of the process. I have to work twice as hard.
Is it more challenging to translate some writers into BSL?
I read a lot of plays and I'm always considering imaginative and creative ways of making them accessible. In terms of translation, there is no professional training available for actors to learn translation, so this is learnt throughout rehearsals. Our rehearsal process therefore takes longer, as an extra week or so is spent on the translation alone. Once this is complete, we can then begin to block the work.
What difference has the company made to young people?
A young actor, William Grint, who was a member of our Deafinitely Youth Group for four years, then a member of Deafinitely Hub, was cast in Imogen at the Globe last year and has just completed a tour of Tommy as the lead character.
Could other theatres/companies do more for Deaf artists and audiences?
Yes, other theatre companies need to do more. Many contact us to ask us to promote their accessible performances to the Deaf community, but they don't engage with the community directly themselves. Others cast Deaf actors, book interpreters and think that's all they need to do. They don't consider Deaf awareness training, for example.
However, in the past five years, with the ACE's focus on diversity, we are now approached regularly to provide consultancy or Deaf awareness training. We are also asked to recommend actors - I'm pleased that they're asking me as a Deaf director rather than anyone else.
What do you think of the National Theatre's caption glasses initiative, Open Access Smart Capture?
I have yet to see them live and in person, but I would certainly like to try them out! I am a regular attendee of captioned theatre performances and I enjoy watching theatre in this way. I have attended some performances where I was given a tablet device to follow the captions on and for me that didn't work effectively, as constantly looking down to read the lines and then looking back up meant that I missed so much detail. It was like trying to read a book and watch a theatre show at the same time.
If caption glasses mean Deaf and hard of hearing people can attend a show on any day, that would be a wonderful thing to be able to do and not look for the one captioned date per season that we usually get.
I think this initiative will greatly benefit those who have become deafened in later life, however those deaf people who use BSL as their primary language still want to be able to attend theatre performances where they feel they are represented on stage, and that is what we aim to do with all Deafinitely Theatre productions.
For me, personally, as a theatre director, this technology will benefit me, but I'm not sure how I'll feel wearing the glasses and having words that close to my eyes - but I'd like to try them and see! I'd also like to know what testing has been done with different groups of Deaf people, some whom use BSL and some who prefer English, to get their feedback on the technology.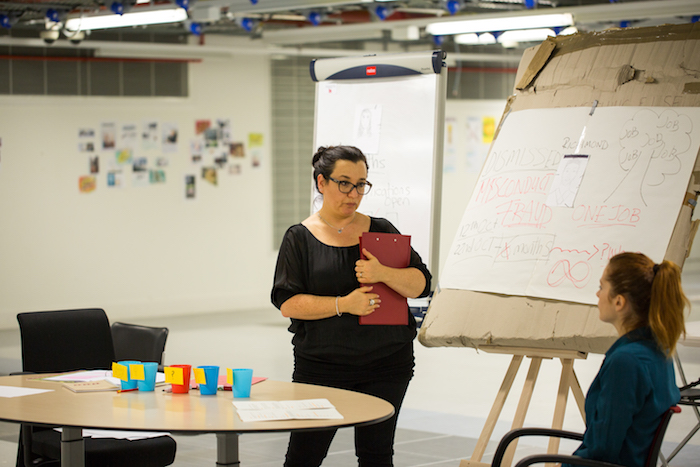 Has the development of the company been paralleled by more general progress in social attitudes?
I think that absolutely there is more understanding and awareness of Deaf people and BSL in society now then there ever was in my generation. When I was growing up in the Seventies and Eighties, we would never use sign language in public places, on the bus or Tube, as we would be laughed at or teased or made to feel inferior in some way.
This was a legacy from my own education, where I was constantly told that BSL was not a proper language and that I should stop using these hand gestures that made me look like a monkey. Now, I sign with pride with my Deaf daughters on the Tube, and the public reaction is very different. People look at us with a warm smile or a wink, or even know a little bit of sign language themselves, which is encouraging to see.
I believe that this shift in public perception is influencing theatre, and there have been improvements in the past few years. If we consider the expansion of social media and the fact that Deaf people can now have video-phone conversations with their friends and family on a daily basis, plus there are websites and apps dedicated to news and stories in sign language, I think there is more visibility of the language then ever before.
This greater visibility extends to the disabled community too, and that this is influencing theatre, TV and film. But there is still a long way to go. There are still barriers faced by Deaf and disabled people, especially linked to accessing jobs and employment. We are seeing more Deaf people attending university now, which is great, but are there the jobs available at the end of it?
Social media has been a great research tool for me in developing new ideas to bring into Deafinitely Theatre, as well as being a great way to do outreach work and market our shows to a wider audience. We've started offering the theatre industry Deaf awareness sessions as well as other consultancy work to share our experiences, and this has been a positive development. I am hopeful that we are currently in a more positive trend and I feel more optimistic about the future.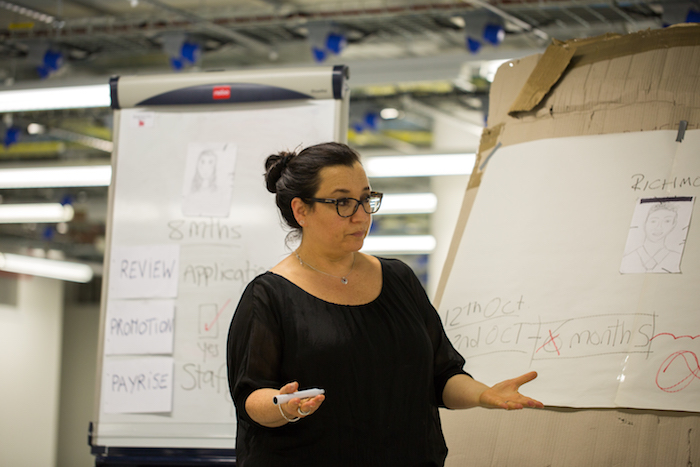 How much impact have Government cuts had?
Deafinitely Theatre, as a National Portfolio Organisation (NPO), gets our core funding from the Arts Council England and we are extremely grateful for this support. We have to supplement this income with funding from Trusts and Foundations, as well as some generous individual donors and our wonderful Deafinitely Friends scheme. The team works tirelessly to keep the company going and I am forever grateful.
However, yes, the Government cuts being implemented are affecting us, our Deaf actors and the wider Deaf community. I use the Government's Access to Work scheme to fund the costs of my communication support - in my case the provision of BSL/English Interpreters. The Access to Work scheme has been in existence since 1997 and is a wonderful resource.
However, the amount that an individual can claim per year has now been capped at a rate that gives me one interpreter for approximately three days a week. This is unsustainable for any Deaf professional who needs constant communication with hearing colleagues.
I struggle and manage to organise meetings and am fortunate that some of my team can sign, but I worry about Deaf people who are struggling and unable to progress in their jobs because of this cap. To share a statistic from Disability Rights UK, Liz Sayce, their former CEO, highlighted that for every £1 spent on Access to Work, the Government recoups £1.48 in tax, NI and savings to benefits - and yet this perspective is not being recognised.
Tell us a bit about Contractions
Contractions is about employee oppression. Deaf people have suffered oppression in the workplace for years - they are not given opportunities to realise their potential and are often overlooked for promotion in favour of their hearing colleagues. Even now, in 2017, Deaf people are not achieving their dream career.
There are examples of Deaf individuals who have progressed in their company, but that's because their senior management have the right approach and are open-minded, believing in the development of their Deaf/disabled employees. I truly believe the success of a Deaf person's career does depend on good support from managers and above.
I originally planned to cast a Deaf actor in the role of Emma, the oppressed employee, but I have seen many films, plays etc. where the Deaf character plays the victim - that's too easy. For this production, I have reversed the roles and cast a Deaf actor as The Manager.
I would like hearing audiences to see this and consider that it could happen to them. For the Deaf audience, they will see a Deaf person in a management position and hopefully be inspired to do the same.
What are your big hopes for the future?
I'd like to see an increase in the provision of professional training across the UK. The only course currently available is in Scotland, so I would like to see the opportunities expand nationwide. These courses need to be designed for BSL users, whether Deaf or hearing, and should include translation and the use of visual language on the stage.
It's important for students to learn about Deaf history and Deaf studies. Knowing where they come from and having a strong sense of identity can only help an individual grow as an actor.
And finally, what's your personal favourite moment from the past 15 years of Deafinitely?
I have no favourite moments; it has all been very special. However, I do have fond memories of our two productions at the Globe. Audiences are very important to me, so to see the mixed audiences of Deaf and hearing people laughing and enjoying the same piece of theatre together was heartwarming.
Contractions at New Diorama Theatre 1-29 November
Photo credit: Becky Bailey, Simon Annand, Mike Kwasniak