Click Here for More Articles on Everybody's Talking About Jamie
BWW Interview: Lucie Shorthouse On EVERYBODY'S TALKING ABOUT JAMIE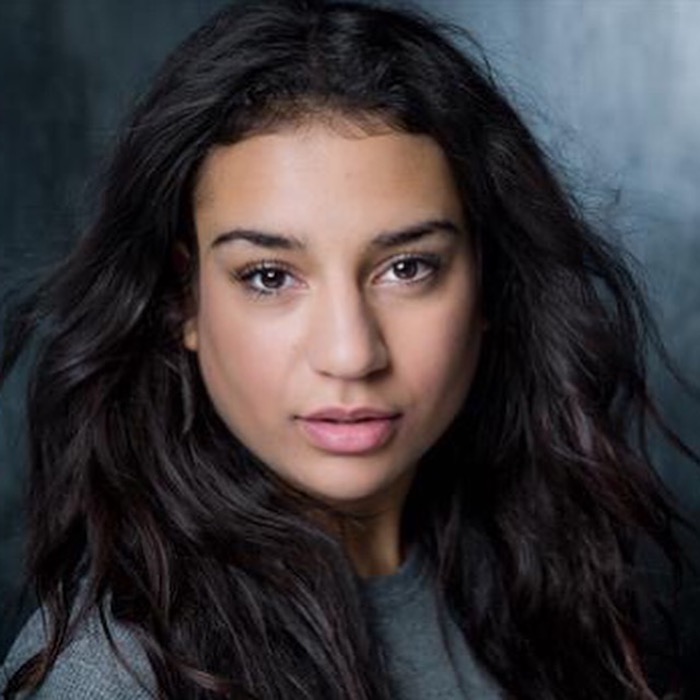 Actress Lucie Shorthouse stars in new musical Everybody's Talking About Jamie, which transferred from Sheffield to the West End's Apollo Theatre - garnering rave reviews, including plenty of praise for Shorthouse's breakout turn as Pritti.
Did you see a lot of theatre growing up?
Not that much, actually. I'm from Tamworth in the Midlands, and there wasn't that much opportunity to go to theatre. But I started dance classes, and then acting and singing took over and I realised that's what I wanted to do. I used to watch The Sound of Music every day - Mum could put that on for me and get all her chores done!
I was really a very shy child, but at around 14 I started getting into acting more at school. I just wanted to tell stories really. And I had some inspiring teachers who saw something in me and knew it was more than a hobby.
Where did you train?
I went to Cambridge University first - I was quite academic. Though from about 10 I used to show my dad the submission papers for drama schools like Sylvia Young and Italia Conti every year, and we had so many arguments about it! He said get your education first, and actually my degree has come in handy - I've been tutoring in my downtime.
When did your dad change his mind?
It's funny, in a way he always knew I'd be fine - he says he saw something in me that told him I'd be OK. Now he really enjoys it all. He's seen me in every show several times - he gets too nervous the first time, or he just watches me, so he has to come back again to see the rest of it.
What was it like doing The Sound of Music Live on TV?
I'd just graduated and I got that amazing job - marrying live TV and musical theatre, giving me an education in both. At Italia Conti I trained in drama, not musical theatre. But hearing those songs up close and getting to be in my favourite show was an absolute dream!
How did you get involved in Everybody's Talking About Jamie?
The workshop was actually my first ever professional job. I remember thinking it felt like something different, something special. It's a simple story in a way but it's got to have a future life - it's so effervescent and fresh. And with what's happened in the world, the story has grown to have so much more resonance.
I loved that it's so diverse - that's something we realised early on in Sheffield. There were so many people from different backgrounds. And lead characters like Pritti just don't come along. She's a Muslim girl on a stage and it's not all about her being Muslim - she's not defined by it. Right away it felt like that was coming from a truthful place. No one's making "statements" - it's about these characters, and if it's topical that's a bonus.
Was Pritti based on anyone real?
She's fictional, though Jamie did have the support of close friends. I asked the writers how they came up with her, and we talked about how often you see people together and think "I'd never put them together", but they get on like a house on fire.
Me and John did an improv about how Pritti and Jamie met - she's working away at lunchtime, he comes up and borrows a highlighter and tell her he loves the colour of the Post-its on her revision notes, and they find that connection. She's the friend everyone deserves to have in life: so supportive, but holds him to account too.
Did you map out her backstory?
We did talk about her family. Our director Jonathan Butterell really works from the heart - he wants to know about all the school kids in the show, where they come from, what their parents are like, what their dreams are. It's done very sensitively. Even Dean, the bully, he has a tough home life, so it takes a while to get to that moment of redemption. He doesn't have a Margaret at home.
With Pritti, her parents know her best friend is this outlandish character and they must be the kind of people who embrace "Oh, that's just Jamie. If he's over for tea we can spare a bit." They just get on with it.
So even though we don't see her home life, there's a definite sense - for me anyway - of who's downstairs, what that experience is like for her. And then I love the design of her bedroom - it tells you so much about who she is, seeing her sanctuary.
Do you identify with Pritti?
I was more social than her, but we're both academic. I went to Cambridge like she wants to. I remember GCSEs being such a stress for me. I was on the prom committee, but it was too much - I had to focus on exams. So there are loads of really lovely parallels.
What do you most like about her?
I love how open-minded she is. Jamie confronts her with these big red heels, and she takes it in stride - "OK, it's different, but everyone thinks I'm strange because I'm different". It's very much in tune with my personal politics. I want different people to embrace each other for who they really are.
When Pritti talks about why she wears a hijab, that's such a visceral moment to play every single night. It's her saying "Because I want to, it's who I am" - embracing her identity as much as Jamie putting on heels.
I'm not a Muslim, but I believe so fiercely that it's a personal choice and it's no one else's business what someone chooses to wear to get closer to their faith. It's a privilege to put across that perspective.
She's incredibly wise for a teenager
I know, I wish I'd had that wisdom when I was 16! Like when she takes down Dean - that's more what you realise later on, as an adult. The audience reaction when she swears is amazing. They're not cheering for the fact she swears, so much as she's enraged, "Come on, we've come this far!". They're really championing this character who stands up for her friend.
You've also got a gorgeous number in the show - "It Means Beautiful"
I loved the music right from the workshop - it's pop-y, in a really good way. But I was so nervous because I've never had a singing lesson in my life. With "Beautiful", I just try not to think about the singing, and instead think about what I'm saying to Jamie: "You as you are, without this armour of drag, you are absolutely beautiful, inside and out".
The reaction in the workshop and now on stage, it really is one of those numbers that hits people. It's overwhelming. And I like it in story terms, because Jamie doesn't quite believe it yet, and then his mum tells him no matter how he dresses he's beautiful, and that combined sinks in, so you get that great ending - Jamie discovering it for himself.
Are you proud of telling this story to young audiences in particular?
It's funny, it's such a weird sell of a show in a way, but everyone has their version of wanting to go to prom in a dress. When we have kids in, that's a great message - it's saying if you open your minds you can accept the beauty in everyone, and if you're like Jamie and you don't fit in, that's OK.
It's so lovely getting the reviews and everything, we're really grateful, but the best bit is the way the show touches people. It's about celebrating exactly who you are, and saying that self-exploration isn't scary - it's something to get excited about.
We've had so many amazing responses, like a little girl of about six came to see it wearing a red dress because she wanted to look like Jamie. Or a father tweeted to say his autistic son, who's 11, had responded to the show in an unusually emotional way because he liked that it was based on a real life person and felt honest.
Does it feel like a political show in the current climate?
We're not really setting out to be political. It's just about putting out this positive message: diversity, authenticity, sitting in your own truth, that's liberating and it's joyful. And I do think it's important for people of different faiths to see this communion on stage. Plus the fact it's a properly British show.
I remember the first preview: Trump had just got inaugurated, and here's Jamie in his beautiful dress and I was crying, thinking we've got this monster in power and there are people who believe him or who'll discount the horrible things he's done rather than elect a woman. And yet here we are with this whole audience applauding for a boy in a dress. So it's hopeful.
How much does it mean to you to have such a diverse cast?
I really think this is current Britain as it is. If you walk into a classroom, you'll see we're multicultural. I love that Courtney [Bowman], who plays Fatimah, and I are representing two such different Muslim girls. Like she's more social and chilled than Pritti, saying "Allah doesn't mind a bit of sparkle". And we even have a moment of "Oh no, we're wearing the same bloody hijab!". That feels very special to put on a stage right now.
My auntie's Muslim, so I'm used to seeing Muslim dress. My family [whose roots are Ugandan] loves the show - even the older generation has embraced the idea. My nana is beaming with pride. And my dad thinks the message is so beautiful - that you cry, laugh and go home feeling absolutely euphoric. This story is a gift for us to share.
Was it surreal making your West End debut?
I still can't believe it. I get to do this every day - and it's my job! Plus it's a show I'm really passionate about.
Did you get star-struck meeting anyone on opening night?
Beverley Knight is one of my idols. She's from Birmingham, near my home town, and she started off as a solo singer and she's gone on to do musical theatre and all these other avenues - she's such an inspiration to me. A proper homegrown star.
Then just so many unbelievable people, like Andrew Lloyd Webber being there. It's crazy! Stephen K Amos was amazing. He said some really nice things about how beautiful it is to see a character of Muslim faith who's not just defined by her faith - she's really complex.
Though the funny thing is no one recognises me without the hijab! So that's kind of nice too. There were moments I could hide a bit and have a breather.
Are there hopes to take to the show to Broadway?
It would be fantastic if the show has another life. Billy Elliot's worked well abroad - that's another story that has universal resonance. I'd love to stay with the show as long as they'll have me, but most of all I want to see it do really well and go on to reach more people.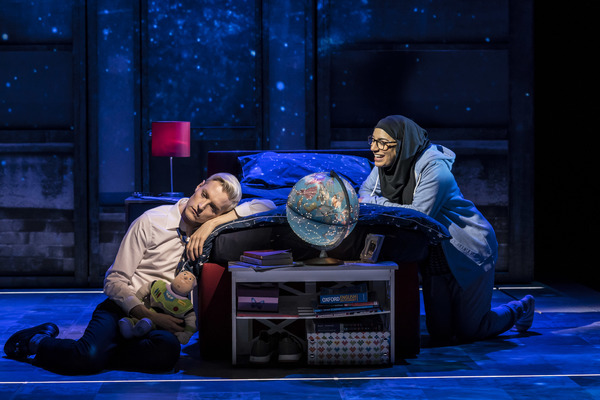 What sort of projects would you like to do in future?
I've always said I'd love a career like Sheridan Smith's - she can do musicals, and also tell stories on screen. I just want to do it all.
Do you have any concerns about opportunities for actors of colour?
Other shows I've worked on, a lot of people have been saying the industry is changing. We do need to have that conversation - this is what Britain looks like today, and diversity doesn't mean just including one person of colour or of another faith, or limiting them to one experience.
I know some people still have preconceptions and you might have to work harder to get in the door. But a show like this is just an absolute pleasure, and I hope that makes a difference.
I've been really inspired recently by people like Issa Rae. She created and stars in Insecure - that's exciting, it feels like a real paradigm shift. The black character isn't the sidekick cracking jokes - she's the lead.
I once said to my agent I'm maybe more the funny best friend, and he said "Don't limit yourself". But it's probably because I didn't see people like me in those lead roles on telly enough growing up. Now, it's shifting. We get to see all kinds of complex, flawed, beautiful women, and that makes me excited as an actress. I can't wait to see what's next.
Everybody's Talking About Jamie at Apollo Theatre until 21 April, 2018
Watch a trailer below!
Photo credit: Alastair Muir, Johan Persson, Grace Wordsworth
Related Articles