BWW Interview: James Clements Talks THE DIANA TAPES
James Clements is a Scottish theatre-maker and actor based between New York and Glasgow. He is a Co-Artistic Director of What Will the Neighbors Say?, a new theatre company producing The Diana Tapes.
After its premiere off-Broadway earlier this summer, this play - about the publication of Andrew Morton's Princess Diana book, Diana: Her True Story in Her Own Words - is making its UK premiere at the Stockwell Playhouse. Clements wrote the play and is also portraying Andrew Morton.
How did you first become involved with theatre?
Just growing up, it was something I really gravitated towards. I'm from Scotland and I studied drama all the way through from youth groups and then continued when I was a teenager.
When I finished secondary school and was thinking about my next steps in life, I decided to apply to drama school. I went to NYU: Tisch for an undergraduate programme and have stayed in the field since then.
How did you end up being based in New York?
I went to the Experimental Theatre Wing at NYU: Tisch. That programme really encourages artists to not just train in acting and voice and movement, but also to train in how to create and develop your own work and point of view as an artist.
I was very fortunate when I was there to meet many wonderful people, but specifically the three people I now run my company with, who are also in this production with me. We're a very mixed group. I'm from Scotland. One person is from Puerto Rico. One is from Venezuela and Portugal, and one from Providence [Massachusetts]. We're all total nomads, but we met each other at NYU and stuck together there.
It's sort of a middle ground between where everyone is from. At least once a year, we do try to take a production outside of the United States. We did the Edinburgh Fringe the first year and then a show in Toronto last year. Now we're in London this year.
Can you tell us a bit about this show?
When I was at NYU studying with the gang, I also did a history major, so most of the writing I do is reexamining historical situations and figures. The mission statement of our company, What Will the Neighbors Say? is "to provoke questions through untold stories".
Through my history programme, a big part of what I studied and classes that I gravitated towards were things that looked at class and identity in Britain - and that's obviously something that's very personal and that I have an investment in as a British person.
That's how I first became interested in Diana's story and what she represented for British people and why there was this overwhelming reaction to her death. People often either dismiss her or totally adore her - they're either zero or a hundred. I thought there was more to the story than either of those caricatures of her. That was the jump-off point for writing the piece.
How did you first come up with the idea of writing a play about Andrew Morton's book about Princess Diana?
Truly, when I was studying her life in college, it was the part that emerged to me as the most inherently theatrical. I didn't want to do anything about the wedding or the death or divorce. I just felt that was going to end up becoming a sort of Lifetime movie situation. No one's life should be defined by two or three moments. Her legacy is richer than that and her impact is wider reaching.
This book to me was really fascinating because it walks a fine line between who gets to tell stories and who has agency, and this idea of creating your own identity and your own performance. I feel one of her most significant legacies, for better or for worse, has been how celebrity focused politics and all media have been.
With the rise of social media, we all spend so much time shaping how we appear to people. We get to build our own identities too and get to have intimate relationships play out in public. To me, she was the first person to crystallise or capitalise on what that meant, the self being so public and celebrity really coming hand in hand with real political power.
The book is really fascinating because it was her way of telling her story within the confines that she had, passing these tapes off to this journalist. It was a tremendously audacious thing for someone in her position to do, an incredible risk to take, an incredibly brave decision to make, whatever you think of the outcome or her intentions. It took a lot of guts.
I thought it was an exciting story. I couldn't believe these tapes were smuggled out of palaces in the trunks of cars and handed off in train stations and cafes; it's stranger than fiction.
Did you do a lot of research before writing? How much creative liberty have you taken with the truth of the story?
What I kind of set myself as my rule as a writer for it was everything that's from the tapes is true and accurate. So I took those transcripts which Andrew Morton released after she passed away and looked at the main events that happened that you see in the play - and those are all accurate.
My creative license was in imagining the relationships between the characters. That's something that no one will really ever know. I made decisions and took risks, and that's where more of my own voice is coming through. I would say everything is anchored in the true events and timeline, and where it became about me as a playwright was imagining how these four vastly different characters interacted.
It's crazy, because three of the four characters are going to be at the opening. Andrew Morton, his publisher, and Diana's friend who was sort of a conduit for the tapes are all coming. So I guess they'll let me know how accurate I was!
You've been in contact with Morton. Has he been supportive of the project?
He really has. Two years ago, we did our first workshop of this piece at the Edinburgh Fringe and he retweeted something we tagged him in on Twitter. Last year, we did a tour of North America with a workshop in New York then went up to Providence and then to Toronto. At that point, we got a little bit more in touch, again through Twitter. I sent him the script and he tweeted very supportively and retweeted some pictures.
It started slowly and then we had our Off-Broadway opening last month at HERE Arts Center and got a vast amount of coverage in London and New York. That's when we solidified the plans for him to see it here; it's been a two-year build-up to him actually coming. We're happy to have worked on it and we really feel like it's ready to share with London, the city where it's set. It feels almost like a homecoming for the show to be here now.
I'm very excited for him to see it. I've also been told we look uncannily alike. He did comment on a photo when I sent him the promo pictures. He said it's actually quite strange for him to see.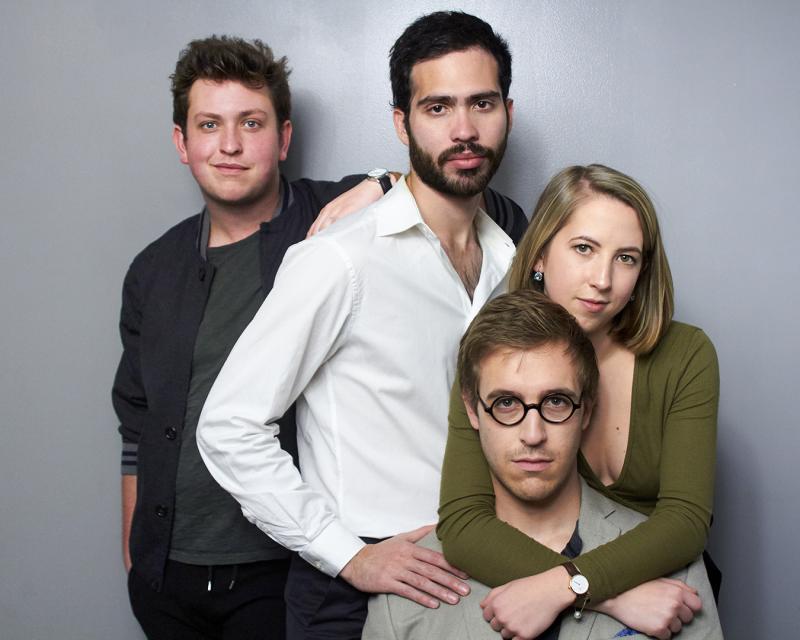 What made you decide to play the part yourself?
I don't know - not to be too pretentious about it, but there's something about being the writer of the play and I felt so drawn to his character as a writer. Almost that we had the same interest: we were both fascinated by the Princess of Wales and her impact.
Based off the way he writes and speaks about her, I think we both shared a kind of a hopefully honest view of her. Where some people feel she was manipulative, both of us kind of admire that about her, rather than letting that take away anything.
Also he's from Leeds, the north of England, and I'm from Scotland. There were so many things about his character and coming in as an outsider that I felt a real affinity with him. That was how I ended up as Andrew. I'm very excited to meet him.
What has it been like to build the character of Morton in the show?
Our director Wednesday Derrico has been with us from the beginning. I think that's so important as a playwright when I'm workshopping something to have one director be there with you for the whole thing. You're all growing together and you all know this unspoken history of the play, but we had this great director who really pushed us to not feel a pressure to recreate characters.
She was like "You're not those people on Pall Mall who are dressed up as the royal family to get a photo with". We're breathing life into these people. We're finding our version of them. At first, I feel like I was so focused on recreating Andrew's mannerisms and his voice. As we got deeper into the piece and came to understand it more for ourselves, it kind of became more of my version of Andrew.
It became really fascinating, at least for me, that there's so many parallels between Diana and Andrew. Even though they only crossed paths in person maybe once and never after the book came out, they almost see the world the same way. Her school friend, who was a wealthy doctor and the conduit, sees the world in one way. Andrew's publicist, who's this American hyper-capitalist, sees the world in one way. But Diana and Andrew are real kindred spirits, which I love.
Has Morton's view of Diana or the royals changed since the book came out?
I really tried to avoid, though it was so tempting, asking Andrew anything. I thought as an actor, it's dangerous for me to know what he thinks about a situation 25 years later. I wouldn't have known that in 1992. So I pushed my historian impulses down.
But I'm sure after opening night at the bar, we will have a long, exciting and heated debate about the British monarchy. Every night we've been out telling people about the show in a pub or whatever. That's what we want. We're talking about events that really impacted people's lives, so it feels like a different responsibility, but also a different level of excitement and feedback.
What does the show say about Morton and tabloid journalism? How do you think the press of that day compares with our current press?
I think the Pandora's box was opened by Diana. I was only born in 1992, the year the book came out, so I didn't necessarily experience it. I think sometimes people forget that she was the first public figure to bring the whole discourse around things like eating disorders and self-harm into British cultural life and into the British experience.
In that sense, this new sort of Trump, Kardashian media empire is all about this excessive sharing. Celebrities and politicians and other public figures share so much of themselves with the public. It's a really interesting combination of intention and responsibility.
In the end, press intrusion ended Diana's life so prematurely. It's a dance with the devil almost when you reach that level of celebrity and your life becomes so high stakes. Everyone in the world is so invested in every decision you make. It must be a really unique and strange experience to be that famous.
At the time, there was a handful of people in the world at that level, and now there's so many - including some people who are famous for almost nothing, but so influential. You have Kim Kardashian visiting Donald Trump to talk about prison reform. It's like, what kind of looking glass world are we living in?
Obviously, you can't lay all of that at Diana's door. If anything, the tabloid culture of the time now seems restrained compared to what happens now. It's easy to forget now, in the age of instant information and tweets and people snapping their own pictures in restaurants, this book was such an unprecedented look behind the scenes of a monarchy that had worked for centuries to build an image - and this one renegade woman was able to evaporate that all with some tapes.
She had a life to fight for and she felt like she was at a point where she had no other option. I think that's incredibly interesting that being trapped in this unsatisfying situation, she went, "My army isn't of soldiers - it's the press, and my own image and my relationship with the British people". It must have been terrifying for the monarchy who had all this traditional hard power, but Diana's soft power was so much greater.
I thought about that a lot during the royal wedding. I just felt like this is Diana's monarchy. She didn't live to see it, but the way her sons perform their duties and live their public life is so much more akin to their mother than their father, which is an interesting legacy.
You did a run of the show at the Edinburgh Fringe and in several workshops in the States. What did you learn from that process?
The biggest thing that I'm trying to get better at in my own work is giving the audience the information that they need to enjoy the show. There's that sense, at least for me sometimes as a writer, that it's too on the nose and I want to make it cryptic and all these things writers do for themselves.
What was really great for me is after each production, me and the director would sit down with people whose opinions we respect or who know our work and ask them for notes. And sometimes somebody would say, "I didn't really know who that person was" and I was like "Yeah, because I didn't really say in the play; I only made a couple of allusions to it because I was trying to be cryptic and artsy".
For me, it was remembering that you're not writing for yourself, but for an audience. If you have ideas that you want to communicate, there's no point in not communicating them clearly. It was a real growing period as a writer for me over these two years.
As actors, getting the privilege of playing these people for two years gave us time to sink down into it and really embody them. Now, it's so uncanny. The four of us who run the company together will be in a meeting for a few hours during the day about finance or marketing or programmes, and then we'll arrive in the rehearsal room and all of our accents and physicality change. It's really quite exciting and also strange that the four of us have these alter egos.
You've just come from doing the show in New York. What was the reception like there?
We finished four days before we flew out here! The reception was strong. We were in a wonderful place at HERE Arts Center, which is a great stomping ground for emerging companies in New York, one of those rites of passage venues.
People had a lot of questions, which I really appreciated, and we did some talkbacks as sort of warm-up for the questions I'm sure we're going to get here in London.
It's been different touring the States and being Off-Broadway, because some of the colloquialisms or references, people just don't know that history - as a Scottish audience wouldn't know American or Canadian in-jokes. It's quite nice that being in London, this really is their history; people are going to see this show and remember, oh they made a passing reference to a bank that went bust in 1992.
That was a thing that in New York that both protected us a little bit and held us back a little bit. It was well received and a great experience for us to play in our kind of adopted hometown, but there's something about being here, a stone's throw from Kensington Palace and on the same subway line as the café where the tapes were handed over, that really is quite special for us.
Why do you think modern audiences will connect with this story? What themes might resonate?
I hope that it's that we're still working out how we negotiate class and how we talk about mental health. We're still exploring the limits and agencies of traditional gender roles. I really think with celebrities and media culture and the 24-hour news cycle, it almost feels like this is the eureka moment. This is the moment, at least for me, that seems to have been the transition from how it was to how it is now and how people talk about these things and take space for themselves and admit when things aren't necessarily perfect.
What's been really wonderful for me as a playwright and for Wendy, our director, is people have come up to us and said, "Congratulations on finally writing a play that shows her as the manipulator she really was." But the next night, someone comes up and says, "I love Diana and I'm so glad you do too." I love that! People think it's an anti-monarchist piece or it's a pro-monarchist piece. People think we're bashing the media; people think we're celebrating free media.
That's what I want as a playwright. There couldn't be a bigger compliment. You don't just want someone to like it; you want someone to be fired up and have made their own set of conclusions based on it. It resonates on a human level, but also with people on a social level, I hope.
What do you think is the source of our continuing fascination with royals?
I don't know. It's so specific being a kind of left-wing Scottish person; my relationships is very different to a politically moderate, middle-class English person - whose relationship I'm sure is very different to the average American. Because the royal wedding in the States felt like a big one, but the People magazine cover easily could have been a Kardashian wedding or Jennifer Aniston's.
They seem to be part of celebrity there, whereas The Queen has been here for so long. The amount of people now in the UK who can really remember a time where there was a different head of state is so few. At least for her, I think there's a very specific affection and respect as head of state. And then there rest of them...it's bizarre.
It's everything I hope Britain is moving away from, like hereditary privilege and class-based systems. But at the end of the day, it still speaks to people as an institution and people in Gallop polls overwhelmingly support it. I guess that's why I wrote the show, because I'm trying to figure out what it does for us. For better or worse, it's the reality, but to be a subject and not a citizen is really bizarre to me.
I have to say the election of Trump and Brexit happening right as the first draft of this play was being written really did fire me up. It was like "We need to talk about this stuff - deference and power and fake news". It really feels relevant to me as a writer. This is a way in for us as a company to talk about these issues.
What's it like creating a theatrical portrait of a woman who - in a sense - was already putting on a performance and who everyone had different views about?
It's something we've been talking about a lot in our company, and in the whole world I suppose. There's agency and there's gender. As a man writing this play, I was very conscious that the director needed to be a woman. I felt like I had, if anyone ever does, earned the right to write this because I had done so much research. I wasn't arbitrarily just throwing together some biopic, but I was very conscious that it wouldn't be appropriate for me or any other man to be directing this script.
The play is about one of the most famous women in the past 50 years, and it's so much about this male gaze. "Who was the victim and who were the victors?" is a line we use to promote the play, and it's one I still don't know the answer to.
In this situation, did Diana finally get agency and power? Did she get what she was looking for? Did she have her pain acknowledged? Was this an incredibly assertive move? Or was this two men making a ton of money off a woman making a snap decision? And then within that, do you have the right to tell a woman she's making a snap decision?
It's so complicated. What's been great for me is I brought what I hope is a rounded, nuanced script based off what I read about her and people I spoke to that knew her, and then I tried to make an educated guess about what she would have been like in private. It was wonderful having Wednesday, our director, work with the actress playing Diana and tease out a nuance in that performance, which is something I never could have done because I don't have that experience.
The process of writing has been about research and compassion - not necessarily erring on the side of how people have thought of her, but pushing myself to think critically about her and try to walk in her shoes, and then handing the script to a wonderful director who taught me so much about what I was trying to say.
Do we learn anything new about Diana that might shift people's perceptions?
I hope so, I really do. I think, as a writer, you kind of end up falling in love with all of your characters, even the evil ones, because they're kind of your kids. I don't know if I'm just slightly blinded by it now.
I hope people appreciate that we tried to show her, to say no one is perfect all the time or a manipulator all the time. You go to war with the army you have. She was married when she was 19, had a baby at 20. By the time she was 30, this was an incredibly revolutionary move.
I hope that's what it conveys: her life wasn't easy and it wasn't a matter of saying "She was rich; she should be fine" or "She didn't know what she was signing up for". I'm not interested in looking at the world that way. I hope what people take from seeing the new information about Diana is just shining a light on her humanity and imagining how she might have behaved in these situations, and hopefully rounding out the edges of the things that we know and we think.
Do you have any future hopes or plans for this show beyond this run?
There's some work in the pipeline, some ideas of where it could go and what could happen with it. But to be honest, we're ready for a break afterwards - London's going to be a real challenge in the best sense. I think audiences are going to come to us with questions and feedback.
At the end of these three weeks, it will be a good time for something new, at least for a while. But it will always be such a big part of what made the four of us build What Will The Neighbors Say? and start working together properly.
Do you have any advice for people who want to work in the industry?
I would say be prepared to work really, really hard. Don't be precious, and as much as you can, check your ego at the door. Take whatever job, do favours for people, paint stages and usher and do whatever you need to do to get yourself into the rooms that you want to be in. When you're there, give it 100% all of the time.
If you don't want to do it, there's so many things you can do that will be easier and pay better. If you do, do it to the best of your ability. Try and do work that you believe in. It's what, as an artist, keeps me going: knowing, when it's not such a great day, it's all worth it as long as you're doing your thing.
The Diana Tapes is on at the Stockwell Playhouse to 13 July
Photo Credit: Pablo Calderon-Santiago