BWW Interview: Hayden Tee On Playing Miss Trunchbull in MATILDA THE MUSICAL
Hayden Tee's extensive musical theatre work includes playing both Marius and Javert in Les Misérables, as well as shows like South Pacific, Titanic and Little Women.
He's currently starring as Miss Trunchbull in Matilda The Musical at the Cambridge Theatre in the West End.
What was the first musical you saw?
It was Jesus Christ Superstar at the Aotea Centre in Auckland, New Zealand. I was about 13 years old and I didn't really know what musical theatre was until that day; I was immediately obsessed. I bought the cast recording at the theatre, and soon after started buying the cast recordings of every musical I could get my hands on.
Did you do a lot of drama at school, and when did you realise you wanted to pursue it as a career?
As I only discovered theatre at 13, I really didn't spend much of my childhood in drama, but from 14 onwards I was involved as much as possible, campaigning to have a school production that year in my small country high school and joining the local theatre community. On average, I was involved in 4-6 productions a year for the rest of my high school career.
I didn't even understand that you could get paid to act and sing for a few years, but as soon as I realised you could, it became my dream and goal in life.
Where did you train?
I trained at NIDA (National Institute of Dramatic Arts) in Sydney, Australia. I was in the first year of their musical theatre course and it gave me my first serious taste of living, breathing and eating all things theatre. I try to study every few years in different techniques, and I intend to do some Meisner classes here in London next year.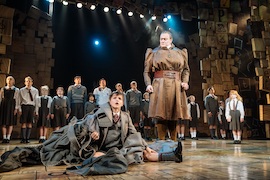 What was your first professional acting job?
After moving from New Zealand to Australia to study, I ended up heading back to New Zealand for my first professional acting job at the Court Theatre in Christchurch. I appeared in a New Zealand play called Kiwifruits and the musical Kiss Me, Kate.
How does the theatre scene in Australia/New Zealand compare with the UK - and/or with the States? Do you have a preference?
The theatre scenes in Australia, New Zealand, the USA and the UK are all different and the same in many ways. New Zealand has a very small scene; it's almost impossible to work in musicals all year round, as the theatre companies only do musicals around Christmas time most years.
Australia has a thriving scene and the standard is generally very strong. The USA has a lot of work, but the quality varies greatly, and the UK is a lovely mix between Australia and the USA. I am happy wherever I am, as long as I'm working, and I try to live in the moment - so I will say London is my favourite right now.
Tell us about the process of getting cast in Les Misérables - was that a dream job? And how was it doing the anniversary show?
I was doing a cabaret show at a theatre in Parrammatta, Australia, one night and five people were in the audience. I really didn't want to perform for five people, because I was embarrassed that only that many people had turned up, but lucky I did because John Robertson - who worked for Cameron Mackintosh - was one of those five people.
After the show, we met in the foyer and he asked me if I would fly to London to audition for the role of Marius in Les Misérables. I flew over five weeks later, got the role and moved to London. It was a dream job and I loved every second of it.
Living in this city and playing a lead on the West End in a Royal Shakespeare Company/Cameron Mackintosh production at 25 was amazing. The 20th anniversary performance was a life highlight. I was incredibly nervous, but those nervous moments bring the biggest rewards.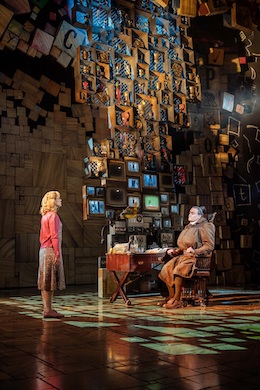 What made you want to return to the show, and was it interesting seeing it from the very different perspective of Javert?
The opportunity to return to Les Misérables came at a time when I had lived in the USA for a few years and was looking for something to do back in Australia. I have always been attracted to the idea of a life that travels between London, New York and Down Under; I try to do something in all those places every few years.
I didn't realise that accepting the role of Javert would eventually take me to all those places over four years and give me my Broadway debut. Javert was a real challenge, because he is very different to me as a person, and I really wanted the opportunity to prove to myself that I could transform and become unrecognisable.
You've done a wide range of work. Is there a particular style of music or show that really speaks to you, or are you excited to keep trying new things?
I always like trying new things - if it makes me feel something, I am interested. The real dream next is to originate a role, to be the first person to stand on a stage and say those words and sing those notes as that character.
Had you seen Matilda The Musical prior to auditioning? Or did you know the Roald Dahl book or film?
Since I saw the first preview of Matilda The Musical on Broadway, it has been my favourite musical of all time. I saw the Australian production twice and the West End production twice. I read the book and watched the movie growing up and adored both. As a feminist, I love any story with a female protagonist who has agency and the power to change her story.
What attracted you (if that's the right word!) to Miss Trunchbull?
What's not to love about the character of Miss Trunchbull? She's extreme and believes her own reality, she commits to every one of her choices 100%, whether it be throwing a child by her pigtails or leaping over a vault in the gym. I wish I had that confidence in life (less violence, however)! I love getting lost in that every night.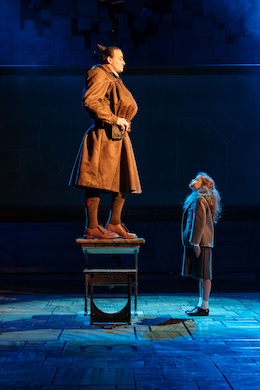 How did you find the right physicality and characterisation - enough to be effective, and recognisably female, but not pantomimic?
We didn't really have pantomime in New Zealand when I was growing up and I've never actually seen one, but I try to approach every role as truth. I start with the source material - Roald Dahl's words and Quentin Blake's illustrations.
I think about what Trunchbull has done in her life, such as champion hammer throwing, add a little desire to embrace her absent femininity... and let the amazing script by Dennis Kelly, score by Tim Minchin and design by Rob Howell do the rest. If it all comes from truth, I think it will remain in reality and avoid pantomime.
Do you have any favourite songs or moments from the show?
My favourite song in the show is "When I Grow Up"; I still can't get through that song when watching the show without tearing up. Tim Minchin has managed to perfectly sum up what it feels to be a kid and all the aspirations you have as a child and how life will be as a grown-up. It takes me back to those years instantly.
My favourite moment to perform is "The Smell of Rebellion". It's the most challenging number in the show for me - both physically and vocally. I imagine I will always be exhausted at the end of that number in the most fulfilling way.
How has it been working with the show's young cast?
The entire cast and company at Matilda are amazing. It's such a family at the Cambridge Theatre and the children in the cast are brilliant. There is something energising and inspiring about what these children do on that stage, especially the four Matildas. Those amazing young women lead the show every night, and I have so much respect and admiration for them.
Do you have any dream roles in future? Or people you'd love to work with?
This is my second show with the Royal Shakespeare Company after Les Misérables and I would love to make it three one day. My dream is to originate a role next, to be the first actor to realise a character on a stage. That's one of the reasons I came to the UK, because amazing theatre is created here; to be involved in that developmental process is a real goal of mine.
Finally, why do you think people should come see Matilda The Musical?
Other than it being my personal favourite musical of all time, it's the longest-playing show at the Cambridge Theatre, in the top 20 longest-running shows in West End history, winner of over 85 major international awards, including 16 for best musical, and it's been seen by over eight million people in over 68 cities around the world. See, it's not just me who's obsessed with it!
Matilda The Musical currently booking at the Cambridge Theatre until 20 October, 2019
Photo credit: Manuel Harlan