BWW Interview: Grace Molony Talks THE WATSONS at Menier Chocolate Factory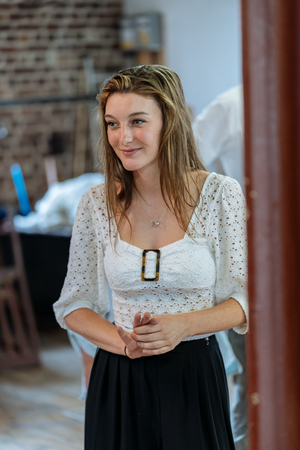 After winning a Stage Debut Award in 2017 for The Country Girls and starring alongside Jennifer Saunders in Lady Windermere's Fan, Grace Molony can now be seen in the London transfer of Laura Wade's The Watsons, which opens tonight at the Menier Chocolate Factory.
Directed by Samuel West, The Watsons tackles Jane Austen's unfinished final novel. BroadwayWorld spoke with Grace about Austen's legacy, returning to the show, and the play's unexpected relevance today.
What were your first impressions when reading the script?
I'd never really had a reaction like I had to reading The Watsons. It takes you on so many twists and turns and you have no idea where it's going. I remember thinking "Oh my god, what will this be like when it's in costume and with a full company?". I had my heart totally set on playing Emma and it's just a dream.
Why do you decide to take on a project?
There's got to be something in the character that I relate to or find a challenge and joy in playing. You have to see yourself playing the part. I love theatre because you get sent the full script and you can read the full journey. If it's TV or film, you're often sent a scene, which is harder, though you hope you get the essence of a character in an audition.
How do you relate to Emma?
She's fiery and headstrong and intuitive. She's probably stronger than me and she's extremely passionate and intelligent. I wish I could be a bit more Emma: she doesn't let things go that she believes in. She's loyal, kind, and I hope I have a few of her traits.
What have you realised about the play since restarting rehearsals?
I've never had the opportunity to revisit a show. Often at the end of rehearsals, you wish you could start again with the knowledge of the text and familiarity with the company. There's often a few weeks of getting to know each other.
The first day of rehearsals for this re-run - 17 of the 18-member cast returned - had so many people screaming and running into the room. To start rehearsals with that in place was really fulfilling. You build the story around each other and you don't feel judged. It was great to rehearse again, and this time we've gone into much more detail about the characters.
What is Samuel West's rehearsal room like?
It's just great: he's a loyal and kind director. He gives people opportunities and has anecdotes and stories. That 17 of us returned is a real testimony to him, because we all were jumping at the chance to work with him and Laura again.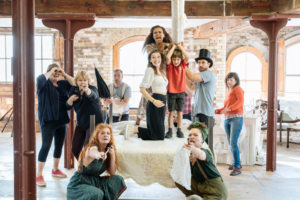 Has the play changed much?
There's been a few cuts and trims, but also more detail and refinement. It's gotten better and the audience is now straight on. In Chichester it was in thrust, with the audience on three sides. It's funnier now as often jokes were missed from certain sides. Other than that, I think we've kept most of what we had.
How does the play both stick to traditional conceptions of Austen and break away from them?
I was a fan of Austen in as much as I'd seen the TV adaptations, but I hadn't read the books. Now, I've read the majority of her work and this play stays true to them in that there are the traditional themes and motifs of too many sisters, balls, bonnets, dead parents, financial difficulties - all the stereotypical Austen scenes. But without spoiling anything, if you come to it expecting a traditional Austen piece, you'll be surprised.
How would you characterise Austen's work in one word?
She's a romantic novelist in that she writes romantic books, but she didn't have a romantic life. So that doesn't do her justice. She's extremely feminist for the time. We worked out that there's only a handful of scenes throughout her work that don't have a woman. That's quite incredible for the time and rarely happens now. So - 'feminist'.
Why has Austen's legacy continued, but also why is Laura's work important in terms of updating her for modern audiences?
Austen's novels are timeless - she was one of the only female novelists from the era. Laura has managed to make it so much more accessible for a younger and more modern audience. Even for the mega-fans of Austen, she manages to shake up their expectations. If Austen were alive today, she would absolutely love what Laura has done. If she was writing now, she would be the Laura Wade of our time.
You said you like a challenge - what is the challenge of The Watsons?
It's difficult to do the play justice every night because I love it so much. This is such a special job, and so if I come off stage and I'm not happy with my performance, I tend to beat myself up. I care a lot about it, but that's a good thing. Otherwise it's just joyous.
Do you have a favourite line?
I do, but lots of my lines are quite spoilery... I like one of Laura's lines: "One life isn't enough for you, it isn't enough for any of us."
What surprises you about the play
There's so much! You basically do not get what you're expecting at all. Austen was a comedic writer, but the level of comedy in this play is brilliant. Every night when I perform it I find new nuances. Laura wrote the play over 10 years and there were lots and lots of drafts.
There's a debate scene in Act II and it's political and philosophical. Every night audiences respond differently, and with Brexit and Boris everything is changing daily. There's talk about democracy and having to respect results and legitimate processes. When Boris's closing of parliament was judged unlawful the other day, the audience's reaction to the scene was amazing. People really get along with the debate. I'm interested for 31 October to see how audiences respond: it'll be fizzy and a good time to get away from it all.
You won a Stage Debut award in 2017 - does the industry do enough to support the young people trying to enter it?
I think those awards are a brilliant move in the right direction - I was the first year it was awarded and it's a start. There could be more help as at the moment it seems like there's a lot of luck needed to get the first job.
What needs to change to make this possible?
Maybe an openness by casting directors to see people without agents - it isn't always about an actor's talent and more about who is representing you.
Where would you like to work next?
I'd love the National - that's an obvious one, but a dream.
What change would you like to see in the industry?
It's going in the right direction: seeing more female plays and making it more open to working-class, BAME and women actors. The progression over the last five years has been really good.
What do you want audiences to take away from the play?
To take life as it comes and to live life as fully as you can. Without spoiling it, it tells us how to make our own future. It's a play that is liberating.
The Watsons is at the Menier Chocolate Factory until 16 November
Photo credit: Manuel Harlan
Related Articles View More UK / West End

Stories

Shows