Interview: Actress Gugwana Dlamini Talks THE LION KING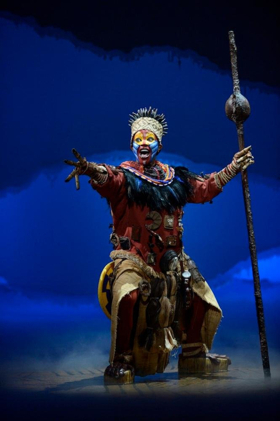 South African actress Gugwana Dlamini has a long history with Disney's The Lion King, from the original animated movie through to performances in the stage show around the world.
She discusses returning to the show's West End home at the Lyceum Theatre, where she stars as Rafiki.
What was the first play or musical you saw?
I think the first thing I saw was a musical in South Africa when I was about 12 years old. I absolutely loved it, I didn't even understand English at that time, but I was completely engrossed by the music. I saw it with my late sister, who really encouraged me to perform and follow my dreams.
Did you do a lot of drama at school, and when did you realise you wanted to pursue it as a career?
I didn't do any drama at school, but I did a lot of singing in the school choir and we would sing in assembly. I have always loved music and often sang at parties and weddings in South Africa. I knew from an early age that I wanted to be on the stage and that was what I was meant to do.
Where did you train?
I trained at Committed Artists Academy in Johannesburg.
What was your first professional acting job?
My first role was in musical Sarafina! when I was about 18 years old, just after I finished high school. I also later appeared in the movie version.
How did you first get involved with The Lion King?
I knew Lebo M, who has performed and composed music for both the animated film and musical production of Disney's The Lion King, from his involvement in Sarafina!. He got in contact with me and said he wanted me to be a part of the soundtrack for the animated film, and then later asked me to audition for the musical.
I had to sing in the first audition and I remember being terrified - thousands of people turned up, and I never dreamed I would get the part. I had a recall in Durban and then was offered to join the cast, which was so exciting. I've been involved in the show ever since it began.
I first played Rafiki in the West End in 2010, which was an incredible moment for me. It's a challenging role, but one that I've always embraced and I love playing her. I've travelled all over the world with the show and have loved every minute of it.
Tell us about the character of Rafiki and what you bring to her
Rafiki is a storyteller. She's a respected figure and people come to her for advice. She is a traditional healer and can see things before they happen - known as an Isangoma in Zulu. Isangomas are familiar to me and my culture; Rafiki has real African roots, and that helps me to find a genuine connection to her.
She has a very distinctive costume - can you explain the significance of that?
Rafiki's costume represents her figure as an Isangoma. It is made up of bone and shells, which are items that she would use to tell people's futures. She wears a lot of blues, reds and whites, which also represents the same colours that an Isangoma would traditionally wear.
How does it feel to open the show with "Circle of Life"?
It's really exciting as I am the first character that the audience meets, and my voice is the first thing they hear, even before the orchestra. It's such an iconic song, so it's a real privilege to be able to sing it on a West End stage - although that can also make it quite scary! The best thing about it is that I can see the audience's reaction to that opening song, which gives you such a buzz.
Do you find personal meaning in the song?
I've always thought that "Circle of Life" is such a special song - it has such a deep meaning and speaks to every individual who hears it in a different way. It really captures what life is all about and is very powerful. I've always been completely in love with it.
How many languages are used in the show, and did you have to study some specially?
There are six indigenous African languages spoken in the show: Zulu, which is my first language, Swahili, Xhosa (the click language), Sotho, Tswana and Congolese. I could already speak all the languages used except for Swahili, which I've learnt specially.
Do you take particular pride in introducing elements of African language and culture to people through Lion King?
Yes, definitely. The fact that I'm singing and speaking in my own language and can bring a little piece of my own culture to people from all over the world is amazing and so special for me. I love that I can show off with my clicks when I speak Xhosa, because only people who can speak my language can do that. It's so heart-warming to see people who are from such different cultures embracing it and enjoying it as much as me.
What's your favourite song or moment in the show?
My favourite song is "Endless Night", which is performed by Simba - it's very tender and is always sung so beautifully. My favourite moment has to be "Circle of Life", because it's such an amazing and powerful way to open the show.
What's it been like travelling the world with Lion King?
I've loved being able to travel so much whilst being a part of the show - I've been across the US, to Singapore, Holland and around the UK. The best thing is to have the opportunity to learn about different cultures and meet different people, who bring their own energy into the show. That's what has made telling the story so amazing: seeing how the show is appreciated so much all over the world.
And how does it feel to be part of the West End cast?
I've loved touring and travelling with the show, but the West End has always been the most amazing place to perform and I am so happy to be back here. London is where I learned everything I know and it really feels like coming back home to my family. Knowing I'm in a theatre where over 15 million people have seen and loved the show makes me feel very humble and grateful.
Why do you think this story and the show are so enduring?
The story itself is so universal and very human, and audiences always find a way to connect to it. I will always remember meeting an audience member who told me that he'd bought a ticket for his father to see the show, but he had sadly passed away before he was able to see it. He told me that when he heard the song "He Lives", it reminded him that his father is always with him. That was so special to hear how much it meant to him.
Finally, if someone hasn't experienced it yet, why should they come see The Lion King?
The costumes and the puppets are so amazing, the songs are so powerful, and the story is one that will mean something to everyone.
Disney's The Lion King is currently booking to 1 June, 2019 at the Lyceum Theatre