Student Blog: Just Be Yourself- Three Weeks with Adelphi Alumni Playwrights Group
She had no idea what those simple words meant to me. It had been a long time since I felt like just being me was more than enough.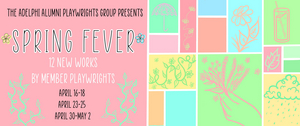 "And Leah? You just be yourself." The cast laughed at playwright Stephanie Gajeski's words, and I couldn't stop smiling. She had no idea what those simple words meant to me. It had been a long time since I felt like just being me was more than enough.
Heading into the Adelphi Alumni Playwright's Festival, I had no idea what to expect. Adelphi Alumni Playwright's Group serves "as a workshop space to reignite creativity and foster the artistic process within the comfort of the Adelphi Alumni community." In honor of that mission, AAPG was putting on Spring Fever, a three week festival showcasing readings of 12 new plays. The playwrights, directors and cast were all current Adelphi students or alum. Referred to the festival through an Adelphi connection, I was excited to help out by reading stage directions for one of the productions. Yet, I was also wary for several reasons...most notoriously that I did not go to Adelphi University. Rehearsals hadn't even started, yet I already worried I wasn't enough.
Ten minutes into our first rehearsal and I'd realized my previous worries were baseless. Every single person in that Zoom room was overflowing with kindness, joy and love for theatre. The rehearsal was low stress and full of character exploration and script reading. Reading the stage directions, I narrated from behind the scenes and watched the magic happen. It was the perfect role for me amidst my crazy school schedule. It was a chance to read the script, watch live theatre and be myself.
Which leads me back to Stephanie's quote. We were talking after rehearsal about costumes and lighting setups, not a problem for your humble stage directioner. In the midst of helping others figure out outfits, Stephanie told me to just be myself! While her words were lighthearted, they actually meant so much more to me than I let on. The past year has often felt like a constant battle between trying to honor my pandemic burnout and trying to remain as productive as humanly possible. It's been so easy to compare myself to others and their accomplishments- especially on tired or anxious days.
Participating in AAPG helped me remember that I am enough just as I am, and that I can add value to a production just by narrating stage directions. No matter how you're feeling or spending time during this pandemic, whether it's been productive or exhausting, you are doing enough.
I loved getting to meet everyone in AAPG, and lend my voice to this new production. I think AAPG's mission to give others a safe space to share creativity is valuable and keeps the arts alive during this time. But what I loved most about this process was learning how to love being myself again.
Interested in watching the show? I knew you would be.
Spring Fever
streams until May 2nd. More information can be found at
Home | AAPG (adelphialumniplaywrightsgroup.com)