Prologue Theatre Presents Bekah Brunstetter's THE CAKE
The play tells the story of two brides planning their wedding, a conservative Christian baker and her husband, and a cake that forces them to reexamine their beliefs.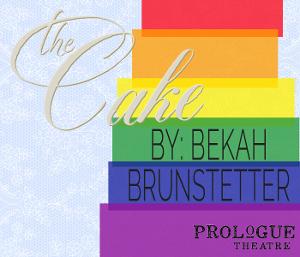 Prologue Theatre kicks off the new year with The Cake, written by Bekah Brunstetter ("This is Us," "American Gods") and directed by Aria Velz. This production, in association with NextStop Theatre Company, is a thought-provoking comedy about two brides planning their wedding, a conservative Christian baker and her husband, and the cake that forces them all to reexamine their beliefs about each other and themselves.
Director Aria Velz explains what drew her to this piece: "The theme of LGBTQ acceptance in The Cake is very important to me personally. Beyond that, the characters Bekah has given us are fully human - not stereotypes. All four are struggling with their own biases, questioning elements of their lives, questioning the health of their relationships, and deciding how they want to move forward."
The cast of The Cake features Nicole Halmos (Della), Sabrina Lynne Sawyer (Macy), Tara Forseth (Jen), and Sam Lunay (Tim). In addition to Director Aria Velz, the production team includes Alexa Duimstra (Costume Design), Helen Garcia-Alton (Lighting Design), Justin Schmitz (Sound Design), Jason Tamborini (Scenic Design & Technical Direction), Sierra Young (Intimacy Direction), and Katie Buchwell (Production Stage Manager).
"Our plays are intended to inspire and incite conversation," said Prologue's Founding Artistic Director Jason Tamborini. "The Cake raises so many wonderful conversation topics around finding your purpose, fully accepting the people in your life for who they are versus who you want them to be, and letting go of the past and embracing the present."
Audience members can join Jason to discuss these topics and more during one of Prologue's in-person post-show conversations following the matinee performance of The Cake on Sunday, February 12, and Sunday, February 19.
The Cake is being performed at the Atlas Performing Arts Center, 1333 H St NE, Washington, DC 20002 from February 2 to February 26, 2023. Performances begin at 7:30 pm on Thursdays, Fridays, and Saturdays, and at 2:30 pm Saturdays and Sundays. Tickets can be purchased via www.prologuetheatre.org.
This Prologue Theatre/NextStop Theatre co-production of The Cake will then transfer to Herndon, VA for an additional four weeks of performances, March 10 - April 2, 2023.
Please note, this production is recommended for adults only and contains mild sexual content, coarse language, and partial nudity.