Photo Flash: In Rehearsal with THOUGHTS OF A COLORED MAN Workshop at Arena Stage
Arena Stage at the Mead Center for American Theater and producer Brian A. Moreland have partnered on a two-week intensive workshop of playwright Keenan Scott II's Thoughts of a Colored Man. Directed by Taye Diggs, with choreographer Jenny Parsinen, associate director Shannon Stoeke, and music and vocals by Madison McFerrin, the piece takes a raw and honest look at the limitations, stereotypes and obstacles that the world attempts to place on men of color through their discussions of love, race, education, family, and history.
Featuring Tony Award nominee Forrest McClendon, the workshop also includes Jerome Preston Bates, Raymond O. Caldwell, William Catanzaro, Erica Chamblee, Felicia Curry, JaBen Early, Ricardo Frederick Evans, Gary-Kayi Fletcher, Christopher Richardson and Keith L. Royal Smith.
This workshop provides an opportunity for Thoughts of a Colored Man to grow and progress, and for Scott "to be undisturbed in a comfortable environment where I can just be myself and write and create and edit and rewrite and see the piece come together as a whole."
"Art is always a reflection of our society," continues Scott. "Being at a place like Arena, which does work of that nature, it's very important for us to get back to that reflection of society, and not shy away from the truth, whether it's beautiful or ugly."
Diggs began working with Scott on this piece two years ago, and is making his directorial debut.
"I was so moved by what Keenan had to say, and the imagery and his influences of slam poetry - I had never been a part of something with this kind of language, so it was very inspiring," says Diggs. "That's part of why I'm trying to let go and let this piece speak for itself."
For more information and an exclusive first look, visit arenastage.org/about-us/artistic-initiatives/resident-artists/
Arena Stage at the Mead Center for American Theater, under the leadership of Artistic Director Molly Smith and Executive Producer Edgar Dobie, is a national center dedicated to American voices and artists. Arena Stage produces plays of all that is passionate, profound, deep and dangerous in the American spirit, and presents diverse and ground-breaking work from some of the best artists around the country. Arena Stage is committed to commissioning and developing new plays, and impacts the lives of over 10,000 students annually through its work in community engagement. Now in its seventh decade, Arena Stage serves a diverse annual audience of more than 300,000. arenastage.org
Photo by Ryan Maxwell Photography.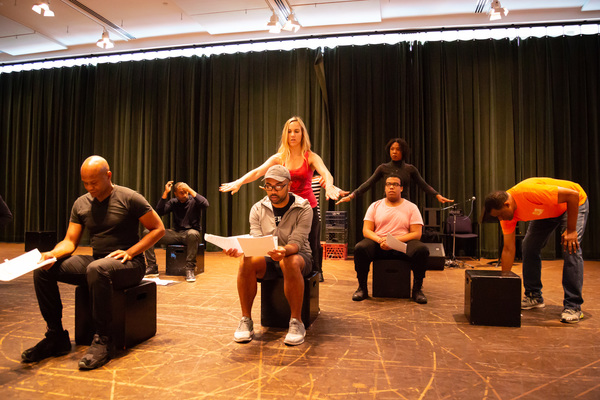 Forrest McClendon, JaBen Early, Raymond O. Caldwell, Jennifer Parsinen, Erica Chamblee, Christopher Richardson and Jerome Preston Bates

Forrest McClendon, (Background L-R) Felicia Curry, Christopher Richardson, Raymond O. Caldwell and Jerome Preston Bates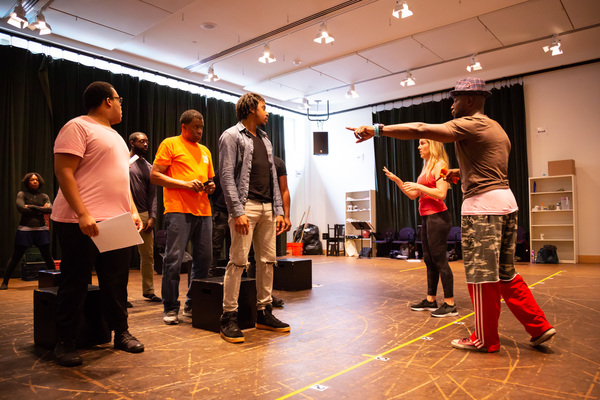 Erica Chamblee, Christopher Richardson, Gary-Kayi Fletcher, Jerome Preston Bates, Keith Royal Smith Jennifer Parsinen and Taye Digs

Taye Diggs and the creative team in rehearsal for Thoughts of a Colored Man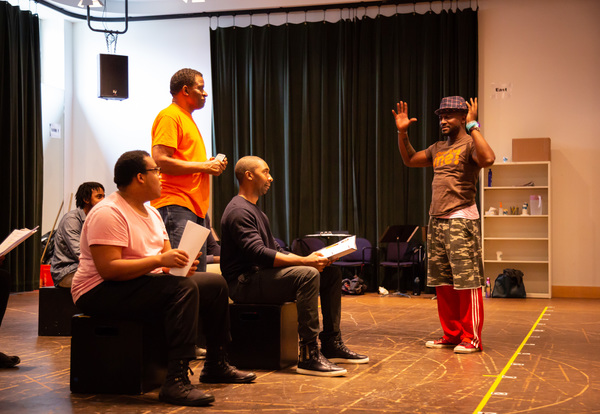 Keith Royal Smith, Christopher Richardson, Jerome Preston Bates, JaBen Early and Taye Diggs

Forrest McClendon, Erica Chamblee, Keith Royal Smith, Felicia Curry, Raymond O. Caldwell, Gary-Kayi Fletcher, Jerome Preston Bates and Christopher Richardson

Gary-Kayi Fletcher, Jerome Preston Bates, Raymond O. Caldwell, (Background L-R) Felicia Curry and Christopher Richardson

JaBen Early and Erica Chamblee
Related Articles View More Washington, DC

Stories

Shows
More Hot Stories For You