BWW Review: Rosemary Cipriano Shines in EVEN OLYMPIANS HAVE ASTHMA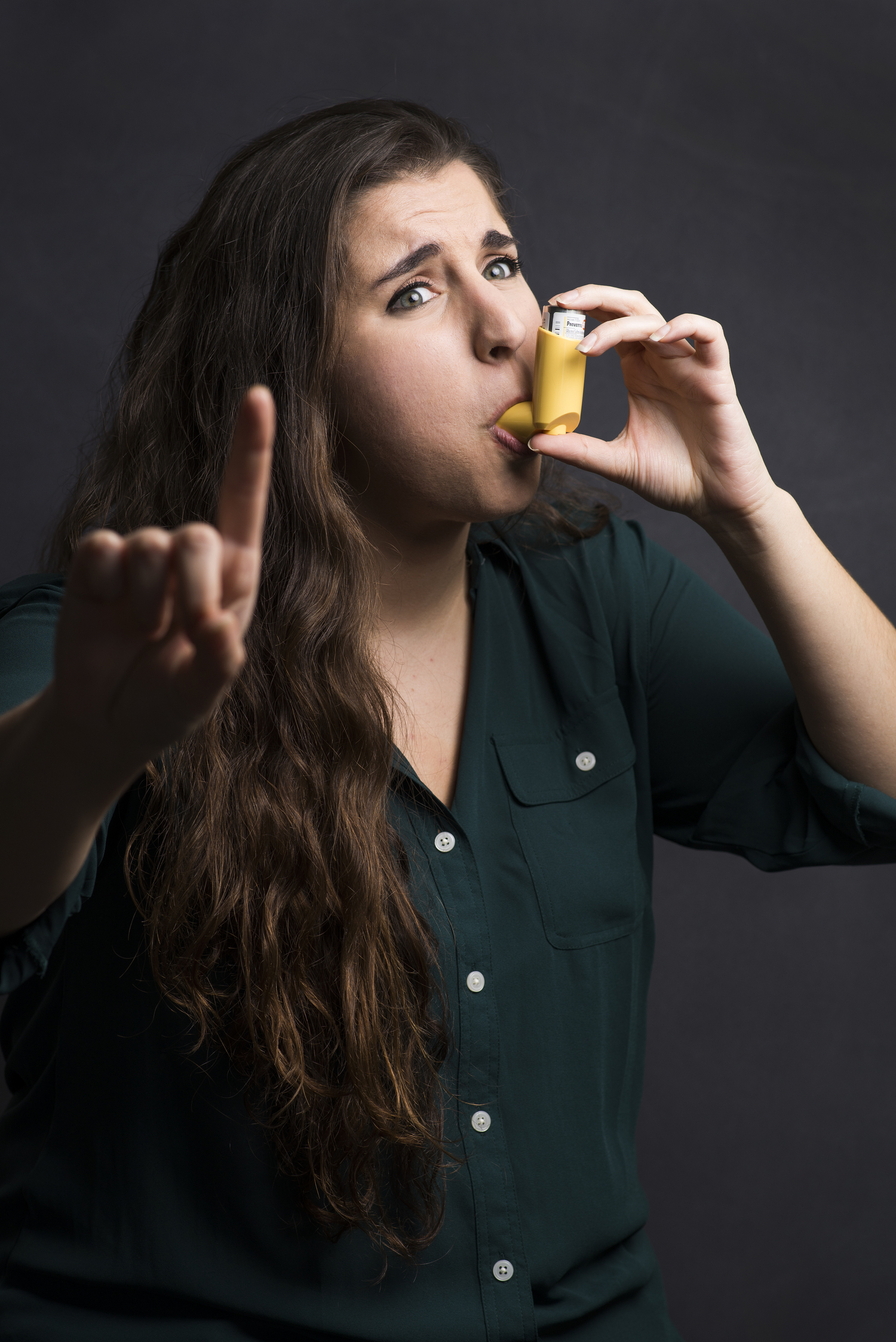 There's something incredibly rewarding about a simplistic production. Once you strip away the lights, sounds, costumes and set there are shockingly few shows that can stand on their own merits. Thankfully, classic storytelling is alive and well with the talented Rosemary Cipriano who, if her recent Even Olympians Have Asthma is any indication, is ready to move to the next level of her performing.
Ms. Cipriano doesn't adhere to any coherent plot, instead following a free-flowing train of thought through the entirety of her performance. She flits from one story to the next seamlessly and hits upon topics such as her past relationships, her search for sugar daddies, and, as the title suggests, her asthma. All of her stories are deeply relatable and conveyed with simple and honest delivery which helps endear the audience to Ms. Cipriano and her kooky personality. In short, she is a quality comedian on the rise.
All of Ms. Cipriano's stories are very humorous, there's no denying that. Her show, however, seems a little confused as to what medium it is hoping to be: is it a one-woman show? Is it stand-up comedy? The show doesn't have one overarching plot that threads all of the bits together, so it's difficult to call it a one-woman show. Conversely, the performance style is more theatrical than seen in typical stand-up, so it's difficult to label the evening as one of stand-up. Instead, it falls into hybrid territory which can make the performance difficult to characterize. Perhaps this is a good thing: Ms. Cipriano is letting her performance forge a new hybrid style all her own.
The dutiful direction, by Nicole Cusick (a past collaborator with Ms. Cipriano), keeps the evening moving at a brisk pace. Two local comedians (Tyler Bowders and Kacie Hackett) serve as pre-show aperitifs for Ms. Cipriano's main course. Neither is absolutely stellar, but they each show the promise of instinctive performers who just need a bit more seasoning. In fact, Saturday night marked Mr. Bowders's first time performing for an audience.
In addition to being an enjoyable evening of stories and comedy, Ms. Cipriano forewent any profits from her performance and donated all ticket sales to Planned Parenthood. Her show proved so popular in D.C. that a second 10pm performance was added after the initial 7:30 booking at Shaw's Tavern. By the end of the night, more than $1,600 was raised for Planned Parenthood, an organization which Ms. Cipriano and Ms. Cusick believe to be vital for Americans. To show additional support, various information flyers from Planned Parenthood on a range of topics were available at Ms. Cipriano's performance.
Overall, Ms. Cipriano is a performer who knows what she is trying to accomplish. Hopefully she will return to D.C. for similar engagements in the near future.
Rosemary Cipriano's one-night-only engagement of Even Olympians Have Asthma played at Shaw's Tavern on May 5th, 2018. To stay up-to-date on this comedian's upcoming shows, follow her on Twitter @rosiecip.
---
Sam Abney is a Washington, D.C. based arts professional. A native of Arizona, he has happily made D.C. his new home. Sam is a graduate from George Mason University with a degree in Communication and currently works for Arena Stage as a member of their Development team. He is a life-long lover of theater and is excited about sharing his passion with as many people as possible.
To stay up-to-date on reviews from Sam, click here and subscribe to alerts.